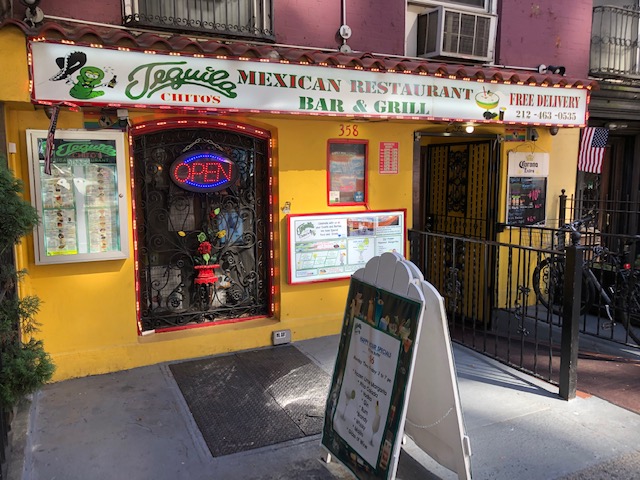 TEQUILA CHITO'S MEXICAN BAR & GRILL
Tequila Chito's, born with the name of Tequila's Bar & Grill, was first located at 245 W. 14th St. It became famous for its rich Mexican food and friendly atmosphere, and was there for 22 years, serving the community. Then we moved to where we are today—and with our same philosophy of serving our clients Mexican food of the highest possible taste and quality.
We are a family-owned Mexican restaurant rich in history and flavor. All meals are prepared the old-fashioned way, with an emphasis on fresh ingredients and authenticity. We celebrate parties (birthdays, christenings, anniversaries, baby showers, graduations and more), and offer a buffet or a special menu, according to your needs.
LOCATION & HOURS:
358 West 23rd St. (btw. 8th & 9th Aves.)
Sun, Mon, Tues: 2pm-11pm
Wed: 2pm-12am
Thurs, Fri, Sat: 2pm-1am
Happy Hour: Mon-Fri, 3pm-7pm
TO CONTACT:
Phone: 212-463-0535 and 212 -255-4855
Fax: 212-255-5844
E-mail: Tequilachitos@gmail.com
SOCIAL MEDIA (to visit, click on the below destinations)
3 QUESTIONS, WITH ROSA OLIVIAN

—What are some of your signature dishes and drinks?
Our guests keep returning for the enchiladas, the Bistec Marinado (marinated skirt steak with shrimp and heavy cream, accompanied by yellow rice and a small salad), and the Chito's Special (crispy finger-size rolled tortillas stuffed with beef, chicken and chorizo, with our special Chito's House Sauce and sour cream). Popular drinks include the piña colada, the margarita on the rocks, and the frozen lime margarita.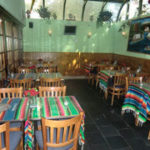 —What do you offer for private functions, in the garden space?
For private parties, we provide a buffet and drinks.
—What are some of your fondest memories of serving the Chelsea community?
We fondly recall meeting our neighbors and seeing our customers, when we contribute to street fairs and church activities.
This is sponsored content from Tequila Chito's. Look for their ad in our new monthly small business-themed eNewsletter.