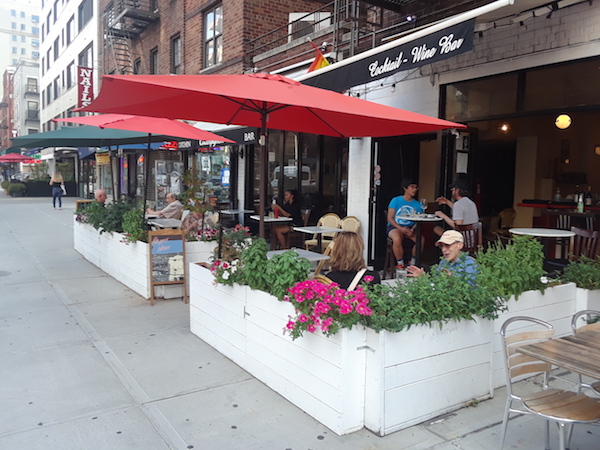 Champignon has been a neighborhood jewel for many years, with our focus always being on our valued customers. We are keeping in tune with the community, and are committed to providing high quality services and delicious healthy foods. We are a Mediterranean Bistro/Bar & Kitchen whose cuisine draws from different European cultures, while remaining governed by the French sensibilities and discipline that define a true Bistro.
Throughout our pandemic period of the past six months, Champignon happily adapted to the new realities of facial masks, social distancing, and every precaution meant to protect our customers and staff. We even embraced… the end of indoor dining.
Committed to maintain its presence in the neighborhood we love and feed the needs of the community created within its walls, Champignon has once again opened our doors–just please, don't step through them. Not yet. When that day comes, we will stand shoulder-to-shoulder, and raise a glass to friends lost, made, and about to be found.
Outdoors and at a healthy distance, that day is already here. Happy memories are being made seven days a week at Champoignon, helped along by the best, longest, most affordable Happy Hour in town.
LOCATION & HOURS:
200-202 Seventh Ave. (btw. W. 21st & 22nd Sts.)
NEWLY EXPANDED HOURS!
Mon. through Fri., 11am-10pm
Saturday, 10am-10pm
Sunday, 10am-9pm
Daily Happy Hour, 11am to 10pm
All beer, $4 / Selected Wines, $5
Cocktails, $6 / Side Dishes, $4-$10
To Order Delivery Up to 30 Minutes Before Closing, Call Us
at 646-838-5620
SOCIAL MEDIA (to visit, click on the below destinations)
3 QUESTIONS WITH CHAMPIGNON OWNER PETER ANDERSEN
—You recently took over as the new owner/manager. Why did you choose Chelsea as a place to run a business?
My main reason was to get to know this beautiful and historical neighborhood. I like to meet new people and learn about different cultures. Chelsea is the center of gay subculture that consists of kind, passionate, and respectful individuals.
—What changes have you brought to the Champignon menu, and what are some of your most favorite food/drink choices?
I have decided to make very minor changes, as the customers seek consistency and, showed their support of the current menu. However, we made some modifications in our wine and beer varieties, by adding more options. All foods at Champignon are really delicious—but I love Champignon quesadillas and lemon chicken the most. I prefer Lagunitas beer or our Happy Hour Mimosa.
—What specials, and Happy Hour deals, should guests be on the lookout for?
We have bottomless brunch everyday and happy hour deals from 11am to 7pm, with very reasonable low prices for beer, wine, cocktails and appetizers.
This is sponsored content from Champignon.