BY SCOTT STIFFLER | Forget, for a moment, about that Season 3 RuPaul's Drag Race win. Look beyond the way she looks (a tall order, because she's always stunning). Put aside her gift for tossing truth-telling bon mots that stick the landing and leave the audience in stitches.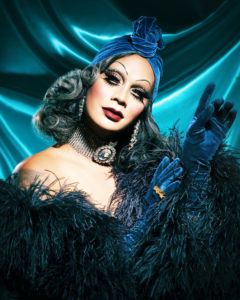 Even in the absence of those calling cards, which are never going to go away, make-up artist and drag performer Raja Gemini is still worth clearing your calendar for. Apart from the formidable fabulousness, there's that fundamentally decent aura fans have always connected with.
Last seen around these parts on June 4 when she brought the intimate, introspective, often interactive, sublimely stream of consciousness Masque to the Laurie Beechman Theatre, Raja returns to that dependably drag-friendly venue for two shows only, Fri./Sat., Sept. 20/21, with the new solo show Lush Life, an evening of stories and music meant to "remind you to take a giant bite out of life and to indulge in all that is good."
Chelsea Community News recently spoke with Raja, in anticipation of these NYC performances.
Scott Stiffler, for Chelsea Community News: The title of the show references Billy Strayhorn's melancholy jazz standard. How do the themes of that work speak to your own aesthetic, and to this particular show? 
RAJA: Lush Life has been a song that many artists over decades have sung. Each artist found their own interpretation of its lyrics, and style. Although melancholy, I found that it has a touch of optimism. Life itself is lush, if you trust these seemingly sad moments, and find a way to cushion the bludgeon of sadness with the fabulous and lush things in life. That's what I got out of it, anyway. What I know in my personal life is that even in the hardest times, when sorrow seems to take over, I surround myself with beauty and somehow, everything feels fine. I can only describe my own process, and delusions.
CCN: Talk about the reception of Lush Life during its recent Provincetown run, and what NYC audiences can expect.
RAJA: Provincetown has been very receptive and loving. It has been a place for experimentation, and gaining a confidence I'd never thought I'd have years ago. The last three summers, I feel I've developed a clarity in storytelling and sharing the parallels we all have as humans. I hope New Yorkers will be able to relate. We are all living in tough times, so my job is to somehow motivate everyone to be "Lush" in all forms.
CCN: What does it mean to return to the Laurie Beechman Theatre, NYC's go-to venue for you, as well as many other RPDR contestants?
RAJA: The Beechman has been so welcoming to me… It is like my safe space for performance. NYC can be intimidating. Somehow, the intimacy of the Laurie Beechman feels like an embrace each time.
CCN: What upcoming projects can fans look forward to?
RAJA: My focus has been to do more solo shows, like Lush Life. I have new music coming and more exploration of the visual artist, aside from performance as well.
CCN: Please feel free to talk about anything not covered in the above questions.
RAJA: I think it is imperative for us to make real connections. Social media, although powerful and effective, is also a cesspool of negativity. My hope in my show is to impart a bit of my own philosophy, to enjoy moments and record everything in memory, rather than for all the world to see constantly. Some moments are sacred. Treat them as such. Also, to tell negativity and people who judge and hate, to f**k off. Life is fleeting. Enjoy every moment, and do it in a fab look.
Lush Life is performed Fri., Sept. 20, 9:30pm and Sat., Sept. 21, 7pm, at the Laurie Beechman Theatre (inside the West Bank Cafe, 407 W. 42nd St., btw. 9th & 10th Aves.). Tickets are $24 for general admission. A $45 VIP ticket including priority seating and meet-and-greet is also available. To make a reservation, call 212-352-3101 or visit SpinCycleNYC.com. There is also a $20 food/drink minimum at all performances. Follow Raja on social media via Instagram and Twitter.
Chelsea Community News is made possible with the help of our awesome advertisers, and the support of our readers. If you like what you see, please consider taking part in our GoFundMe campaign (click here). To make a direct donation, give feedback about the site, or send a Letter to The Editor, email us at Scott@chelseacommunitynews.com.