The Rail Line Diner opened its door to Chelsea in September 2013, after being on the iconic corner (W. 23rd St. & 9th Ave.) as Moonstruck, for 20+ years.
As the neighborhood changed, we changed right along with it.
Still the same owner and same great food, The Rail Line Diner has a new look, but the same great menu.
As a gateway to West Chelsea, our neighborhood has everything o offer—from galleries and the High Line to shopping and Hudson River Park. But we know that our neighbors are what make our neighborhood great!
LOCATION & HOURS:
400 W. 23rd St. (corner of 9th Ave.)
Dine In/Delivery
Sun-Wed, 6am-12am
Thurs-Sat: 6am-1am
TO CONTACT:
Phone: 212-924-3709
SOCIAL MEDIA (to visit, click on the below destinations)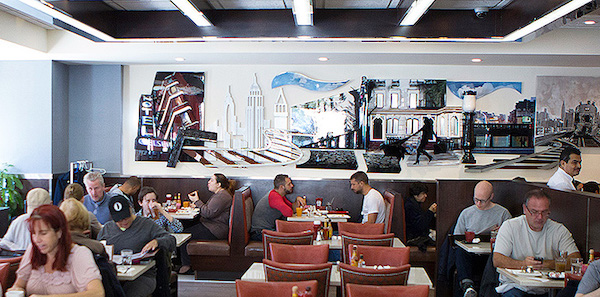 3 QUESTIONS, WITH OWNER TEDDY NICTAS
—Tourists find their way to The Rail Line, but what keeps neighborhood residents coming back?
The friendly atmosphere.
—What are some of your signature dishes and desserts?
Our dinner platters and burgers; the portions are huge! The Crabcake Benedict and frittatas are also very popular. We changed our brunch menu recently, by adding some new items, including calamari salad, with peanuts and dried cranberries, and cinnamon pancakes (with apple cinnamon on top), an option that also applies to our French toast.
—For those of us staying in, where do you deliver to?
We deliver from 14th to 31st Streets, from Sixth Avenue to the river, and take orders from the time we open until 30 minutes before closing.
This is sponsored content from The Rail Line Diner. Look for their ad in our new monthly small business-themed eNewsletter.