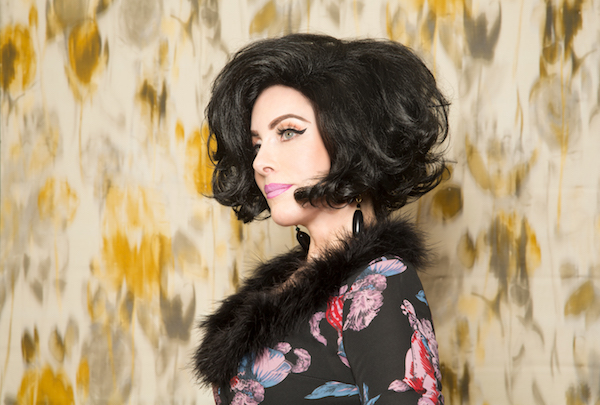 BY KEITH VALCOURT | Josie Cotton is back. Actually, she never really went away. Although she is best known for her 1980s hits Johnny Are You Queer? and He Could Be The One, Cotton has been creating music or decades. Yes, she was in the cult classic film Valley Girl, but she also released close to a half dozen albums in the 1990s and 2000s. So if this is not a story about a grand return, how can I frame it?
This year sees Cotton raising her profile. With a string of recent live dates under her belt, Josie has just put out a two-sided cold war-themed single and, on Oct. 4, she will release a brand new/old album, titled: Everything Is… Oh Yeah. The disc was originally scheduled to be Cotton's third album slatted for a mid-1980s release. I caught up with Josie in Los Angeles at her "Kitten Robot" studios, packed with freak show art and clown memorabilia (as well as friendly dogs and cats), to discuss her return to the '80s, the controversy surrounding her breakthrough hit, and her recent Russian obsession.
Keith Valcourt, for Chelsea Community News: Because you became known in the 1980s, people refer to you as an "Eighties" artist. But musically, I've always thought of you as inspired by the girl groups of the 1960s.
JOSIE COTTON: That was a big influence on me as a singer, the girl groups from that era. My career really started with the Paine Brothers [producers Larson and Bobby], and their concept of what "new wave" music was going to be. They're the ones that pretty much discovered the Go-Go's, at The Masque [legendary Los Angeles Punk Club]. In the beginning, they were helping create that style of music.
CCN: Do you credit them with helping you create the Josie Cotton persona, and helping you find your voice?
JOSIE: They definitely focused me, because I was singing in a variety of styles, and my tastes were varied. I would even sing in different accents, depending on the type of music. I was all over that place, and that was not a good thing. I had too many different personas. They focused me in something that was really formative to me: The "British Invasion" and the girl groups. They pointed me in a direction and helped me not to sing with an accent. They helped me develop my voice. I learned it is not a good thing for a singer to be too versatile. It worked against me when I was starting off. You need to have one "Brand." I guess they didn't have that word back then.
CCN: Back in the '80s, it felt like you had to fit in specific categories.
JOSIE: And then it becomes what the fans want you to be. When you change your direction in music, it is heartbreaking to see the disappointment in the fan's faces. "I'm sorry but I can't do that anymore." For a long time, I didn't do any '80s songs. I did the Frightened By Nightingales record, which was completely off the rails. I didn't want to be "Josie Cotton" anymore. I shed the skin of Josie Cotton and strayed from the herd.
CCN: Was that record an attempt to shed the old you?
JOSIE: It wasn't that intentional. I fell in love with this songwriter, Bill Rhea, and he had a whole record almost completely finished. He was such an artist. It was wonderfully challenge as a singer, and took me places I had not been. I was doing it more for him, because I wasn't even trying to promote myself anymore. I didn't even want to pursue a career. I believed in him so much that I decided to do it, and put my name on it, to promote someone I considered great artist.
CCN: What brought you back to being Josie Cotton, and are you now embracing what the public wants?
JOSIE: I would say as much as I wanted to not be a part of the music business, enough of me was in Josie Cotton that part of her survived. She was kind of like a hand puppet that kept reappearing in my dreams.
CCN: Is it true that the song Johnny Are You Queer? was inspired by the punk band Fear?
JOSIE: The Paine brothers were producing the Go-Go's and Fear at the time. Fear had a song delivered in the usual angry Fear way. It was screaming, "Johnny Are You Queer?" over and over again. They just thought that was funny, and it was, I guess, phrase whose time had come. People were mesmerized by them and all the emotion they brought to it.
CCN: Fear shows then had a lot of intensity to them.
JOSIE: My god. They scared me so much. I was terrified when I saw Fear. The Paine Brothers put that song in the back of their super creative human minds. And they were working with the Go-Go's, and Jane Wiedlin said to Larson, "All the cute boys are gay." That was the line. A light went off. Social situation married with "Johnny Are You Queer?" but done in a new wave style, with the songwriting chops of a Burt Bacharach and Hal David. They married the innocence of the Go-Go's with the terror of Fear, and they came up with that song.
CCN: The Go-Go's played it live before you recorded it. How did it go from being a Go-Go's song to a Josie Cotton song?
JOSIE: They played it as the encore of their shows and it would bring the house down. But when the Go-Go's parted ways with the Paine Brothers in a very dramatic fashion. The band wanted to tour with Madness and the brothers said, "You're not ready." The Go-Go's said, "We're doing this tour!" So Larson ripped up the contract and said, "You're Free"—something the lawyers went nuts over and the brothers may have regretted later. When they parted, the Paine Brothers said, "Then we are taking our song back. You can't perform it anymore." When I met Larson Payne in a bank line on Hollywood and Vine, they were looking for a singer to do the demo for their publishing company, Warner Brothers. I became his girlfriend, and I was a singer. And songwriter. I was just in love with that song. That song was insanely funny to me, and so good on so many levels. I had a comedy background. The humor. The pure pop-ness of it. The irony and social context. It appealed to me on all levels. I had to beg to sing that song. Larson said, "No girlfriend of mine is going to be a singer." But I was a singer. His brother, Bobby, said, "What harm could happen? Just let her sing the demo."
CCN: Why was the single so controversial, misunderstood, and misinterpreted by everybody?
JOSIE: The religious right was so upset over it. Parts of the gay community, but only on the East Coast, were also upset. On the West Coast, it was an anthem, and I think I was "Queen Of The Queens" [laughs]. The reaction to the song was very schizophrenic. I was banned in Amsterdam. The Catholic Church went after me. The people who loved the song didn't know any of this was going on. There were protests. My record company, Elektra, got cold feet and started pulling away. Elektra pulled it from the stores. Pulled it from the radio. Eventually, they dropped me.
CCN: What was the meaning of the song for you then?
JOSIE: To me, the song was an acting job. I played a character. A pretty, witless girl who had no "Gaydar."
CCN: Was "Gaydar" a thing back then?
JOSIE: I don't know but I had it, whether it was a thing or not [laughs].
CCN: You may have invented that.
JOSIE: Perhaps. I'll have to ponder that. I grew up around gay men. One of my stepfathers, turned out, he was a gay blade. I knew enough people in that world to know. The song was a character to me, and one of the reasons it was so fun was because she had no clue. That was my performance of it.
CCN: Has the song evolved into a gay anthem?
JOSIE: The right people own that word now. I have had so many gay men come up to me and tell me how the doing changed their lives, that they came out because of that song. It freed them in some way. I don't think it is an anthem. Many young people don't even know about that song.
CCN: Do you think if Elektra supported it, rather than being afraid, it would have been a bigger hit?
JOSIE: Yeah! They call that a hit song—but at the time it was released, it was an atom bomb. It exploded cultural norms. It could have been really big. But Elektra pulled it off the radio! Have you ever heard of a record company doing that with a hit single? There were no records in the stores when the song was going hot in the clubs and discothèques around the world. My going joke at the time was, "Can't Coca-Cola manage me? Coke is in every store." Aren't they [Elektra] supposed to do their job and get the records into stores? They were afraid of it, so they pulled it.
CCN: How did you end up in the film Valley Girl, and what do you remember most about filming it?
JOSIE: I was only there for two days. Martha Coolidge [director Valley Girl and Real Genius] started calling my producers, and Larson thought it was a crank call. So he kept hanging up on Martha. He didn't understand what was going on. Finally, she convinced him there was gong to be a movie. No one knew who Nicolas Cage was. I think that might have been his first movie. No one knew it was going to be iconic and take alternative music to the mainstream. None of us were really on mainstream radio before that. We weren't allowed. It was fun, but I didn't know it was going to be like that. That people would never let it go. (Laughs)
CCN: Or that they would still ask you questions about it decades later?
JOSIE: Yeah. I still go to a lot of Valley Girl reunions, and turns out a whole lot of men who were prepubescent boys when the movie came out came into manhood with the film. I heard from a lot of them. Apparently I was very popular with that crowd [laughs]. I always said it was a girl's movie because it was a romantic comedy and there was a lot of fashion, but it was really a guy's movie. It told guys it was okay to be sensitive. To be an individual. And be creative and just be different. I think it affected a lot guys.
CCN: You just performed on the Lost '80s Live package tour, where you played two songs. How was that show for you?
JOSIE: For years I avoided all this '80s stuff, until this summer. I kind of fell back in love with the songs from my first two records. I rediscovered they were good songs.
CCN: Is there a tour in the works?
JOSIE: In February, we are doing a show in Los Angeles at the Microsoft Theater, with my full band playing with Violent Femmes and Big Country. And I have not been told I can only do '80s music. So I'm excited. That's a very large stage. I might have to get a hundred dancers [laughs].
CCN: You have never really stopped making music, have you?
JOSIE: I stopped for a bit after my mom passed away. The world lost its shimmer for me. After my mom passed away, I didn't really see… You know. The world lost its shimmer for me, and I couldn't make sense of making music and why I should be doing that anymore. The world didn't make sense, and I thought I was done. I just went away.
CCN: What brought you back?
JOSIE: What brought me back was as me wanting to get out of a relationship [laughs].
CNN: Seems relationship brought you into music. Then away. Then back. I see a common thread.
JOSIE: Yeah. Repelling me. Attracting me. Spitting me out. Raising me up. I was in a tangled web, and in order to escape the web I had to find my center again. I spent some time in the desert. When I returned I started recording music right away. I recorded the two-sided Russian-themed single that is out right now: Cold War Spy and Ukrainian Cowboy.
CCN: Let's talk about the new single and it's theme of Russian spies.
JOSIE: It's a look at Russian Communism from different eras. One is more World War II, Ukrainian Cowboy. The other, Cold War Spy, is the Stasi influence in the 1960s. I'm a documentary whore. I watched a whole series about World War II. And one on World War I. It was just so graphically in the trenches. Some cameraman was the hero of the century for this footage. I was fascinated with the whole mentality of communism and how it applies now. I was keenly aware of the historical context to our present day. Hearing it every day on the news as I was watching these documentaries. It just exploded out of me. I couldn't hold in the whole Russia dialog going on, outside me and in my mind. I started researching the Stansi, and it had to come out.
CCN: How did the lost album, Everything Is Oh Yeah, finally get released?
JOSIE: I signed with a publishing company and they were looking for material for Stranger Things [the Netflix series]. I thought, "Gosh, we have some '80s songs that were never released." Because that was what they were asking for. I thought the tapes were long gone and lost in one of the natural disasters that happened over the years in Malibu. But we found them! We remixed them, and they sound pretty good. The album was all recorded in the '80s. This was supposed to be my third record. Elektra dropped my ass back then. They didn't get to hear it. After I was dropped, I just kept recording.
CCN: What were the original recording sessions like?
JOSIE: Brian Setzer and Malcolm McLaren were both friends with my producer. They would drop by while we were making the album. One day, they dropped by at the same time and got in a huge argument about the future of music, including my record. Malcom stated, in a very eloquent way, that he future of music all had to do with beat and rhythms. He was right, and way ahead of the pack. He thought I should erase the whole record and start over. Brian played on the record on three of the songs. He was not agreeing with Malcom. He said, "This is a great record and rock and roll will never die." And he was right too. They were both right and that did something to my brain.
CCN: When you went back to these songs, were you excited?
JOSIE: I was excited, and I was amazed how good it was. It's a new record and an old record. Right now I am busy trying to set up more live shows and re-release my whole catalog in the right way. Doing the '80s shows now is a pleasure, because the audiences are so sweet. It's like performing before thousands of puppies. They are just so happy to see me. I'm humbled and touched by it.
Josie Cotton's new CD, Everything Is Oh Yeah, is out October 4. To order, and for more info on the artist, visit josiecottonmusic.com.
Chelsea Community News is made possible with the help of our awesome advertisers, and the support of our readers. If you like what you see, please consider taking part in our GoFundMe campaign (click here). To make a direct donation, give feedback about the site, or send a Letter to The Editor, email us at Scott@chelseacommunitynews.com.