Wednesday, October 2: Manhattan Community Board 4 Full Board Meeting | It's a love letter to anyone who's ever come across construction in their neighborhood and said, "But nobody told me about that." CB4 meetings provide early warnings for things to come, as the board reviews and debates everything from rezoning to liquor license renewal requests. It's quality quality-of-life info at the ready, and no CB4 meeting has more to offer in that area than the monthly full board meeting, where committee letters go to the full board for a vote. Show up a bit before start time, and sign up for the Public Comment section, where you get the mic for 2 minutes, and can take that opportunity to make your voice heard. Wed., Oct. 2, 6:30pm at Hudson Guild Elliott Center (441 W. 26th St. btw. 9th & 10th Aves.,in the Dan Carpenter Room A/B). For info on all things CB4, click here.
Thursday, October 3: The PS11 Farm Market, Week 18 | PS11 Farm Market this week will be held on Thursday, October 3 from 8-9:30am. The 511 3rd graders will be running the market this week, selling great local, organic, seasonal produce. Look for them under the scaffolding, outside of PS11 (320 W. 21st St. btw. 8th & 9th Aves.). This market is presented in partnership with Stoneledge Farm. Here's some of what's in the bag this week: carrots, green curly kale, sage, shallots, butternut winter squash, red cabbage, and cauliflower.
Monday, October 7: Forum on Residential Recycling | For more info, see the below flyer.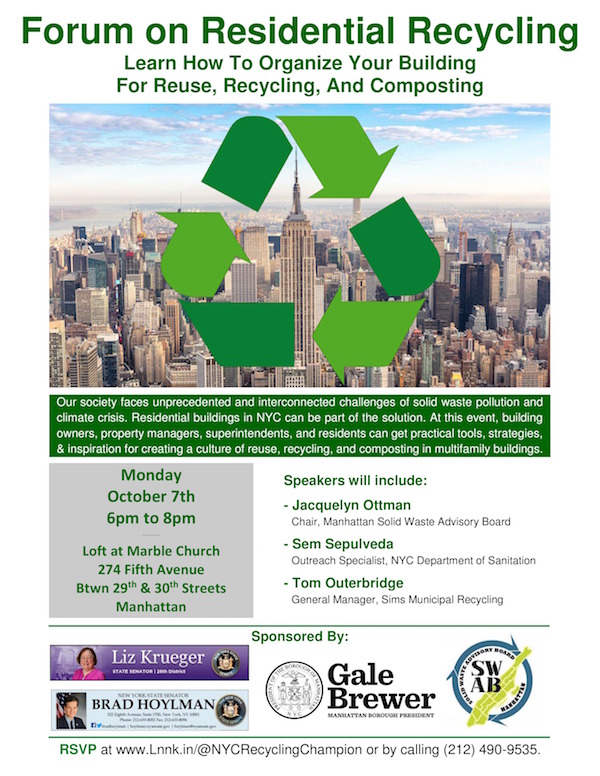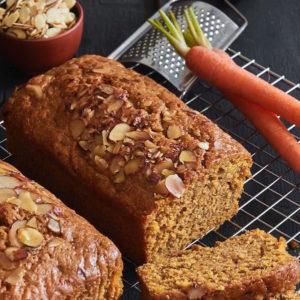 Saturdays at Down to Earth Farmer's Market | Every Saturday, 9am to 4pm through December 21, East of Ninth Ave., on the north side of West 23rd Street, is the place to be—for good green stuff and more. This Westchester, Brooklyn, Manhattan, and Queens market welcomes SNAP benefits—just stop by the manager's tent to use your EBT card.
Here are just a few of the participating vendors, and what they offer:
–Plants, flowers, and certified organic fruits and vegetables from Echo Creek Farm
–Ready-to-eat and vegan options from Pickle Licious
–Baked goods and gluten-free options from Meredith's Country Bakery
–Pantry items, sauces, and seasonings from Arlotta Food Studio
–Breads from Orwashers Bakery
In recent Market News, they note, "We are pleased to introduce brown bin compost drop-off this season at the Manager's Tent. A BIG thank you to our community hosts, Holy Apostles Soup Kitchen for allowing us to participate in their program."
Elsewhere around the neighborhood, their Hudson Yards incarnation is open Thursdays, 8:30am to 4pm, through November 21. It's hosted by the Hudson Yards Hell's Kitchen Alliance.
For more information about Down to Earth Farmer's Market, visit downtoearthmarkets.com.
Chelsea Community News is made possible with the help of our awesome advertisers, and the support of our readers. If you like what you see, please consider taking part in our GoFundMe campaign (click here). To make a direct donation, give feedback about the site, or send a Letter to The Editor, email us at Scott@chelseacommunitynews.com.