BY SCOTT STIFFLER | "Human and humane" is the apt description of Palissimo Company—artistic director Pavel Zuštiak's dynamic, deeply affecting, 2004-founded collaborative platform for research, development, and production of live arts, whose exploration of the human condition captures the imagination and stirs the soul.
Merging, they tell us, "the abstract aspects of dance with the nonlinear qualities of theatre and mise-en-scène into multidisciplinary works that are rich in evocative imagery, piercing emotional resonance, and non-narrative/nonverbal content," Palissimo's latest public presentation happens on Mon., Oct. 7, 7-9pm. The fall fundraising event, Vanity Party, takes place at Chelsea's Heller Gallery (303 10th Ave. btw. W. 27th & 28th Sts.). Proceeds will support development of Palissimo's new stage work, Hebel, set to premiere at NYU Skirball in April 2020.
Chelsea Community News recently spoke with Pavel Zuštiak about the fundraising event, set amidst Heller Gallery's exhibition of Erica Rosenfeld's Reverie Forest: Sanctuary for Strange Creatures—a fitting setting, as Heller describes the exhibition with words that could well be lifted from conversations sparked by your experience at any given Palissimo performance: "wild and calm, eerie and familiar, earthly and spiritual."
Scott Stiffler, for Chelsea Community News: How did the event come to be associated with Heller Gallery, and what can we expect, given that location/atmosphere?
Pavel Zuštiak: The owners of Heller Gallery, Katya and Doug Heller, are longtime friends of Palissimo Company. They share a love of design, visual, performing, and culinary arts, along with ties to former Czechoslovakia. The backdrop to the VANITY PARTY is Erica Rosenfeld's hybrid art exhibition, along with immersive-style performances by Palissimo dancers Emma Judkins, Wendell Gray II, and Doug LeCours happening throughout the space. Heller Gallery, filled with a spectrum of dichotomies and tension, serves as the perfect environment for Palissimo's multidisciplinary aesthetic.
Katya Heller and myself will serve our spin on chlebíčky, a famed Czechoslovak communist era open-face style sandwich, which is now experiencing a retro renaissance in Central Europe. Cliffton Dry, one of the evening's sponsors, will pair them with their mixed Cliffton Dry cocktails. The Vanity Party will tease the eye as well as taste buds, in a fundraising event full of fantasy and surprises.
CCN: Proceeds from the party are going to support the development of Hebel. Why did Palissimo choose this piece and how does it compliment the company's mission and/or aesthetic?
Zuštiak: Etymology of the word hebel (translated as vanity, breath, vapor, emptiness, nothingness and absurdity) offers a rich landscape to explore. I feel on a personal level, as Americans and as global "humans," we are at the crossroads, asking: Where do we go from here? What is next? What was this all for? Hebel embodies a natural evolution within Palissimo's arsenal of works. Unexpected visual imagery, juxtaposed with music by Christian Frederickson, and the movement of not only dancers' bodies but of the moving set design and objects (Keith Skretch and Joe Silovsky), the work, while still in development, tackles larger ontological questions around presence, being, perception, the physical, and the unseen. Proceeds from the VANITY PARTY will support our final stage of Hebel development as an interdisciplinary work. Those who cannot attend can support the work through our VANITY PROJECT Fund or can bid on our auction items via proxy (see https://www.palissimo.org/vanity-party).
CCN: Beyond this Oct. 7 event, how can people support Palissimo?
Zuštiak: Follow us on Instagram! (@PalissimoCompany), Facebook (@Palissimo), and our newsletter. We occasionally host free open studio showings. We have also started collaborations with designers like handbag designer George Diao, former senior designer at Henri Bendel, in creating limited edition of handmade totes inspired by our production Custodians of Beauty (made of leather and antiqued Italian velvet used in the set design of the piece). We will be opening an online shop as well as membership programs to expand our home base. Check out our website, www.palissimo.org.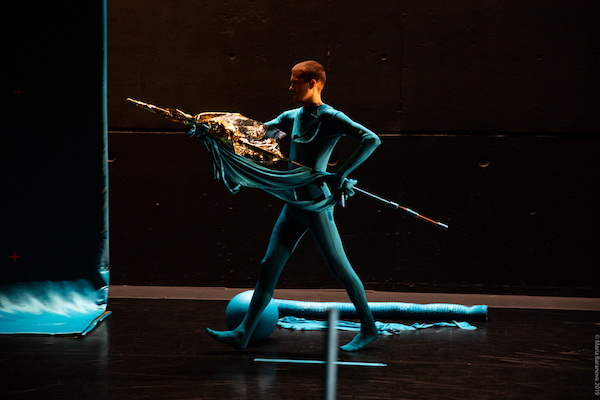 CCN: What are the company's long-term plans?
Zuštiak: NYC performing arts companies of our size exist against all odds. The answer to the challenge of sustaining and growing such company is in an authentic connection with individual audiences and their support. All our energy is going toward completing the work on Hebel, and touring it after its April 2020 premiere. We have another work, En Masse, in development, a collaboration with musician/sound designer Asa Horwitz and about 30 performers, which creates opportunities to work with local performers when on the road. We are working on taking the existing works to audiences nationally and internationally.
CCN: Feel free to talk about anything else not covered above.
Zuštiak: I am grateful to our VANITY PARTY sponsors: Heller Gallery, Cliffton Dry, author Maurice W. Dorsey and Kiehl's at Hudson Yards for their generosity. It truly takes a village and we feel the love from our local partners!
Chelsea Community News is made possible with the help of our awesome advertisers, and the support of our readers. If you like what you see, please consider taking part in our GoFundMe campaign (click here). To make a direct donation, give feedback about the site, or send a Letter to The Editor, email us at Scott@chelseacommunitynews.com.