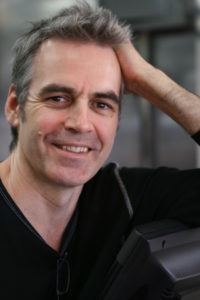 Saturday, October 19: "Swimming in Mudd" | Longtime community advocate, Chelsea Community News contributor, and Midtown South Community Council president John Mudd's solo performance is presented as part of the United Solo Festival. Described by Mudd as an experience that "delights, and hits your funny bone through the character's despairing search for a purpose," the show centers on Arthur, a 46-year-old entrepreneur who's been living in the same Hell's Kitchen apartment for the past three decades.
Filled with anxiety, anger, and frustration with the injustices he sees daily (shades of Mudd's own work as an advocate for the homeless), avid cyclist Arthur pedals toward the George Washington Bridge, where the "troublesome gray water" serves as a conduit for diving into his past, as a way to "find strength in defeat, and find a reasonable way forward… to come to terms with past failures and redirect negative energy into positive action."
Written and performed by Mudd, and directed by Geoffrey Owens, Swimming in Mudd is performed for one night only: Sat., Oct. 19, 6pm at Theatre Row, in The Studio Theatre (410 W. 42nd St. btw. 9th & 10th Aves.). For tickets ($45), visit telecharge.com or call 212-239-6200. Artist info at swimminginmudd.com.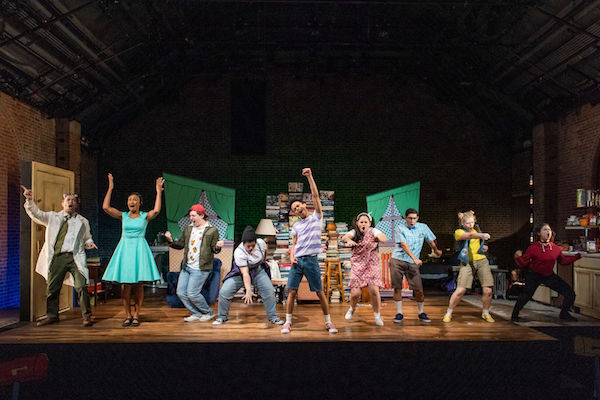 Through October 20: Atlantic for Kids Presents "The Big One-Oh!"  | Atlantic Theater Company's Atlantic for Kids programming series proudly presents The Big One-Oh!, a world premiere musical based on the novel by Academy Award winner Dean Pitchford (Fame, Footloose). Charley Maplewood is about to reach a milestone: He's about to turn 10! He has never been one for parties. That would require friends, which he doesn't have (unless you count his monster friends—but they're only imaginary). Charley's still adjusting to his parents' divorce and his move to a completely new school. Now that he's turning 10, he decides to throw a birthday party for himself, complete with a "House of Horrors" theme. Things don't work out as he plans, of course. Will Charley be able to pull it together before the big one-oh becomes the big OH-NO!? Saturdays and Sundays at 10:30am, through Oct. 20. At Atlantic Theater Company's Linda Gross Theater (336 W. 20th St. btw. 8th & 9th Aves.). For tickets and info, visit https://atlantictheater.org/productions/kids/.
Tuesday, October 15: Chant Macabre: Songs From The Crypt | One sure sign that Halloween season is upon us: The eerily talented Bond Street Euterpean Singing Society presents its annual Chant Macabre concert at Merchant's House Museum. Rarely-performed art songs by 19th century composers such as Schumann, Duparc, Liszt, Mussorsgky, Humpeldinck, Schubert, Saint-Saëns, and more will be presented in the lovingly preserved (and quite possibly haunted) intact parlors of the 1832 Seabury Tredwell residence on East Fourth St. All proceeds benefit the Museum as it continues its fight to prevent an inappropriate hotel development (planned for right next door) from destroying it, while being built. Tues., Oct. 15, 7pm, at Merchant's House Museum (29 E. Fourth St.). For tickets ($30, $20 for MHM members), visit http://merchantshouse.org/october2019/.
Also in October at Merchant's House, their Ghost Tours offer a window into the paranormal investigations conducted on site, at what the New York Times once (quite accurately) called "Manhattan's most haunted house." Unexplained happenings have been happening ever since Merchant's House opened its doors as a museum, for the purpose of showcasing the belongings and lifestyle of the Tredwells. Ghost Tour visitors are among those reporting unexplained happenings. So enter Merchant's House if you dare (and you should dare). At the very least, you'll emerge having gained a great history lesson. At best, you'll see something odd out of the corner of your eye, or feel as if something unseen has just brushed up against you. Report your experience, and you'll become part of Merchant's House history (they keep meticulous records of every paranormal event, of which there have been plenty).
–Compiled by Scott Stiffler
Chelsea Community News is made possible with the help of our awesome advertisers, and the support of our readers. If you like what you see, please consider taking part in our GoFundMe campaign (click here). To make a direct donation, give feedback about the site, or send a Letter to The Editor, email us at Scott@chelseacommunitynews.com.