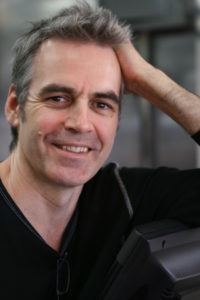 Saturday, October 19: "Swimming in Mudd" | Longtime community advocate, Chelsea Community News contributor, and Midtown South Community Council president John Mudd's solo performance is presented as part of the United Solo Festival. Described by Mudd as an experience that "delights, and hits your funny bone through the character's despairing search for a purpose," the show centers on Arthur, a 46-year-old entrepreneur who's been living in the same Hell's Kitchen apartment for the past three decades.
Filled with anxiety, anger, and frustration with the injustices he sees daily (shades of Mudd's own work as an advocate for the homeless), avid cyclist Arthur pedals toward the George Washington Bridge, where the "troublesome gray water" serves as a conduit for diving into his past, as a way to "find strength in defeat, and find a reasonable way forward… to come to terms with past failures and redirect negative energy into positive action."
Written and performed by Mudd, and directed by Geoffrey Owens, Swimming in Mudd is performed for one night only: Sat., Oct. 19, 6pm at Theatre Row, in The Studio Theatre (410 W. 42nd St. btw. 9th & 10th Aves.). For tickets ($45), visit telecharge.com or call 212-239-6200. Artist info at swimminginmudd.com.
Sunday, October 20: Blessing of the Animals | On Sun., Oct. 20 at Noon, Chelsea Community Church and St. Peter's Episcopal Church will present The Blessing of Animals service. All breeds and denominations are welcome. In past years, pets have included dogs, cats, birds, and a turtle. At St. Peter's Chelsea (346 W. 20th St. btw. 8th & 9th Aves.).
Thursday, October 17: The PS11 Farm Market | PS11 Farm Market this week will be held on Thursday, October 17, from 8-9:30am. The third graders who run the market will be visiting Stoneledge Farm on Wednesday to get firsthand knowledge about where this local, organic, seasonal food comes from. Stop by on Thursday to see what they have learned. Look for them under the scaffolding, outside of PS11 (320 W. 21st St. btw. 8th & 9th Aves.). This market is presented in partnership with Stoneledge Farm. Of this week's offerings, they note: "Lettuces are back, mustard greens, and more. It is a nice break from the heartier vegetables."
Thursday, October 17: Fire Prevention & Preparedness Workshop | See the below flyer for details. To RSVP, call 212-564-7757 or send an email to SpeakerJohnson@council.nyc.gov.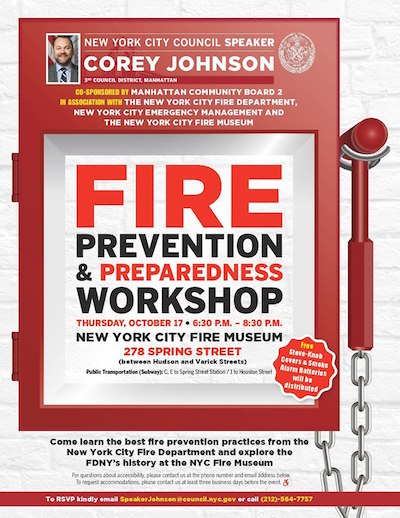 Wednesday, October 16: Community Update on the Development of the New Mount Sinai Beth Israel | See the below flyer for details.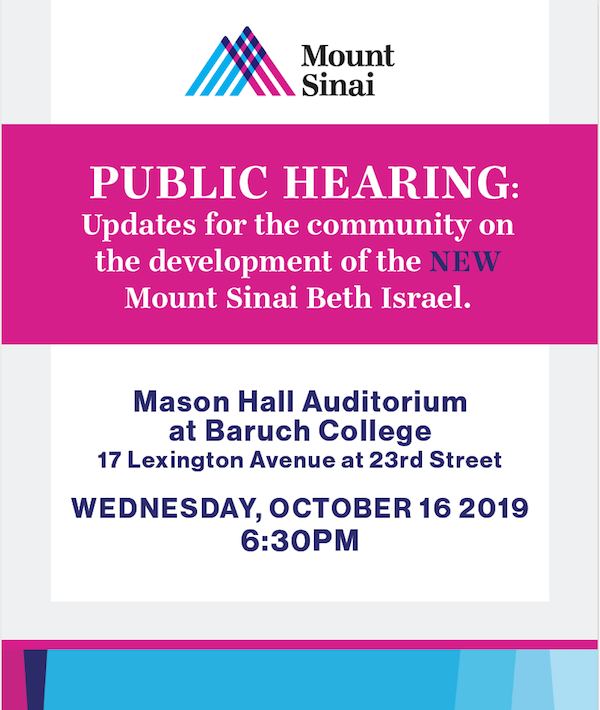 Wednesday, October 16 through Friday, October 18: Inaugural High Line Network Symposium |After a 20 year journey, including 10 years since the first section of the High Line opened in 2009, the question for the High Line now is: what's next? Now, for the first time, a group of urban planners, infrastructure reuse project leaders, board members, community organizers and partner organizations, known as the High Line Network, is joining academics, practitioners, and thought leaders from the field for three days of events to share experiences and learn from each other.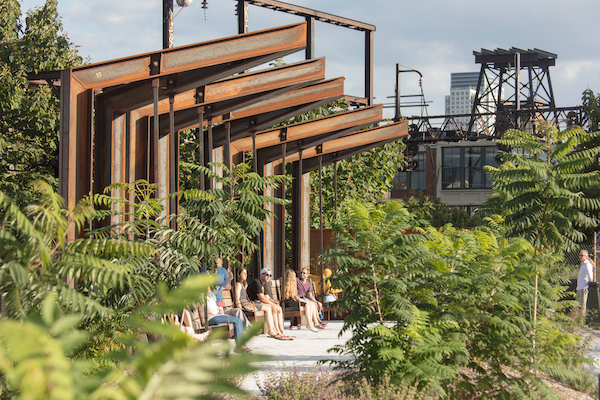 The inaugural High Line Network Symposium takes place Oct. 16-18.  The calendar of events includes the Oct. 16 panel discussion Economic Impact & Beyond, featuring, among others, Darren Walker, President of the Ford Foundation, Robert Hammond, Co-Founder and Executive Director of the High Line, and Mitchell Silver, NYC Parks Commissioner. Oct. 17's Maximizing Public-Private Partnerships for Parks and Open Spaces panel discussion examines the benefits and challenges of public-private partnerships. Participants include Betsy Smith, President & CEO of the Central Park Conservancy, and Adrian Benepe, Senior Vice President & Director of National Programs at Trust for Public Land. Also on Oct. 18, artists Nicole Awai, Judith Bernstein, Guerilla Girls, Xaviera Simmons, and Hans Haacke will join Tom Finkelpearl, Commissioner of New York City's Department of Cultural Affairs, for a conversation about the inaugural public art project of the High Line Network Joint Art Initiative, New Monuments for New Cities, currently displayed on the High Line.
Chelsea Community News is made possible with the help of our awesome advertisers, and the support of our readers. If you like what you see, please consider taking part in our GoFundMe campaign (click here). To make a direct donation, give feedback about the site, or send a Letter to The Editor, email us at Scott@chelseacommunitynews.com.