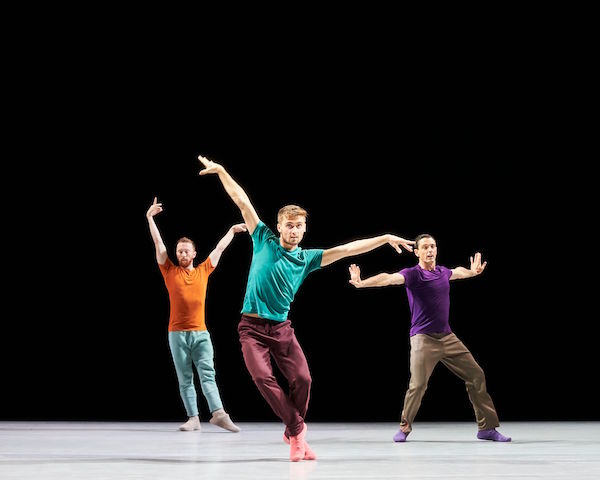 BY ELIZABETH ZIMMER | William Forsythe is arguably the smartest person working in dance today, and his current year-old touring show, William Forsythe: A Quiet Evening of Dance, just might be the best concert you'll see this year. Forsythe, now pushing 70, has spent the bulk of his career in Germany, but is currently back in the States, teaching at USC and assembling superb dancers of diverse ages, ethnicities, and skill sets.
The program on view at The Shed begins quietly, with the sound of birdsong accompanying couples who channel their focus and energy into their upper-body gestures, or what the ballet world calls épaulement. Their arms seem to reach to forever. A second section is breath-driven. Dancers dressed casually except for exquisite, brightly colored, full-length gloves keep moving to the dissonant piano music of Morton Feldman.
In the second half of the performance, titled Seventeen/Twenty One, the dark floor of the black box space has been converted to white, and the full ensemble forms into lines, mocking courtly behavior even while demonstrating their firm command of it. To a recording of Jean-Philippe Rameau's baroque music, the cast of seven men and three women finally allow themselves some leaps and jumps, and the temperature in the room rises, resulting in almost unbearable pleasure.
The ballet beauty is interrupted by the appearance of Rauf "Rubber Legz" Yasit, a Los Angeles-based dancer with Kurdish roots whose unique style derives from b-boying. He tangles himself and his partners in extraordinary ways, moving their bodies to the floor and disrupting the mannered phrasing with a journey all his own, a Caliban among the aristocracy.
The Sunday matinee I attended was followed by a talkback session with Forsythe and dance critic Jennifer Homans—in its way, as satisfying as the choreography itself. "The human body is the only musical instrument that can play itself," observed Forsythe, trained as a musician before decamping, in his late teens, for a ballet career. The gestural language of his piece, he said, quotes both Beyoncé and Balanchine. He aims for the "ecstasy of connection," and he reaches it. The dancers' pleasure in their work is plainly visible throughout. They're truly playing themselves. There are few dance concerts I'd sit through again, immediately—this is one.
Through Oct. 25, Tues.-Sat. at 7:30pm, Sun. at 3pm. At the Griffin Theater at The Shed (545 W. 30th St.). For tickets ($44-$90), visit call 646-455-3494 or visit theshed.org.
AMERICAN BALLET THEATRE | Their fall season features pieces by Twyla Tharp (the fabulous 1973 Deuce Coupe and A Gathering of Ghosts, a world premiere celebrating Herman Cornejo's 20th anniversary with the troupe), and James Whiteside, plus a world premiere by Gemma Bond, a New York premiere by Jessica Lang, and revivals of work by George Balanchine, Alexei Ratmansky, and Clark Tippet. Oct. 16-27, at various times at the David H. Koch Theater (20 Lincoln Center Plaza). For tickets ($30+), call 212-496-0600 or visit abt.org.
ICE THEATRE OF NEW YORK | Ice skaters young and hold will thrill to dance art in a rink-size situation, with choreography by Elisa Angeli, Lorna Brown, Eliot Halverson, Deneane Richberg, and Jody Sperling. Special guests include hip-hop/street dance skaters Zabato Bebe and Julien Duliere. Oct. 18, 19, 21 at Sky Rink (62 Chelsea Piers). For tickets ($25+). Call 212-929-5811 or visit icetheatre.org.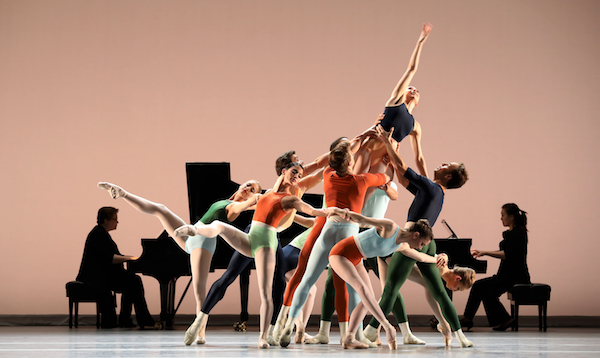 HOUSTON BALLET | Three contemporary American choreographers—Mark Morris, Justin Peck, and Aszure Barton—contribute works new to New York, when Houston Ballet celebrates its 50th Anniversary by returning to City Center for the first time since 1986. Stanton Welch is the artistic director, and the dances, to music by Haydn, Sufjan Stevens, and Vladimir Martynov respectively, are all accompanied live by the Orchestra of St. Luke's. Oct. 24-26. Thurs. at 7:30pm, Fri. at 8pm, Sat. at 2pm and 8pm. At New York City Center (131 W. 55th St.). For tickets ($35+), call 212-581-1212 or visit NYCityCenter.org.
PAUL TAYLOR DANCE COMPANY | This august troupe, setting forth under new artistic director Michael Novak, is also accompanied by the Orchestra of St. Luke's. Its three-week season features guest companies Juilliard Dance, Ronald K. Brown/Evidence, Taylor 2, and the Dayton Contemporary Dance Company performing an evening of work by Donald McKayle; the tickets for that, on Nov. 12, are free, but be sure to reserve in advance. In addition to classic Taylor masterpieces, catch dances by Kyle Abraham, George Balanchine, Margie Gillis, and Pam Tanowitz. Oct. 29-Nov. 17, at various times, at the David H. Koch Theater (20 Lincoln Center Plaza). For tickets ($20+), call 212-496-0600 or visit boxoffice.dance.
Chelsea Community News is made possible with the help of our awesome advertisers, and the support of our readers. If you like what you see, please consider taking part in our GoFundMe campaign (click here). To make a direct donation, give feedback about the site, or send a Letter to The Editor, email us at Scott@chelseacommunitynews.com.