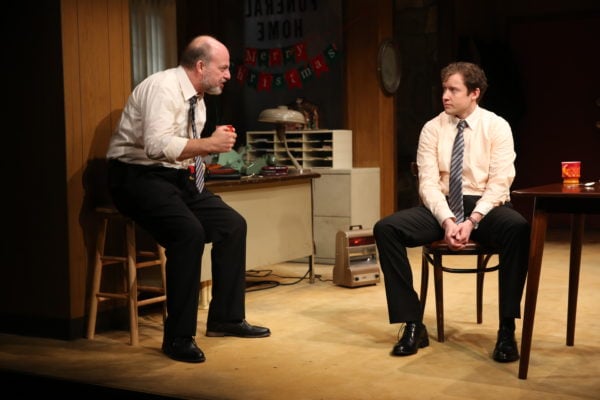 It's set on Christmas Eve, and there are holiday-appropriate decorations strung about the set, to be sure—but don't expect any nostalgic flashbacks shedding light on what a child's Christmas was like in Wales, or, for that matter, a trio of spectral visitors haunting the town miser until he arrives on the doorstep of a poor family a changed man, plump goose in hand. There's not even any eggnog, although the main character doesn't lack the essential ingredient to spike it.
No matter. Liquor, like the truth, packs its strongest punch when served straight up—and as John Plunkett, lead actor Jeffrey Bean serves up a raw, masterfully layered, exquisitely calibrated performance, imbuing Dublin Carol with heartache and regret that is hard to watch, yet demands constant attention. Haunted by the shame of past misdeeds, an unexpected (but not unwelcome) visit from estranged daughter, Mary, compels John to stare into the abyss, with no sure sign he has the ability, or inclination, to look away.
Bean recently spoke with Chelsea Community News about the play, the role, and the power of silence.
Scott Stiffler for Chelsea Community News: Having seen other work by this playwright at the Irish Repertory Theatre—The Weir, The Seafarer, Shining City—I kept waiting for some tinge of the supernatural; a ghost or devil or some other such otherworldly element. But Dublin Carol is has solid roots in the world of human flaws. Did that surprise you?
JEFFREY BEAN: I had the same expectation when I read the script. This is a sort of simpler, more straightforward, more extreme story—very much grounded in reality, yet it still has all the quintessential elements of Conor McPherson's dialogue, which is extremely naturalistic and believable. His ear for how we speak is so accurate. The characters, they have these very deep histories that informs everything that's said, even if it's never overtly spoken. I've done my fair share of tragic characters, but also, a lot of comedy. I was a resident actor at the Alley Theatre [Houston, TX] for about 25 years, so I did somewhere in the neighborhood of 150 productions with them. I've played a wide variety of characters. But McPherson's characters are so dimensioned. They stand out.
CCN: Your character's past, and path, is so dark and tragic. Is it draining to play that arc every night?
BEAN: It's funny. It becomes like a muscle. It feels fairly daunting. At the start of the evening, you know you have this emotional mountain to climb, but you play each moment as it comes to you, and try to realize it as truthfully as you can. And when you're done, you're done. People are always expecting me to be sort of emotionally dead by the end of the evening, but if anything, I might try to overcompensate by being overly cheerful at the end of the evening, just to shake it off.
But I love the whole kit and caboodle. When my agent sent me the breakdown and asked me if I was interested, I didn't have to look much further than Conor McPherson's name to say, 'Yes.' It's just a pleasure to perform, from beginning to end. It's full of pathos and humanity. The only thing you have to make sure of, it to bring your full heart and try as much as possible to make that veil between the imaginary and reality as thin as possible, so that the audience can be moved, themselves.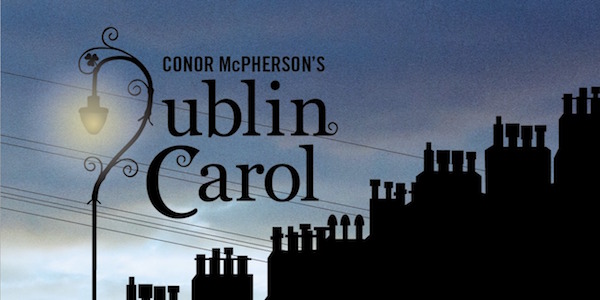 CCN: There's humor in the play, but those moments are few and far between. At the performance I saw, the audience was, for the most part, dead silent.
BEAN: You can palpably feel when the silence is focused. There's a difference between silence that's disinterested and silence that is fully engaged with what they're watching.
CCN: How so?
BEAN: I'm not sure there's any way to define it, other than you can feel the difference, that sort of intense, focused silence that is based on an audience being in communion with the performers, as the story is related to them. It's like the difference between black and deep black. It's just very palpable when they are fully engaged, and you can sense they've let go of their own lives and are totally sucked into the story. I think that happens for us most nights. It's a funny kind of thing. You are actually gunning for that silence. You want that silence, but people bring to this their own histories—and sometimes, there is a response by an individual, based on that. Then you hear people weeping, because some of it is so shocking. The stuff John says, that will make them gasp or respond audibly, and that's all to the good.
CCN: Your character's actions in those final moments—how do you interpret them?
BEAN: I don't want to say that the narrative is this dark thing, because the final moments, I think, are very uplifting. I simply don't believe the ending of the play is fatalistic. I think there's a glimmer of hope for all the characters. This is about a person who seems, almost unredeemable—yet in the final moments of the play, I think it's very clear he is ready to take whatever steps necessary to receive redemption.
Dublin Carol, directed by Ciarán O'Reilly, runs through Nov. 10, on the Francis J. Greenburger Mainstage of the Irish Repertory Theatre (132 W. 22nd St. btw. Sixth & Seventh Aves.). Wednesdays at 3pm and 8pm; Thursdays at 7pm; Fridays at 8pm; Saturdays at 3pm and 8pm; and Sundays at 3pm. Tickets range from $45-$70 and are available through Irish Rep's box office at 212-727-2737 or online at www.irishrep.org.
Chelsea Community News is made possible with the help of our awesome advertisers, and the support of our readers. If you like what you see, please consider taking part in our GoFundMe campaign (click here). To make a direct donation, give feedback about the site, or send a Letter to The Editor, email us at Scott@chelseacommunitynews.com.