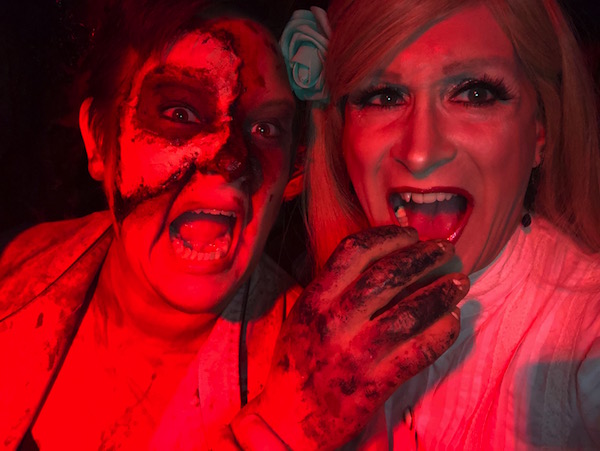 BY CHARLES BATTERSBY | Genre-savvy audiences are increasing numb to horror. The days of animatronic vampires groaning, "I vant to suck your bloooood!" are lone gone. The 21st century haunted house is technologically advanced, highly interactive, and immersive. Some of them even have selfie spots for people who want photo ops with the monsters (you know who you are). We toured some of the scariest places in town for our roundup of Halloween experiences, and found a nice spot for pumpkin spice cocktails to calm our nerves after witnessing terrors mankind was not meant to see!
The traditional haunted house is losing ground to new-fangled "Experiences"—but Blood Manor maintains many of the classic elements of a haunted house. Massive animated monsters spring to life in darkened halls, actors pop out of the shadows to grab unsuspecting passersby, and rooms are filled with eerie props and set pieces. It's also in a historical building that was once used by civil war photographer Mathew Brady, and the staff swears it is genuinely haunted by a ghostly figure in civil war attire!
Blood Manor has some distinct technological features, notably a 3D effect where attendees will wear special glasses for half of their visit. It's a psychedelic experience that genuinely replicates aspects of a 3D movie, and makes Blood Manor more than just monsters popping out of the dark (although there are lots of those too).
They have several "Horrogram" nights, where attendees can take selfies with the creatures, and in November they will do a series of "Lights Out" nights, lit only by tiny glowsticks.
"I Can't See" is among the higher-tech experiences we tried. It is an aptly named, story-driven event where attendees are blindfolded, put into audio headsets, and sent to grope their way through a horror story.
Players take on the role of a person who goes to a haunted house with their friends, and unknowable horrors unfold. The voices of unseen friends guide the audience, one by one, through the rooms, and helpful unseen hands gently prod people along.
Attendees have to feel their way through the rooms by following a series of "Umbilicals" in the form of ropes, branches, and banisters. It also makes extensive use of smell-o-vision, and sometimes taste.
We all watch horror movies and scoff at how the characters constantly make terrible decisions. "I Can't See" culminates in an escape room-style test to see if attendees can remain calm and make good decisions after a frightening situation. In our test group, only our steely-nerved reporter had the wits needed to survive the final encounter!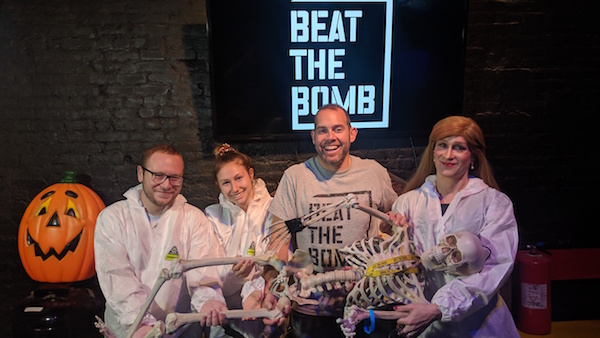 "Beat The Bomb" doesn't have monsters, but it does have an exploding paint bomb that punishes people who can't work together. Teams of 2-6 players dress up in head-to-toe hazmat suits, then compete in nerve-racking, anxiety-inducing games of intellectual might, and teamwork.
Players will wriggle through laser grids like in a spy movie, scream technobabble like in an episode of Star Trek, and engage in other humorously stressful antics, before a final challenge with massive paint cannons. Paint-resistant suits are provided, but attendees are advised to wear comfortable clothing, because the laser grid room is a physical challenge.
"Beat the Bomb" has a few photo ops, including a video of your team passing/failing the final test. The paint bombs don't hurt, but they are humiliating, and challenging; our team of highly trained athletes failed to actually beat the bomb.
For the final week of October, "Beat the Bomb" is adding special Halloween flourishes to their games, but it is open year-round.
For the most authentic haunted house experience, would-be ghosthunters can book a candlelight tour of an (allegedly) haunted Greek revival style row house in the East Village. The Merchant's House Museum is a 1832-built structure which is open year-round, and has tours about the historic nature of the site. In October, they host special macabre events for Halloween. Among these spooky delights is the Candlelight Ghost Tour.
Attendees will be escorted through the most haunted rooms of "Manhattan's most haunted house" (says the NYT). Eight deaths occurred in this house, and these special tours include audio commentary from real ghost hunters, and audio testimony from witnesses who have seen ghosts within the very rooms where the tour takes place, plus samples of EVP, or "Electronic Voice Phenomenon" (ghostly voices recorded within the rooms).
On the night of our tour, no ghosts arrived, but there was at least one well-timed scare to ensure that the night lived up to expectations. The Merchant's House Museum has other special events in the weeks ahead, including a recreation of a 19th century funeral procession.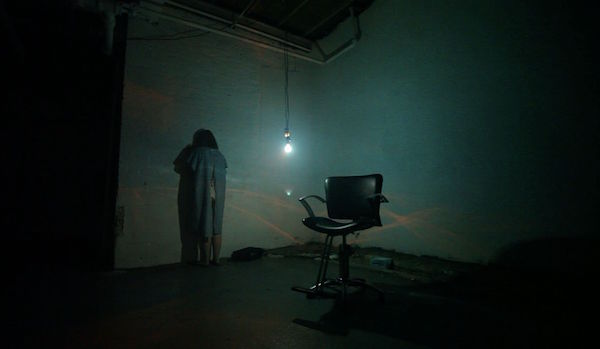 "Blackout" isn't a haunted house. Actors don't pop out and scream at attendees; they will grab, squeeze, and drag attendees into a dark realm of torment and humiliation! One monster even steals people's shoes for sexual pleasure.
There isn't much of a story to it, or traditional Halloween themes. It's a barebones experience that puts attendees into situations of psychological, and social discomfort, occasionally physical discomfort as well. Darkness, simulated vomit, forced dancing, restricted breathing, and feral foot fetishists can all be found at "Blackout."
Attendees should be warned that it is a physically demanding show—the most physically intense of all the experiences we tried. People will get wet, have to crawl, they will be grabbed, and verbally abused.
Following these traumatic experiences, people can head to the Rose' Mansion for some wine. The Rose' Mansion is a wine-tasting experience, but it's also crammed with installations for photo ops. It is open year-round, but parts have been redesigned with mystical, gothic, and Halloween themes this month, and there are pumpkin spice frozen rose' cocktails served in Halloween glasses. The Rose' Mansion has numerous special events this month that have Halloween themes, and there are costumed performers roaming the mansion.
The Rose' Mansion is the least frightening of the experiences we tried—but, after a long day of zombies, ghosts, and paint bombs, horror fans deserve some wine, and a chance to upload their selfies to "The Gram."
Chelsea Community News is made possible with the help of our awesome advertisers, and the support of our readers. If you like what you see, please consider taking part in our GoFundMe campaign (click here). To make a direct donation, give feedback about the site, or send a Letter to The Editor, email us at Scott@chelseacommunitynews.com.