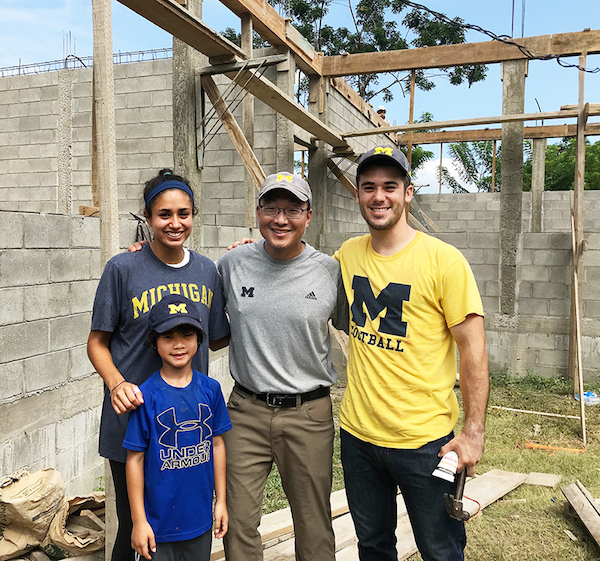 BY DONATHAN SALKALN | While many New Yorkers consider a summer vacation to be enjoying a sandy beach, being pampered at a resort or on a cruise ship, or even staying home lounging on the couch while binge watching, two executive committee members of the Chelsea Reform Democratic Club (CRDC) took their summer vacations down the far less beaten path. At the Sept. 17 CRDC general meeting, held at the Hudson Guild's Elliott Center, Wyatt Frank and Lisa Nearier gave attendees passionate recaps of their summer vacations spent in Honduras and Sweden, respectively.
BRISAS DEL SALTO, HONDURAS: Building Schools
It's been estimated that Honduras, almost the size of New York State but with half its population, has 1,000 communities without access to adequate school buildings.
"Sixty-two percent of forest children drop out of school by the age of 16 and 37 percent of Honduran children ages 12-16 are out of school," said Wyatt Frank, CRDC's VP of Communications. He added that the lack of education has given these children few employment opportunities. "It's a situation that pours them into gang violence," he said.
This past July, Wyatt spent eight days in a community called Brisas Del Salto in northern Honduras, about 35 miles southeast of Guatemala. Although Wyatt has since graduated college and is now working as Special Council Aide to New York City Council Speaker Corey Johnson, he took a break from the rat race to join other volunteers from Students Helping Honduras (SHH) and help dig and set the foundation for a three-classroom middle school building.
During the week, Wyatt quickly became friends of the locals, as they were so excited that a school was to be built. The community had reached out to SHH for help in building a school, and now it was becoming a reality.
In explaining the efforts of volunteers in organizing the community to work on the school long after they had left, Wyatt said, "Self-awareness of how to work is impactful, community orientated, and grassroots."
While there, Wyatt ate a lot of Baleadas. "This delicious dish, native to Honduras, is a thick tortilla wrapped around fried beans. Add avocado, chicken, and anything else."
When completed, the Brisas Del Salto school will be fortified with concrete cinder blocks cemented to withstand floods and hurricanes. It will have electricity, running water, bathrooms, and might very well serve as a shelter during local emergencies. Related Wyatt, "A bathroom is usually a big change for a community, and will improve sanitary and health conditions."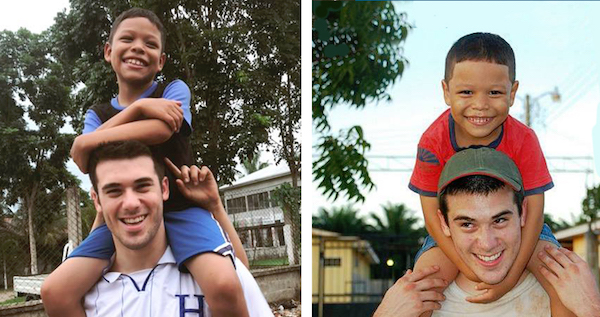 Along with the $30,000 from SHH's stateside donations, the community will provide sweat equity in completing the building. When it opens in a year, local students will no longer need to walk hours each way to be able to attend classes.
As part of SHH, Wyatt has spent five summer vacations in Honduras. His commitment was sparked by his older sister, Sabrina, who was an officer at the University of Maryland's SHH chapter. "She recruited me my freshmen year at Michigan University, and in 2013, I went down to 'Leadership Week' with her in Honduras," Wyatt recalled.
The trip must have touched him deeply. When he returned to University of Michigan, Wyatt founded a SHH Chapter on campus. It has since grown to send groups of 10-15 down to Honduras twice a year, while also raising thousands of dollars annually. Besides Maryland and Michigan, other top fundraising Universities include Virginia, Towson, and South Carolina. Said Wyatt, "It's a really positive part of my life."
According to SHH's website, the organization has a goal of building one thousand new schools in Honduras. It has had more than 7,000 people volunteer, 50 school projects have been completed, more than $5 million had been raised, and the organization has grown to employ more than 70 staff members—most of whom are Honduran nationals. Hundreds of universities and high schools are now raising money for SHH. To get more information on the SHH organization: https://shhkids.org/projects/school-builds/.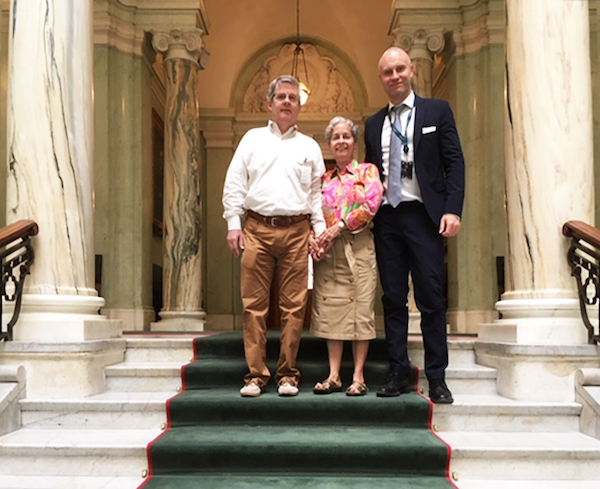 STOCKHOLM, SWEDEN: Building Understanding
As Membership Chair, Lisa Nearier has always taken an interest in new faces attending the CRDC's general meetings, which are open to the public. So when a group of Swedes began appearing every spring with regularity, Lisa did a bit of international intel gathering.
"I found out the Swedes were here for meetings at the United Nations, and they had looked online to see what local political clubs were meeting, and our schedule worked with theirs," Lisa explained. "CRDC has since become hosts to a delegation of Swedish members of Parliament. They come primarily for two major meetings at the United Nations —one on the Commission on the Status of Women and the other on indigenous people. Sweden has a group of Sami people in the northern part of Sweden that are represented in the Swedish Parliament."
With the help of Erik Bottcher, Chief of Staff to Speaker Johnson, Lisa arranged for the Swedes two separate visits to New York's City Hall. The delegation included Fredrik Svensson, Senior Advisor, International Department of the Riksdag, Bjorn Sonden, International Advisor, and members of the Swedish Parliament Boriana Aberg and Cecilie Toftby, both of The Moderate Party, and Denis Begoc from The Social Democratic Party.
The Swedes were so enthralled with their NYC experience, they offered Lisa —if she were ever in Stockholm— a tour, and luncheon at Sweden's Parliament House. This past June, Lisa took the Swedes up on their offer. She and her husband, Robert, vacationed a week at the Hilton Stockholm Slussen Hotel, touring the city (no vehicles, no plastic bottles) and spending a very special day at the Parliament House.
The luncheon, hosted by Lisa's new friends, served not only the "most delicious herring, and lox," but also a spicy entree of debate on the Swedish immigration situation. It's been a few years since refugees stormed Europe, with many settling in Sweden, a country three times the size of New York State, but with half of NYS's population. The lack of refugee assimilation to the Swedish way of life has become a problem to an alarming number of its voters. Lisa had a front seat to the debate between the luncheon's other guests, that included Svensson, Sonden, Aberg, Toftby, and Begoc.
Lisa explained to group at the Elliott Center the origins of discussion. "In 2015 a record breaking 162,877 asylum seekers entered Sweden, that along with Germany was the preferred destination for a wave of Syrians, Afghans, and others. Sweden doesn't seem to be immune to the Europe wide trend of hostility to migration. In 2018, a significant 17.5 percent of the vote went the Sweden democrats, a populist anti-immigration party. This is even more surprising given Sweden's reputation for openness and successful integration.
Lisa added, "By integration, I mean in terms of employment, education, and community life… It was a little odd sitting there as an American with our Statue of Liberty in New York Harbor and hearing these people speak about how they are trying to accommodate more immigrants and migrants and how valuable it is for their economy."
During the Q&A period, CRDC President Judy Richeimer asked Lisa if there was a clash of values when the immigrants moved into such a socially progressive country as Sweden.
Lisa answered, "Sweden has moved away from targeting communities for subsidies to instead individuals. They want to see people assimilate as individuals and not just subsidize, for example, a Muslim Community Center. They want people not to be so tied and connected to their traditional communities, giving them more freedom and more flexibility to move into the larger society."
Lisa ended her presentation with a request: "I hope you will help me greet our Swedish delegations when they visit us next spring."
Chelsea Community News is made possible with the help of our awesome advertisers, and the support of our readers. If you like what you see, please consider taking part in our GoFundMe campaign (click here). To make a direct donation, give feedback about the site, or send a Letter to The Editor, email us at Scott@chelseacommunitynews.com.