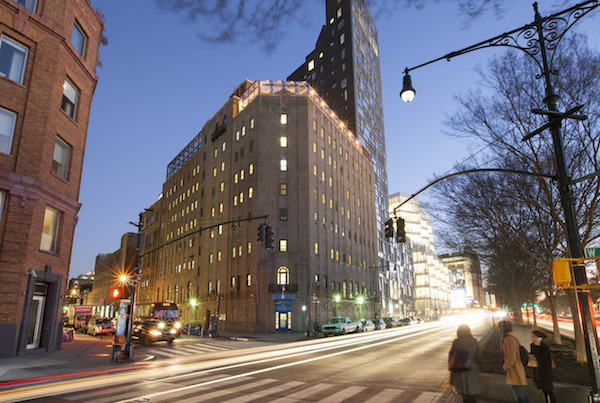 BY SCOTT STIFFLER | A highly anticipated project that promised to transform a former women's incarceration facility into a hub of empowerment and activism has gone belly-up.
In an Oct. 11 "Letter to Our Community" posted on the website of The Women's Building, project sponsor the NoVo Foundation stated, "With heavy hearts, we have come to the very difficult decision that we can no longer continue with the redevelopment of the former Bayview Correctional Facility into The Women's Building."
The stunning turn of events is a far cry from the high praise garnered by Governor Cuomo at an Oct. 23, 2015 gathering at Chelsea Piers, to announce the project (beaming luminaries in attendance included Gloria Steinem).
"Today," said Cuomo, as cited in an article published by Chelsea Now/The Villager, "we are continuing our efforts to shatter the glass ceiling by taking down an institution of defeat and turning it into opportunity and social reform for women."
Nearly four years later, in a guest opinion piece for Chelsea Community News, Glennda Testone, a member of The Women's Building Advisory Circle and Executive Director of NYC's LGBT Community Center, confidently asserted that by "providing office and community space to organizers advancing the rights of girls and women everywhere, The Women's Building (550 W. 20th St. at 11th Ave.) will carry forward our neighborhood's commitment to progressive action. As women, and particularly women of color, are increasingly under attack, The Women's Building (which aims to open in about five years) will create a space for movement-building out of a site of state-sponsored confinement and oppression."
An effort to defend the attacks Testone wrote of was cited by NoVo as one of the reasons to cease work on the building, and redirect their efforts.
"This country is in a time of great upheaval," read NoVo's open letter to the community, "with the most marginalized communities, including girls and women, facing daily and deepening attacks. In these profoundly unstable times, we know how important it is for NoVo to be nimble and responsive. We must move quickly, shifting resources to the communities facing injustice every day."
The letter went on to note that "timelines and budgets for this project have far exceeded original estimates," necessitating "five more years, and hundreds of millions of dollars" to fully realize their plans. "Every dollar that goes to the future of this project could instead go directly to immediate work on the ground. That's a balance that our values ask us to grapple with directly, and deeply."
"Throughout this project, we have been so grateful to the Chelsea community for its support, enthusiasm, and deep commitment to girls and women," said NoVo Foundation Communications Director Joe Voeller, in an Oct. 24 email to Chelsea Community News. "Even as we make the very tough decision to move away from the Bayview site, we believe deeply in the power of The Women's Building community. Together we have already begun to demonstrate what is possible when the potential of girls and women is nurtured rather than locked away. We have committed $50 million to take this work forward, and look forward to sharing more about the process for that work in the months ahead."
Chelsea Community News will be following this story, as it applies to NoVo's allocation of funding, as well as what their abandonment of the brick and mortar project means for the Bayview property.
Chelsea Community News is made possible with the help of our awesome advertisers, and the support of our readers. If you like what you see, please consider taking part in our GoFundMe campaign (click here). To make a direct donation, give feedback about the site, or send a Letter to The Editor, email us at Scott@chelseacommunitynews.com.