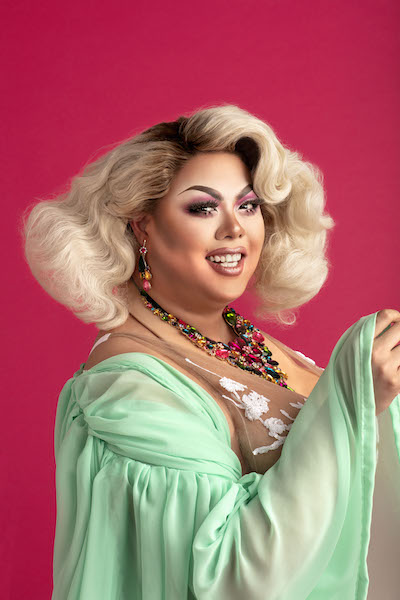 BY SCOTT STIFFLER | F. Scott Fitzgerald said, "There are no second acts in American lives." But don't tell that to the queens of RuPaul's Drag Race, the fashion, lip-synch, look, comedy, and challenge-filled reality show that delights in bringing back eliminated contestants later on in their season, or as contestants on its high-stakes All-Stars iteration.
An American sensation for 11 Seasons thus far, Drag Race is werquing its world domination plan, with a Thailand-set version having taken place and, currently, Season 1 of RuPaul's Drag Race UK, which launches new episodes on Thursdays at 8pm on BBC Three. In the US, you can watch the show on WOW Presents Plus.
Ludicrously likable, consistently charming, fiercely fundamentally decent UK competitor Sum Ting Wong recently took her place in the Drag Race pantheon of queens whose exit from the show proved to be a gateway to global recognition and greater career opportunities. Second acts, indeed. Chelsea Community News spoke Sum Ting Wong, the day after her elimination episode (Episode 4) aired.
SCOTT STIFFLER, FOR CHELSEA COMMUNITY NEWS: You said to RuPaul, upon being eliminated, "Thank you for changing my life." How has the show changed your life?
SUM TING WONG: I didn't expect any of the love or any of the support that came from it. It's incredible. Because the thing is, I always wanted to be, like, a singer. I've always wanted to be in bands and stuff like that. And I was able to do that. Through the support of the show and, like, all of the beautiful, incredible fans, I was able to finally release music. But without the show I wouldn't be able to do any of these things. So honestly, it really has a spot in my heart.
CCN: What moments were particularly memorable, for you?
SUM TING WONG: Um, most memorable is meeting Geri [Halliwell, of The Spice Girls].
CCN: Was it a surprise when you went left the stage after your elimination, to find her there?
SUM TING WONG: It was ridiculous, because I've never seen [something like] that on Drag Race before. But when Geri came out, I was like, "Oh, this must be a Drag Race UK thing." And then the girls were like, "No, no, no, this has never happened." And I was like, "What?" It was so surreal. My absolute childhood idol saying she loved me… and she said I gave off this sense of love, and just beaming this energy of, like, positivity, that I didn't even know. And when Geri was telling me all these things, I started crying like a baby… I cry at happy thing, like weddings? So I was crying, "Oh, Geri, I love you, I love you."
So that was an impactful thing that happened on the show—and also, the conversation I had with Vinegar [Strokes]. Because I really didn't want to have that conversation with [about] my family, and stuff like that. But we were talking, sexuality, and Vinegar said she had difficulty coming out, because of her Afri-Carribean background, and I felt like, it's [our conversation about coming out] so important and its so beautiful, because so many of the young fans watching in the UK have reached out and said, "It's so nice to see someone; to see myself represented on TV. So it was absolutely beautiful and I think, like, that really changed my life, because it's changed other people's lives as well, to see a part of themselves represented on TV—and for them to know that coming out isn't the be all and end all, because LGBT people really choose our family, and the fact that they can see that lets you know, "I am really not alone, because Sum Ting Wong is in the same position as me." But I've had, like 12-year-old kids reach out, probably even younger, saying, "I'm Cambodian, or I'm from a Pakistani background, and I haven't told my parents because I know that I can't."
CCN: That sort of transitions into my next question, which is, here I the USA, Halloween is a way for many people to express themselves through drag—sometimes, for the first time. So if somebody is using Halloween as an opportunity to explore that, what would your advice be?
SUM TING WONG: Well, I accidentally fell into drag. I did it because me, personally, I've always been a singer. As a kid growing up, first generation Chinese-Vietnamese, I was always told that like I couldn't make anything in the arts. Go to school, go to college, get married, and have kids, and that would be my life. So I put all that creativity in a box. and that's it. And then, there was a competition the UK for drag queens, and I was like, "Here's an opportunity for me to sing live, to sing and to do what I really love doing. And being able to do that through drag was crazy. So my first time in drag was actually in a competition. But Halloween? I like going as a skeleton. I did one Halloween as a skeleton with, like, eye makeup… But for anyone getting ready for Halloween, just absolutely go for it—and if you don't want to put makeup on, put a sheet on, and pretend to be a ghost [laughs].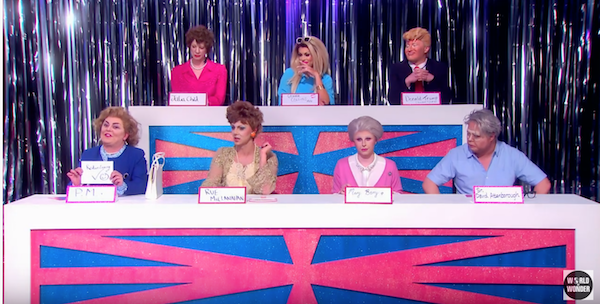 CCN: Has your approach to drag or performing changed, based on your experience on the show?
SUM TING WONG: Oh, yeah. It's weird, because I felt like I was pretty much the same performer when I left. But at some gigs since, the people who've seen me perform before the show and after, I mean, they've literally come up to me and went, "You are a completely different performer now." And I don't know what; how that's happened, because I am a singer, and I thought, "Give me a singing challenge. I'll smash the singing challenge." But what the show really told me was that I can do all these other things. I didn't know I could make a tailored suit. I didn't know I was funny. Having people resonate with that and like it, that made me a different performer. It made me the performer I always wanted to be, with not just having singing as my thing.
CCN: Do you have any plans to visit the US and perform, now that you have an audience here?
SUM TING WONG: Of cooourse. Keep an eye on my social, because I'll be doing a tour of [inaudible!!] soon, yet to be announced… And I can't wait for American kids to walk around, calling people "slags." I can't wait for British slang to infect the whole of the American youth culture.
CCN: How has the reaction from American audiences been, on your social media?
SUM TING WONG: Oh it's been, actually, incredible. Everyone's been so, so nice—everything you've wanted. 'Cause, like, when you get fans on the Internet, I don't realize that they're US, or UK… It's kind of like a worldwide phenomenon, and I think that's because everyone can relate to it…and they're all just sending their support. Everyone's been beautiful and I absolutely love every single one of them.
CCN: Is there anything else we haven't touched upon?
SUM TING WONG: Yeah, so thanks to RuPaul and all the support going on, I've been able to release my single, which is CrossFire, and it's available on iTunes, Amazon, all streaming services, and it's currently up on YouTube right now.
CCN: So you've got the first single. Is there an album in the works?
SUM TING WONG: Yes, there's an album in the works. It [CrossFire] is the firs track of my EP, which I am self-funding, self-promoting. So please download my single, because it means I can make better music videos [laughs]. But no, honestly, it's the first of my EP, which I am releasing by the end of this year. I'll be launching all of that on my YouTube and Apple Music, etcetera.
Keep up with Sum Ting Wong on Instagram, Twitter, Facebook, and via https://www.sumtingwong.co.uk.
Chelsea Community News is made possible with the help of our awesome advertisers, and the support of our readers. If you like what you see, please consider taking part in our GoFundMe campaign (click here). To make a direct donation, give feedback about the site, or send a Letter to The Editor, email us at Scott@chelseacommunitynews.com.