BY DONATHAN SALKALN | As the world's weather intensifies, leaving behind unprecedented swaths of destruction, global warming is an issue that clouds all of our futures.
At the Chelsea Reform Democratic Club's October 17 public forum, called The Green New Deal, attendees gained clarity to what both New York City and New York State have been doing to battle global warming. The event's speakers Mike Corbett, staff to New York City Councilmember Costa Constantinides and New York State Senator James Sanders Jr. were well-versed on the subject, as both the elected officials have long been on the front lines in leading New York to a greener future.
Councilmember Constantinides, who sponsored the NYC Climate Mobilization Act, passed in April, is also planning to transform Rikers Island from a prison campus to an environmental hub. State Senator Sanders, who co-sponsored the Climate Leadership and Protection Act, passed in July, is the sponsor of the introduced Green Deal for New York (S.2878-B)—legislation inspired by US Congressperson Alexandria Ocasio-Cortez.
The evening's informative program at the Hudson Guild's Elliott Center was organized and moderated by CRDC member Kathy Nizzar, and co-moderated by CRDC president Judy Richheimer.
According to the U.S. Energy Information Administration (EIA), New York State has developed into one of the most energy efficient economies in the country. Its residents consume less energy per capita than any other state, except for Rhode Island, mainly because of its wide use of mass transit and the fact that many of New York's key industries are not energy-intensive—although the state does use a lot of jet fuel.
In 2015, New York reached its target of obtaining 29% of its electricity from renewable sources, and New York's per capita energy-related carbon dioxide emissions is the lowest in the nation. New York State considers nuclear power plants as zero emission resources, which will too contribute to the state goal of reducing greenhouse gas emissions.
Currently, New York regulators require natural gas-fired power plants to be ready to switch to petroleum in events of a natural gas disruptions (mostly in winter months when natural gas lines are congested). These plants are targeted to be replaced by batteries, which will store electricity until needed. New York is also one of the country's top producer of biomass energy (fuels from wood, crops, manure, and the capture of methane gas at landfills including Fresh Kills in Staten Island), and the state has more than 300 hydroelectric generating stations—some small, some very large, and one near Niagara Falls.
NYC's GREEN INITIATIVES
"New York City's Climate Mobilization Act is the largest carbon emissions reduction ever mandated by any city in the world," said Corbett, describing an eight-bill package that tackles not only greenhouse gas emissions from large buildings, but also closing NYC fossil fuel power plants, and requires green roofs on all-new buildings.
According to Corbett, the cornerstone of the new legislation is called The Clean Tower Plan, which requites any building 25,000-square-foot or larger must reduce carbon emission output by 40 percent by 2030.
"This involves 55,000 buildings, which is only two percent of the city's buildings yet gives off over 30% of the city's carbon emissions," Corbett exclaimed, adding that hospital, religious, and NYCHA buildings were spared a tax. Quoting his boss, Corbett said, "When people complain about the costs of the fines, we don't want your money —we want your carbon!"
Other laws include of a study to replace the city's gas-fired power plants with stacked battery storage units powered by renewable energy sources. There are 21 peaker-plants, which are fired up during the peak needs of energy, usually during the winter.
Exclaimed Corbett, "As it happens, all these plants were put in specific places, next to public housing. This is environmental racism. Public housing generally has higher than average borough Asthma rates."
The Climate Mobilization Act also requires the roofs of certain smaller new residential buildings and non-residential buildings to be equipped with a solar system or a green roof.
Corbett was very enthusiastic to the day's news that the City Council voted to close Rikers Island by the year 2026. The 400 acres of landfill sits amidst Councilmember Consantindes' 22nd District, and he has readied legislation in turning the island into an environmental hub.
As chair of the of the Committee On Environmental Protection, Consantindes is sponsoring bill to transfer the property from the NYC Department of Corrections to the Department of Environmental Protection—and odds are it will happen. Said Corbett, "We want to take a hundred acres and put in solar array, battery storage, and a waste-water treatment plant."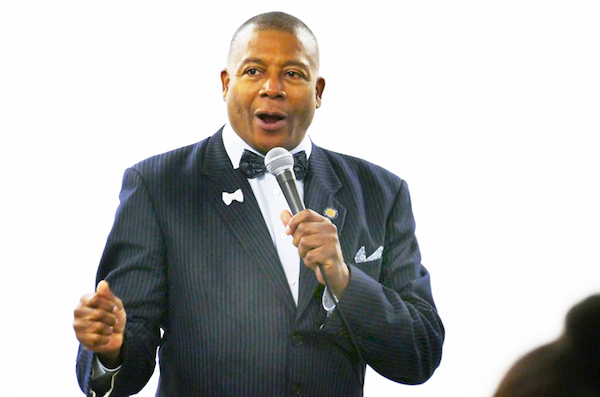 NEW YORK STATE'S GREEN INITIATIVES
The Climate Leadership and Protection Act (S6599), passed in Albany, is ambitious legislation in cutting greenhouse gases, moving the state's energy reliance to renewable sources, and creating green jobs across New York State.
The state aims to reduce greenhouse gas emissions 40% by 2030 and 85 percent by 2050, and having a net zero emissions in all sectors of the economy. It includes a stipulation that a minimum of 35% of investments from clean energy and energy efficiency funds are invested in disadvantaged communities. Plans are now underway for two very large offshore wind farms south of Jones Beach and north of Montauk that will add to Upstate's land-based wind farm portfolio. Also, New York plans to double its solar energy capacity by 2023 with new solar farms, both large and small.
Said the engaging and colorful State Senator Sander in his speech to the CRDC, "As much as I am glad to support the Climate Leadership and Protection Act, this new goal of an 85% reduction in greenhouse gasses by 2050 doesn't go far enough. We really have to figure out how we are going to survive. Climate change causes extreme weather, droughts, wildfires, floods, and many other types of disastrous conditions. It will lead to the end of civilization as we know it."
Sanders is still smarting from Hurricane Sandy's ravaging of his 10th District (Far Rockaway, South Jamaica, Rosedale, Richmond Hill, South Ozone Park, and Springfield Gardens). He has introduced legislation called the Green Deal for New York (S.2878-B), which will require a task force to develop a plan for New York State to become greenhouse gas emissions neutral by 2030.
"The Green Deal is a work in progress," Sanders said, as he enlisted the meeting's attendees to come up with viable green initiatives and send them to his office. Some of the ideas discussed during the evening included hydro-turbines to harness power from the East River's strong currents, requiring plant-based additives to red meats, eliminating plastic wrapping from products, and peppering the roofs of schools with solar panels.
"In the past, Albany was where progressive legislature would go and die," Sanders said. "That is no more. We have a Democratic State Senate, a Democratic State Assembly and a Democratic Governor."
"Now that the powers to be see that we are not joking [about The Green New Deal]… that some of us are actually serious —you're going to see attacks on all its progressive elements," Sanders said, warning the group that lobbyists are now swarming the state capitol. "They have already started to flood Albany with money."
"We are going to have to educate. We can't assume people are going to know these issues," said Sanders, the ex-Marine, adding, "We need to stop waiting for the cavalry to come in."
uyuyu