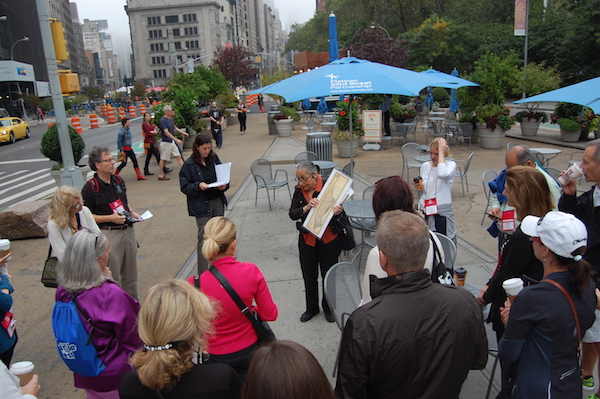 Sunday, November 10: Free Veterans Day Walking Tour | This Veterans Day weekend, the Flatiron/23rd Street Partnership Business Improvement District (BID) will host a free walking tour—led by historian, author, and professional tour guide Miriam Berman—to explore the history of our national heroes. "Madison Square Park and its environs as we know it today continues to be a most appropriate setting for military pageantry," said Berman, in a preview of things to come on the walking tour. "During both World Wars, it played an integral part in supporting our nation's war efforts. From here, New Yorkers saw the troops off to battle, rallied on their behalf in their absence, and welcomed them triumphantly back home." The tour will meet at 11am in front of the iconic Flatiron Building (23rd St. btw. 5th Ave. & Broadway, at the tip of the prow). No advance registration is required. Visit http://www.flatirondistrict.nyc/event/default/event/item/1499 for more info about this tour. To learn about other upcoming Flatiron Partnership events and activities (including info on their regularly scheduled walking tours), visit https://www.flatirondistrict.nyc/news-and-events/events-calendar.
Monday, November 11: Veterans Day Ceremony | Nine years ago, Chelsea residents revived a tradition that had been dormant for decades, by gathering at the war memorial on Ninth Ave. (aka "the Doughboy"), to honor the neighborhood's military veterans as well as its active duty members of the military, National Guard members, and reservists. Thirty-five attended. Last year, there were more than 135. Add your name to those growing numbers by attending this year's Chelsea Veterans Day Ceremony, which takes place at 10am on Mon., Nov. 11, at the War Memorial on Ninth Ave. and W. 27th St. The ceremony lasts approximately 15 minutes. Learn more about the Doughboy statue by visiting nycgovparks.org/parks/chelsea-park/monuments/232.
Through November 25, Hudson Guild Gallery's "Second Acts" Exhibition Celebrates the Talents of Community Members "Ages 55 and Better" | See below flyer for details. Also visit hudsonguild.org.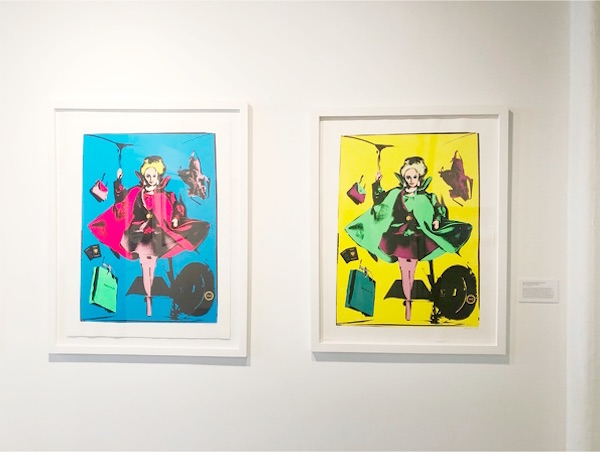 Thursday, November 7: The Edge Of Glamour Opening Reception (Exhibition open through Jan. 6, 2020) | With work acerbic, provocative, clever, and empathetic, Kristin Simmons' The Edge of Glamour delves into personal desire, cultural habits, and rampant consumerism. "Hidden beneath the perfect Barbie smile, or the glittery jewels tumbling out of the RX bags, or the extravagant wealth commensurate with owning stocks, is a world of appetites that cannot be satisfied," declares the exhibition's press material, which also notes Simmons' exploration of pop culture, gender roles, and capitalism "is never meant to romanticize nor condemn, but it certainly does live on the edge." It does so via paint, printmaking, and mixed media offerings, all of which the public can see for the first time at Thurs., Nov. 7's opening reception: 6-8pm at Studio 522 Gallery (in the West Chelsea Art Building, 526 W. 26th St., 5th floor, btw. 10th & 11th Aves.). The exhibition remains on view through Jan. 6, 2020. For more info about the venue and its mission, visit www.studio522.nyc. For artist info, visit www.kristinsimmonsart.com.

Wednesday, November 6: Community Board 4's Full Board Meeting | It's a love letter to anyone who's ever come across construction in their neighborhood and said, "But nobody told me about that." CB4 meetings provide early warnings for things to come, as the board reviews and debates everything from rezoning to liquor license renewal requests. It's quality quality-of-life info at the ready, and no CB4 meeting has more to offer in that area than the monthly full board meeting, where committee letters go to the full board for a vote. Show up a bit before start time, and sign up for the Public Comment section, where you get the mic for 2 minutes, and can take that opportunity to make your voice heard. Wed., Nov. 6, 6:30pm at Mount Sinai West (1000 10th Ave., 2nd Fl. Conference Room B). For info on all things CB4, click here.
Wednesday, November 6: The PS11 Farm Market | PS11 Farm Market this week will be held on Wednesday, November 6, from 8-9:30am. The third graders who run the market recently visited Stoneledge Farm to get firsthand knowledge about where this local, organic, seasonal food comes from. Stop by  to see what they have learned. The season is winding down–only two more markets left this fall. Ms. Bouchard's third graders will be managing this week. Look for them under the scaffolding, outside of PS11 (320 W. 21st St. btw. 8th & 9th Aves.).  This market is presented in partnership with Stoneledge Farm.
Chelsea Community News is made possible with the help of our awesome advertisers, and the support of our readers. If you like what you see, please consider taking part in our GoFundMe campaign (click here). To make a direct donation, give feedback about the site, or send a Letter to The Editor, email us at Scott@chelseacommunitynews.com.