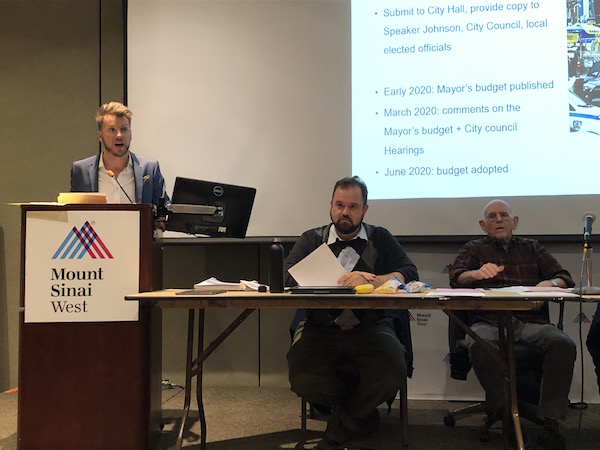 BY WINNIE McCROY | About 50 community members joined Community Board 4 (CB4) at Mt. Sinai West on the evening of Wed., Nov. 6, for their full board meeting. This particular edition of the monthly gathering was especially forward-looking, as CB4 cast its eye toward District needs and budget priorities for Fiscal Year (FY) 2021, and its incoming slate of officers, to be voted upon in December.
"We worked hard to get all this information from our respective committees, compile that and figure out what our priorities are," said 2nd Vice Chair Jeffrey LeFrancois, tasked with presenting budget priorities for FY 2021. "This will then be voted on tonight by the full board, and we'll submit that to the Department of City Planning, so they'll have an understanding of what we need."
LeFrancois gave a quick overview of last year's successes, including steps to relocate the Pier 76 Tow Pound; making 11th Ave. one-way, with a dedicated bike lane; designing a park at W. 49th St. & 10th Ave.; funding for schools; increased recycling and trash pickup; and funding a small theatre-funding task force. Then he presented a list of their top priorities, with pressing issues continuing to be affordable housing, neighborhood preservation, traffic, and air quality. CB4 continues to deal with homelessness issues and a community that is aging in place and is culturally rich, but needs safer streets.
"These get doled out to each respective city agency… [for example] the Parks Department will only see what our interests are for parks," explained LeFrancois. "Capital projects tend to cost a lot of money year after year, so we tend to keep them on our lists so the city knows we're paying attention, and when they say they're going to do something, well damn it, they better do it!"
Protecting New York City Housing Authority (NYCHA) apartments moved higher on the list, said LeFrancois, as did support programs addressing the fact that CB4 still has the highest rate of new HIV cases in New York City. A public session allowed for comments on these budget priorities.
Sharing During the Public Session | Christina Perry, Director of Development for The Chain Theatre (located in the theater complex on W. 36th St. btw. Eighth & Ninth Aves.), took to the podium. Flanked by other theatre, Perry requested that, as non-profits, they be given some relief on their property taxes. Perry, along with cohorts Jenny Landis, Randi Berry, and Porter Pickard, suggested a pilot program be launched to study the feasibility of the issue.
Said Perry, "We are all non-profits, and we want funds to investigate the possibility of making us exempt from property taxes. Theatre never takes away from a community, it only adds to it. And that's what this would do, because our six theatrical spaces run with 99 seats or less, and this would have a huge impact on the organizations and their future programming."
Inga Ivchenko, Co-Chair of CB4's Arts, Culture, Education and Street Life Committee (ACES), said they had pushed the issue to the top of their list of priorities. But member Yoni Bokser was uncomfortable using City budget funds to hire a lobbyist to investigate ways to avoid paying property taxes. At the end of the meeting, when it came time to vote on the budget priorities, several members including CB4 Clinton /Hell's Kitchen Land Use Committee Chair JD Noland, suggested the issue instead be referred to the Department of City Planning.
Elected Officials Announce Programs | Assemblymember Richard Gottfried appeared in person at this month's meeting to address some of the issues around the privatization of Fulton/ Elliot-Chelsea Houses. In an Oct. 4, 2019 article, Chelsea Community News reported on the community outcry over plans to privatize the operation of NYCHA apartments under the Section 8 federal housing voucher program Rental Assistance Demonstration (RAD). The proposal caused concerns when it was revealed that NYCHA was secretly considering demolishing these apartments to rebuild, with market-rate units included.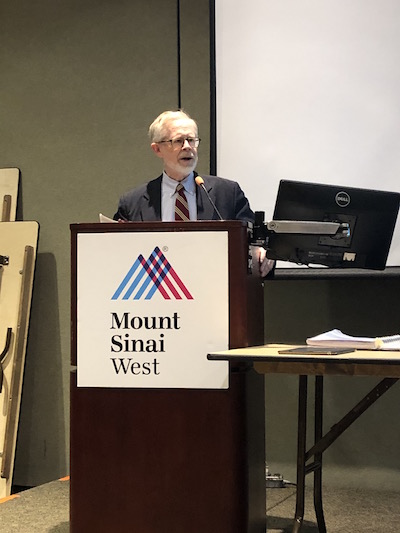 "People were concerned about Fulton Houses because they don't see it as building new housing, but rather demolishing their homes," said Gottfried. "The City's plan was to raise money through new construction that would include a fair chunk of market-rate housing… with a private management company to operate public housing, as they've done in a couple city developments city via RAD."
"Well, whoever decided to call it RAD needs to go back to acronym school," Gottfried pithily quipped.
"We called the Mayor and insisted he put a halt to this, and we formed a Working Group," Gottfried continued. The Mayor, he noted, "did shut down the proposal from going forward, and we are now in the midst of holding meetings with public sessions in a couple of weeks, and we expect the group will come to their conclusions by the end of the year. The process is a good example of community input because at least for now, people are having real input into decision-making, and pressing pause on a plan that a lot of people were unhappy about, me included."
But several members of Fight for NYCHA remained unhappy. During the public session, they said they'd been shut out of the Mayor's Working Group, despite being promised entry by Manhattan Borough President Gale Brewer this summer. Calling the working group "a sham," they demanded Congressmember Jerrold Nadler's Senior Assistant, Robert Atterbury, be fired for reportedly telling them the meetings were "secret."
For his part, Atterbury reported that Nadler had teamed with Congressmember Nydia Velazquez to introduce a bill that would appropriate $70B to a federal public housing capital fund, with $32B of that dedicated to "NYCHA… quite literally, in a class of its own."
And Brewer's rep, Brian Lewis, said they were, "Looking forward to a thorough investigation of all options to fix Chelsea's NYCHA housing," adding, "We did invite someone from Fulton Houses; we do want to be inclusive."
By the meeting's end, a representative from Brewer's office was instructed to reach out to the individuals to let them know that while a representative of Fulton Houses had been appointed to represent their issues, they too were welcome.
And Sean Reilly, a representative of 32BJ SEIU, a local a union for janitors, security officers and airport workers with 85,000 members in New York City, spoke about holding Chipotle accountable for their poor working conditions, including forcing underage employees to serve liquor (Chipotle is one of the few fast-food companies serving alcohol).
"Over the last year we have been collaborating with Chipotle workers in New York City trying to better working conditions, and hold the company accountable for irresponsible practices," said Reilly. "They violate fair scheduling and minimum wage laws, and bad jobs like those at Chipotle hurt workers. They have five liquor licenses in CB4 alone, far more than any other fast food restaurant in New York City. They serve youth, and youth work there. One teen says Chipotle made her illegally mix liquor at only 17-years-old. Chipotle has two liquor licenses in CB4 that are set to expire. We ask that you let them."
Others also took issue with liquor licenses. Dan Sheldon, a representative for 150 W. 26th St., said that nearly all the residents of his building had signed a petition against allowing yet another liquor-licensed establishment to operate on their block.
"We welcome all kinds of businesses on our block, but we are saturated with liquor licensed establishments already," said Sheldon. "You've got your fill of problems with the [multipurpose event space] Ainsworth that you're already dealing with, so how about we address those problems first, before adding another bar to the neighborhood?"
When it came time to vote on Item 8, a letter to the SLA regarding 150 W. 26th St., CB4 voted to deny, as the proposed establishment was on the ground floor of a previously unlicensed residential building, among other reasons. All other 17 proposed liquor licenses were granted without issue.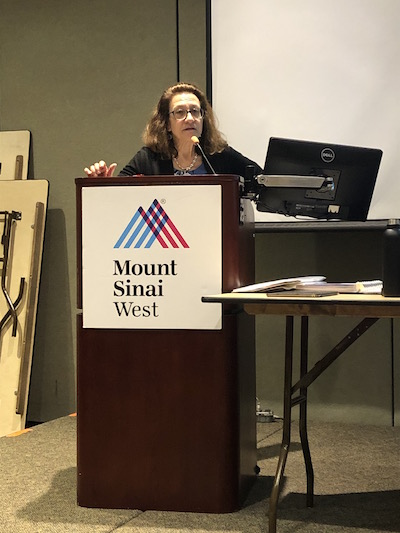 Other public session issues included complaints by Doris Bachmann over garbage near W. 46th St. and 10th Ave., with a request for separate containers and/or bags for garbage and recycling. Lisa Wager, from the Fashion Institute of Technology, invited the community to see their new student-made chalk mural, created with donated materials from Blick Art Materials. And Julia Knight, from Poster House on W. 23rd St., welcomed all to view their exhibition of handmade movie posters from Ghana, and placards from the 2017 Women's March.
Representatives of other elected officials also shared information, with Brewer's office announcing they had done a survey of commercial parking spaces, and New York State Senator Brad Hoylman's office passing a bill requiring the State Liquor Authority to maintain a public database of all liquor licensed businesses, which should be available to the public by mid-December. Hoylman also introduced the Adult Survivors Act, adding a one-year window for adult survivors of sexual crimes to come forward "for justice and their day in court."
Assemblymember Linda Rosenthal's office announced free mammograms from 1:30-4pm on Mon., Nov. 25 in their office, and stressed once again that e-cigarettes were dangerous. Rosenthal also submitted testimony against the President's proposed cuts to Supplemental Nutrition Assistance Program (SNAP) benefits, which will affect 23,000 poor and elderly New Yorkers.
New York City Council Speaker Corey Johnson's CB4 Liaison, Carl Wilson, announced that several Quality of Life issues had moved forward, including a Streets Master Plan to add 50 miles of bike lanes and 30 miles of bus lanes. They also looked at Agenda Item 5, regarding the removal of LINK NYC kiosks on Eighth Ave., between W. 20th & 22nd Sts. CB4 cites security concerns as well as public nuisance issues, as the structures have facilitated illegal activities including drug dealing, loitering, and panhandling. They recommend the removal of the structures or the disabling of the technology, but recognize that there is a caveat for them to be relocated, with community input on the new location.
Luke Wolf, from Comptroller Scott Stringer's office, reported that high real estate costs were negatively impacting the City's creative economy, which contributes $30B — about 13 percent of the city's economy. They also tackled retail vacancies, recommending tax incentives for businesses to move into high-vacancy areas, streamlining the process, and providing benefits to minority and LGBTQ-owned businesses.
In other news, CB4 was awarded the Compassionate Communities Award from the Coalition for the Homeless, due in part to the hard work done by Delores Rubin and Maria Ortiz at the 52nd Street women's shelter. And Wendy Gonzalez announced the proposed slate of CB4 officers for 2020: Lowell Kern for Chair; Jeffrey LeFrancois for 1st Vice Chair; Jessica Chait for 2nd Vice Chair; and Michael Noble and Maria Ortiz for Co-Secretary. Members will vote on this slate at the December meeting. In addition, the January 2020 full board meeting will be pushed to Thurs., Jan. 2, due to New Year's Day (full board meetings normally take place on the first Wed. of the month).
CB4 Says "No" to West Side Heliport | One thing that both CB4 members and elected officials agreed on were Items 27–28, the need to get rid of non-essential helicopter flights over New York City. In a letter to Nadler and Maloney, CB4 recommended the Federal Aviation Administration end all non-essential flights. They cited air and noise pollution on the ground and in the air, as well as safety in Hudson River Park. A similar letter was sent to Hoylman, Gottfried, and Johnson.
Said Kern, "It was very straightforward: we want them to get rid of the helicopters. We will take a strong position on this so we can negotiate down if needed."
After several deadly crashes in the past few years, Nadler joined with Velazquez and Maloney to introduce legislation banning non-essential helicopter use over the city, including Manhattan and the Hudson River. Essential flights would include only law enforcement, emergency response and those in the public interest, such as news organizations. The legislation does not regulate the use of drones, which are already banned from flying above 400 feet.
The move was widely supported by elected officials, with Hoylman penning a letter to get rid of the helipads. Even the Mayor spoke strongly against non-essential flights over Manhattan.
In other transportation news, Christine Berthet has remained involved in the issue of limiting the amount of advertising on sightseeing buses and requiring them to apply for on-street Bus Stop Permits from DOT, and the Executive Committee of CB4 has penned a letter to the Mayor and the NYPD to spur the long-awaited relocation of the Pier 76 Tow Pound.
The next Full Board Meeting of CB4 will take place on Wed., Dec. 4, at 6:30pm at Hudson Guild Elliot Center (441 W. 26th St., btw. Ninth & 10th Aves.). Show up early to sign up for the public comment section. For more information, visit https://www1.nyc.gov/html/mancb4/html/home/home.shtml.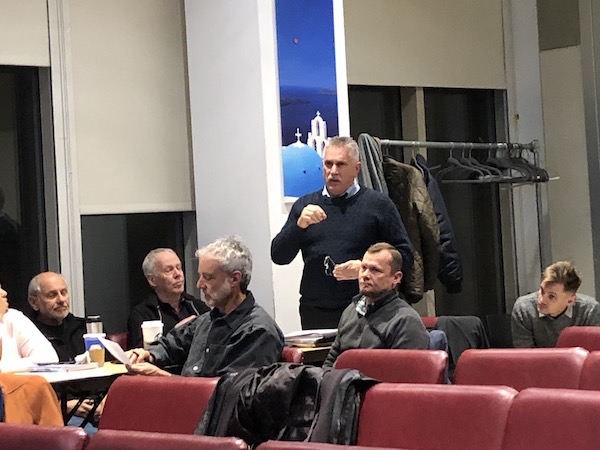 Chelsea Community News is made possible with the help of our awesome advertisers, and the support of our readers. If you like what you see, please consider taking part in our GoFundMe campaign (click here). To make a direct donation, give feedback about the site, or send a Letter to The Editor, email us at Scott@chelseacommunitynews.com.