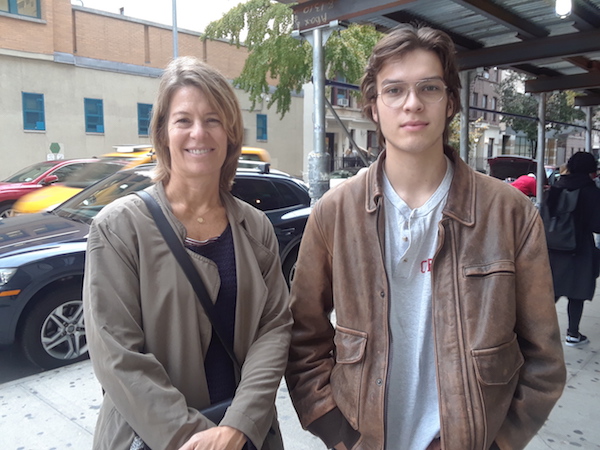 BY SCOTT STIFFLER | Chelsea voters participating in November 5's General Election, the ones we spoke with, at least, were motivated not by the names on the ballot so much as the Ballot Questions at stake–that, and a strong sense of civic duty. Chelsea Community News stopped by the poll sites of Bayard Rustin High School and Penn South, and encountered a first-time voter along with veteran ballot-casters, all of whom chose to forgo the new early voting option in favor of the classic route–showing up on the day of. For a detailed description of the five Ballot Questions that loomed large in our interviews, Click Here. Note: All five Ballot Questions passed by notably wide margins, and incumbent NYC Public Advocate Jumaane Williams also won handily.
At Bayard Rustin High School Poll Site (351 W. 18th St. btw. Eighth & Ninth Aves.)
Abby Stoddard, 54 and Miles Edwards, 18
Scott Stiffler, for Chelsea Community News: Were there any Ballot Questions you felt strongly about?
Abby: I voted "Yes" on all of them. [For Ballot Question #1, regarding elections], I think it's a very good idea. I hope it catches on.
Miles: I voted "Yes" [on all of them]. The only one I though was really interesting, was the first one, because I'd only heard about that kind of voting in school. I didn't know it was something people were actually pushing for.
CCN: Who was your favorite Public Advocate candidate?
Abby: Jumaane Williams. I've seen him on [involved with] a number of different activist initiatives. I like his politics.
Miles: Jumaane Williams, because he was Cynthia Nixon's running mate, and I really liked her campaign. I would have voted for her [then] if I could.
CCN: Miles, is this your first time voting?
Miles: Yes. It's kind of exactly what I expected.
Abby: He came back from college [Upstate] for it.
CCN (to Miles): Why?
Miles: Because I wanted to practice for the Primaries and the Presidential Election.
Liz, 39 years old (and visibly pregnant)
CCN: Did any of the Ballot Questions especially engage you?
Liz: The one about additional weighing in on the police force.
CCN: Question 2, right, about shoring up the strength of the Civilian Complaint Review Board (CCRB)?
Liz: Yes! I'm sorry, I have "pregnancy brain." [laughs]. I felt like we've seen a lot of lighter charges for some of the [NYPD] infractions, charges that were inconsistent with the Board's recommendation. I think we have that [the CCRB] in place for a reason—to make recommendations, and those recommendations should be considered. Otherwise, what are they [the CCRB] doing?
CCN: Besides that Ballot Question, what brought you out today?
Liz: It's important to vote in every cycle, not just the big ones—the Presidential years. I'll be sure to show up for that one, too. It's a lot lighter attendance today than in 2018. I get that there are fewer items up for consideration, but there were some important ones.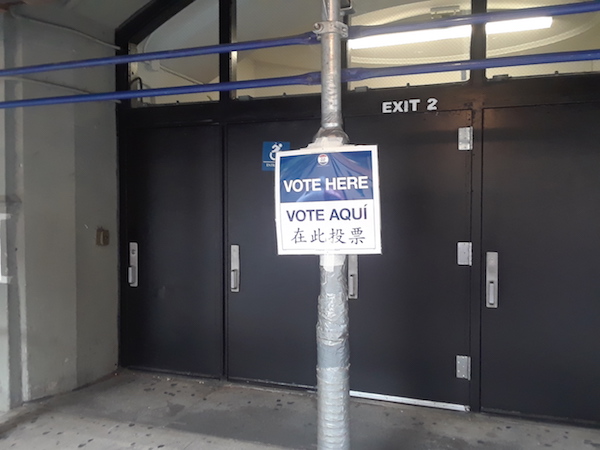 Susan, 77
CCN: How did you vote today?
Susan: I'm a registered Democrat, so I most often vote Democratic. When Bloomberg ran, three times, I voted for him. To bad he's not running for president—but maybe he will. Who knows?
CCN: Why are you here?
Susan: I always vote. It's a privilege, and a right. The Constitution gave it to us, and there are people here who [because of their immigration status] can't vote.
At the Penn South Poll Site (343 Eighth Ave., Building 8A)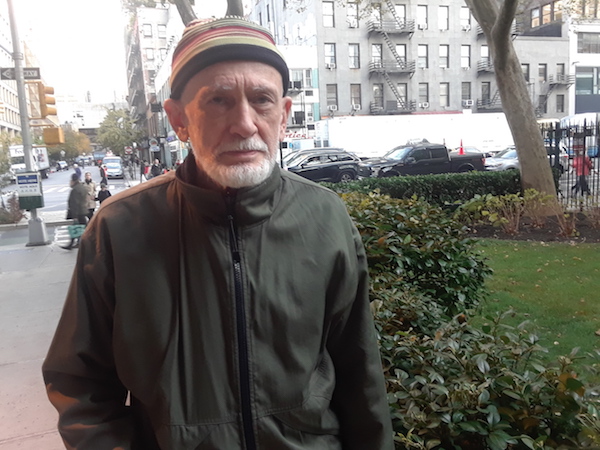 Brad, 75
CCN: Any Ballot Question in particular that caught your eye?
Brad: I'm very hopeful the "ranked voting" [Ballot Question #1] gets through. It's more democratic that what we [currently] have. This may be the first time I'm thinking of an issue in an election as a driving force, rather than a candidate.
CCN: What motivated you to be here today?
Brad: I show up every time. I don't want to imagine the alternative.
CCN: How long have you been a Chelsea resident?
Brad: Almost 20 years.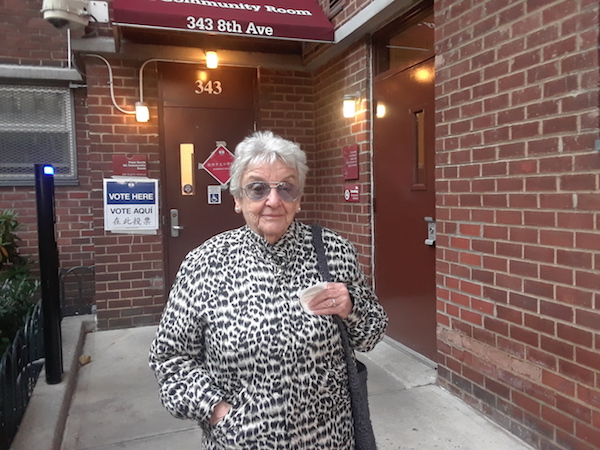 Sandra Weiss
CCN: Do you mind telling us your age?
Sandra: No, I'm proud of it. I'm 86. I'm usually the oldest person in any room I enter. [laughs]
CCN: Do you always vote?
Sandra: Yes! It's my civic duty. Besides, I want to make my voice heard
CCN: Why are you here today, instead of exercising this year's early voting option?
Sandra: I thought I read carefully, the brochure they sent to me, and I was hoping to vote early. But apparently, I misread it and came to this site on a day it was not taking voters. The nearest place was John Jay College [of Criminal Justice]. So being the lazy creature that I am, I waited until today.
CCN: Any Ballot Questions that you feel strongly about?
Sandra: The Civilian Complaint Review Board. I had to think about that one. I voted "Yes" because I just decided, I want them to have more input.
CCN: How long have you been a Chelsea resident?
Sandra: Twenty-five years.
Chelsea Community News is made possible with the help of our awesome advertisers, and the support of our readers. If you like what you see, please consider taking part in our GoFundMe campaign (click here). To make a direct donation, give feedback about the site, or send a Letter to The Editor, email us at Scott@chelseacommunitynews.com.