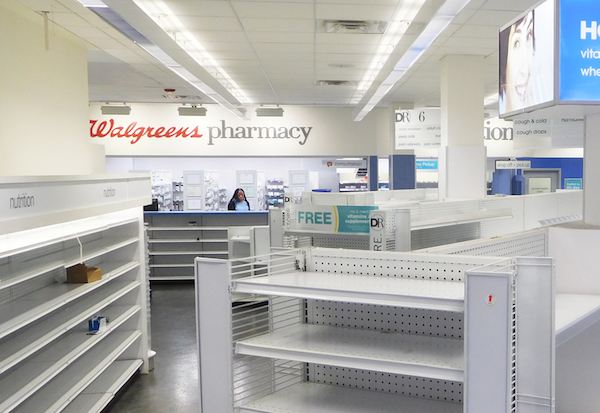 BY DONATHAN SALKALN | Chelsea's retail stores, food stores, and restaurants are at the crossroads.
Astronomical rents, changing demographics, online purchasing, the new minimum wage, and even the proliferation of food truck and cart vendors have contributed to closure of many local businesses, while establishments struggling to remain open have no choice but to pass on the new costs to the consumer.
If you want to get a flu shot in Chelsea this winter, forget about going to four local Duane Reade locations. The pharmacy chain that also offers good prices on food—and bulk items such as diapers for both babies and grown-ups, toilet paper, and paper towels—closed branches at 73 W. 23rd St., 315 W. 23rd St., 131 8th Ave., and 322 8th Ave.
"We are undertaking a transformational cost management program to accelerate the ongoing transformation of our business," said Walgreens PR Manager Alexandra Brown, in an Nov. 6 email to Chelsea Community News (Duane Reade is "part of the Walgreens family of companies," according to its website). That transformation, says Brown, "will enable investments in key areas, and to become a more efficient enterprise. As part of this effort, we plan to close approximately 200 stores in the U.S. Given that these closures will represent less than 3 percent of our stores overall, and given that we have multiple locations in many markets, we anticipate minimal disruption to customers and patients. " Despite the recent spate of closures, Brown assured, "We will continue to be the strong community supporter Chelsea has known us to be."
Prescription files from the 75 W. 23rd St. Duane Reade have been transferred to 777 6th Ave. Prescription files from 322 8th Ave. store location have been transferred to the store at 333 7th Ave. Prescription files from the 315 W. 23rd St. store location have been transferred to the Rite Aid (not Walgreens owned) at 282 8th Ave, and prescription files from the 131 8th Ave. store have been transferred to the store at 77 7th Ave."
After 16 years in Chelsea selling fine glass, ceramics, and interior lighting, Henry Stozek and his wife, Lana Sexton, are closing Nest Interiors (172 9th Ave.), but will keep their presence on the Internet. "The neighborhood has changed, the clientele is different. There are a lot of baby carriages," said Stozek. "Much of the gay community has moved to Hell's Kitchen, Washington Heights, even Hudson Valley and the Hamptons. Today, it's the younger people with less disposable money. They all shop on the Internet," he added. All wares are 35-50% off. The store will close in mid-December.

Not only has big box Lowes felt the squeeze and closed their store at (635-641 6th Ave.), little box Chelsea Convenience Hardware (241 9th Ave.) will close at the end of the month. After 24 years in Chelsea, Nalim Feygin can no longer handle the high rent. "I just can't sell enough crazy glue and nails," he said. The store is offering a 25% discount on all its wares, except Russian collectables. He is literally being kicked out of the neighborhood, as a karate school will be moving into his space. London True Value Hardware (191 9th Ave.) is now an empty storefront.
A Bareburger will be soon opening where Chuck Blade (184 8th Ave.), a raw bar and steak house, shuttered. Bareburger will have a different management and different menu than a franchise Bareburger (153 8th Ave.) that closed recently. Said the manager Bill Resk, "The menu will be half vegan, and half meat. This way, vegans can come in with a group of friends that might not all follow a vegan diet." Resk said they're setting up an app for ordering takeout, noting, "If you are going to pay these kinds of, rents you have to get 40-45% from takeout."
Another vegan-driven restaurant called Blossom Du Jour (259 W. 23rd St.) recently closed. It is of no relation to Blossom (187 9th Ave), which is open and surviving.
Capital One Bank, on the corner of W. 23rd St. and 9th Ave., had trouble attracting enough business to make it worthwhile. They closed their doors, even though they are paying rent through June 2020. Two Rickys have also closed (267 W. 23rd St. and 138 8th Ave.). Xanadu Coffee had trouble with the rent at 225 W. 23rd St. and has closed. So has Pizza Rollio (261 W 18th St.), Amorino (162 8th Ave), the artisanal gelato and Italian coffee boutique, and Spice (236 8th Ave.), a Thai restaurant. Intermezzo has abandoned its 202 8th Ave. location, reopening at 623 Ninth Avenue (44th St.). My Little Sunshine, a high-end children's clothing store (177 9th Ave.), has closed. In its place will be a sushi restaurant named Mojo, making it the only Japanese restaurant on Ninth Ave. in Chelsea since Kiku Sushi (at 235 9th Ave.) closed.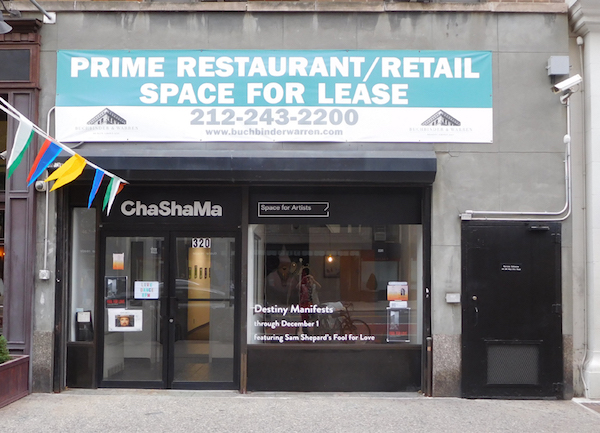 In between long-term leases, some landlords allow pop-ups to move in, such as the Halloween Costume Store where Gap had recently closed (corner of W. 23rd St. and 8th Ave). But when Kumon Math and Reading Center left 320 W. 23rd St. to move to 133 W. 23 St., the landlord did something special: It let a pop-up called ChaShaMa move in, with a sizable stage. It sponsors theatrical groups (Sam Shephard's Fool for Love is playing through Dec. 1, and a dance group from Jackson Hole, WY produced a play called Beef, which closed Nov. 13).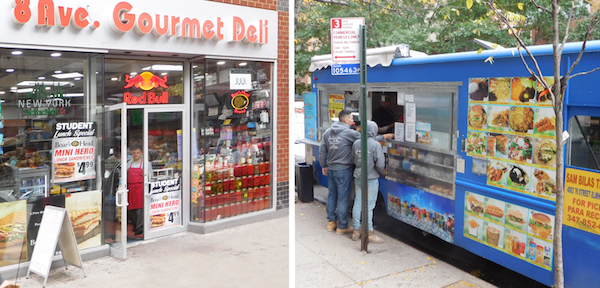 Although not closed, 8th Ave Gourmet (134 8th Ave), a Chelsea mainstay since in 1986, is fighting for survival. "These food trucks are killing business," said Sam, the manager. "They're all over the place and no one's doing anything about it. They don't pay $20,000 or $25,000 a month rent. They're not sanitary. And the one right up there?" he said pointing toward 17th St., "That truck even sells candy!"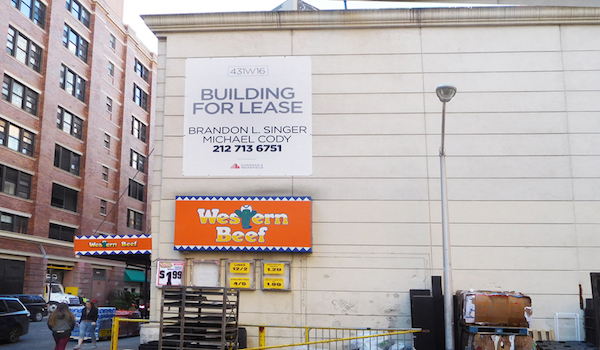 "The neighborhood is being choke by gentrification," said Miguel Acevedo, president of the Fulton Houses Tenants Association. "Big box stores are even closing. Duane Reade, which moved into the space of D'Agostino Supermarket on 23rd Street between Eighth and Ninth, is now closing."
Other reasonably priced stores and restaurants surrounding Fulton Houses are thinning out to almost none. Not only have Andy's Deli (142 Ninth Ave) and Hot Sichuan (130 Ninth Ave) closed, but just above the Western Beef Supermarket sign is a banner reading "Building For Lease."
Petland Discounts, at 312 W. 23rd St., closed when the owner of the privately-owned chain died earlier this year and the family chose to get out of the business. Also, Pet Central has opted out of its lease at 245 W. 23rd St. and moved to a smaller space, at 170 W. 23rd St. A sister Pet Central moved into 231 9th Ave. to where Chelsea Terrace Supermarket once was. Said Michael, the manager, about online competition, "Chewy is killing us! Their prices are close to what we pay our distributors. Then they deliver it for free."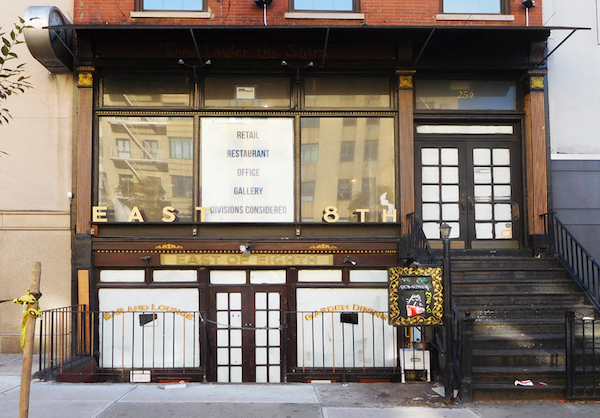 When establishments shut their doors and landlords begin to claim tax credits, the community is often left for years with empty storefronts. For those that pass by East of Eighth (252 W. 23rd St.), with its two floors of papered windows and elegant menu post, it's like a grave marker for all the wonderful lunches, barbecues, dinners, and celebrations once enjoyed there.
Amen.
Chelsea Community News is made possible with the help of our awesome advertisers, and the support of our readers. If you like what you see, please consider taking part in our GoFundMe campaign (click here). To make a direct donation, give feedback about the site, or send a Letter to The Editor, email us at Scott@chelseacommunitynews.com.