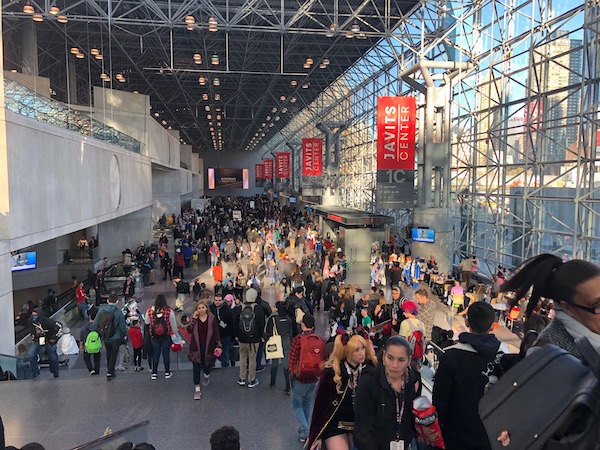 BY CHARLES BATTERSBY | For decades, the New York Anime Fest was a regular event for fans of Japanese comics and cartoons. But it was devoured by the New York Comic Con (NYCC), and eventually resurfaced as a much smaller event that runs concurrent to NYCC. Two years ago, Anime NYC arrived to give otakus (a person, Webster's notes, who has hobby-related interests that might be regarded as obsessive, particularly in the fields of anime and manga) their own festival dedicated to Japanese pop culture, with not an Avenger or Justice Leaguer in sight.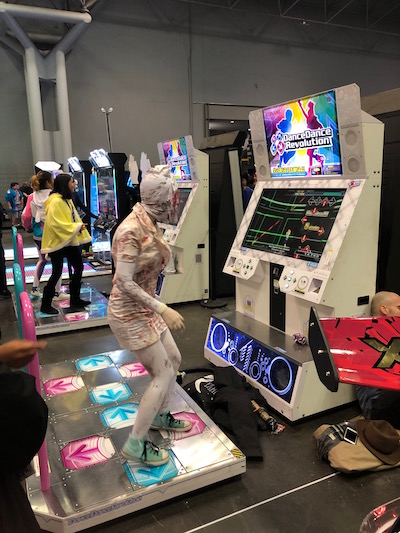 This year, Anime NYC (Nov. 15-17) took up a larger section of the Javits Center, showing a substantial growth in floorspace as well as content. The event was large enough to take up half of the cavernous convention center, with the other half hosting the return of the Salon du Chocoalt convention. This resulted in a fun mixture of costumed anime fans and confused chocolatiers roaming the common areas of the expo center. Chocolate connoisseurs will be delighted to hear that the Salon has returned to New York after an absence of several years. Anime fans were dismayed to find that Salon du Chocolat is a separately ticketed, unaffiliated, event.
At Anime NYC, fans could meet voice actors from anime and games, as well as artists and writers behind manga. Also on hand was the unclassifiable Internet star Poppy (of I'm Poppy fame). This year was Poppy's first time at Anime NYC, and her appearance coincides with a new manga staring a fictional version of herself.
Fans held their own panels, discussing topics including the meta-premise of how to prepare for an anime con. However, anime fans are usually more focused on cosplay than comic book and video game fans, and many of the panels were specific to the cosplay community, including makeup tutorials for that over-sized anime girl eye, the crossover between street fashion and cosplay, and a panel that addressed being transgender in the community. The trans panel looked at the recurring anime joke of referring to cross-dressing characters as "It's a trap," and how this hurtful stereotype often tainted attitudes towards trans people who cosplay.
A substantial amount of floorspace was devoted to the Tokyo Attack arcade, which brought rare arcade video game cabinets in from Japan. Attendees of Anime NYC could play for free (With fairly short lines), and got to enjoy the increasingly rare experience of local multiplayer games with their opponents seated right next to them for a virtual beat down, or a tank battle.
Screenings of yet-to-be-released anime were shown to attendees, a highlight being the East Coast premier of the feature length animated film Weathering With You (the new film by Makoto Shinkai, the writer and director of 2016's critically-acclaimed Your Name). Weathering With You is a coming of age tale set in Tokyo, and uses the highly topical theme of climate change, with a surprisingly optimistic view. It's also of such high quality that this anime is Japan's submission to the Academy Awards for the International Feature Film Category.
A Saturday night masquerade was held, where cosplayers could compete for prizes, bragging rights, and just an opportunity to perform for an enthusiastic crowd. The "Best in Show" award went to a massive group of Vocaloid cosplayers (although this journalist's personal choice was the Dovakiin from Skyrim).
Anime NYC 2020 has already been confirmed for Nov. 20-22.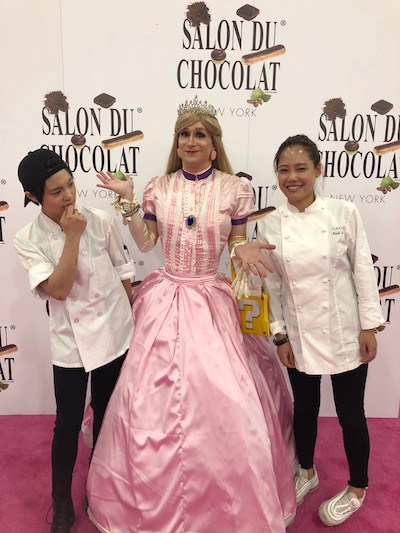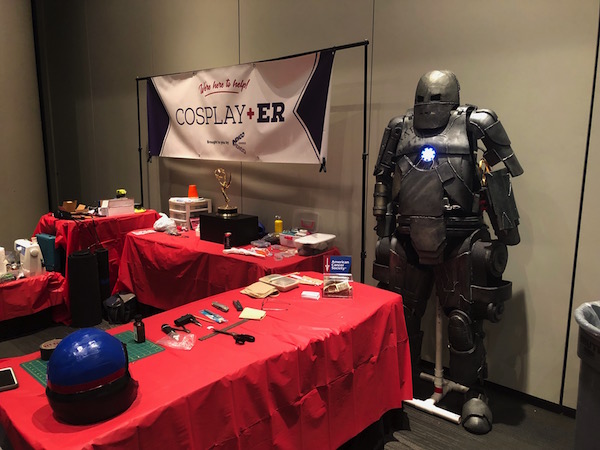 Chelsea Community News is made possible with the help of our awesome advertisers, and the support of our readers. If you like what you see, please consider taking part in our GoFundMe campaign (click here). To make a direct donation, give feedback about the site, or send a Letter to The Editor, email us at Scott@chelseacommunitynews.com.