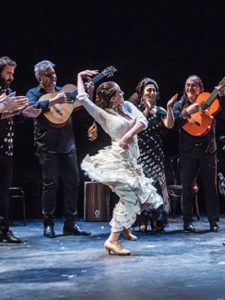 BY ELIZABETH ZIMMER | Spanish-speaking flamenco fans will find themselves in heaven at The Joyce. The 26-year-old ensemble Noche Flamenca, founded by Madrid-born Soledad Barrio and her husband, New Yorker Martín Santangelo, has settled in through Dec. 1 with dazzling guitarists, percussionists, singers, and a small cadre of dancers.
The show is as much a musical recital as a passionate demonstration of flamenco dancing. All the singing is in Spanish, and many in the audience respond boldly to the fraught utterances coming from the stage. My companion, like me less than fluent in Español, found herself wishing for supertitles—but we had a fine time, nevertheless.
In the two-hour program, the singers dance and the dancers sing, and everyone shifts the eight black bentwood chairs that form the set, on a slightly raised and mic'd platform nearly filling the stage. The first half, Entre Tú Y Yo, is a loose adaptation of Arthur Schnitzler's 1897 play La Ronde, which exposes a chain of couples each connected to other lovers. Here, the pairings, choreographed by Santangelo, are between singers and dancers as well as between dancers themselves. The high point is a sultry duet for Barrio and Marina Elana, wearing tight black leather pants and sleeveless tops. They circle each other like planets, drawn together by pure sexual heat, stomping accompanied by a drummer.
In the second half, male dancers Antonio "El Chupete" Rodriguez and Jasiel Nahin each get to let loose, first in Santangelo's Refugiados and later in a solo for Rodriguez and a long one for Barrio herself—this time in black lace and a glittering shawl, unafraid to squat and throw herself fully into her feelings (Barrio will not perform her tour de force Soleá O Siguiriya at the run's three matinees.) Elana swirls and spirals in a fringe-covered burgundy dress. The men fondle their jackets as though they were intimate partners.
The dancers are backed by guitarists Eugenio Iglesias and Salva de María, percussionist David "Chupete" Rodriguez, and singers Carmina Cortes, Manuel Heredia, and Reyes Martín. These are all mature artists, unafraid to fill a room with sound, using wooden box drums, castanets, tambourines, clapping, and powerful voices. If you are not fluent in Spanish, just brush up on the vocabulary for affairs of the heart, and you should be fine.
Thur., Fri, Nov. 21/22 at 8pm; Sat., Nov, 23 at 2pm & 8pm; Sun., Nov. 24 at 2pm; Tues. & Wed, Nov. 26/27 at 7:30pm; Fri., Nov. 29 at 8pm; Sat., Nov. 30 at 2pm & 8pm; Sun., Dec. 1 at 2pm. Call JoyceCharge at 212-242-0800 for $10 tickets. All other tickets can be purchased online, at joyce.org. Runtime: Approximately 2 hours, with one intermission. Artist info at soledadbarrioandnocheflamenca.com.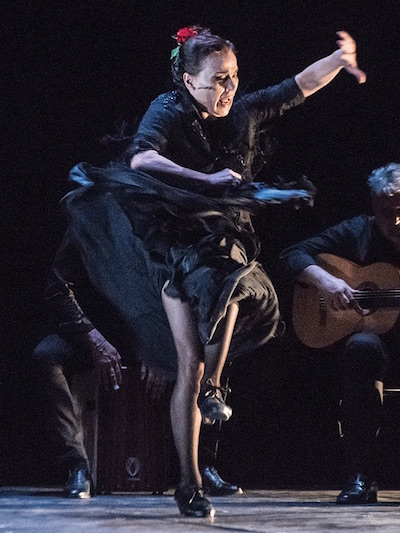 Chelsea Community News is made possible with the help of our awesome advertisers, and the support of our readers. If you like what you see, please consider taking part in our GoFundMe campaign (click here). To make a direct donation, give feedback about the site, or send a Letter to The Editor, email us at Scott@chelseacommunitynews.com.