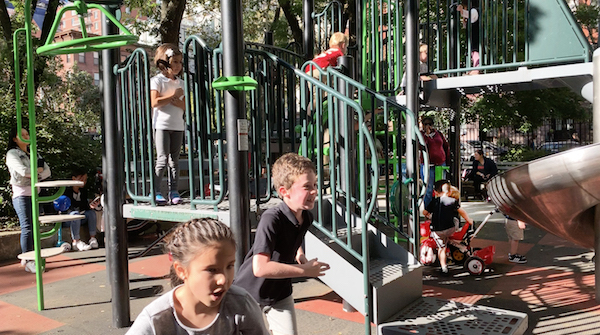 BY DONATHAN SALKALN | For toddlers and youngsters, Chelsea has become a seventh heaven. These children have brand new playgrounds at Clement Clarke Moore Park (aka "Seal Park"), Chelsea Waterside Park, Chelsea Green, Chelsea Park, and the water park at Fulton Houses.
At a Nov. 14 meeting, the Waterfront, Parks & Environment Committee (WPE) of Community Board 4 (CB4) turned its attention to park renovations to benefit Chelsea residents spanning in age from teens to adults to the elderly, and for canines of all dog years. Major plans for sections of both Chelsea Park and the Chelsea Waterside Park were discussed in great depth, with much dialogue between committee members, the park designers, and members of the public. The meeting was chaired by WPE co-chair Lowell Kern.
The landscape architecture firm of Abel Bainnson Butz, LLP (ABB) was recently selected by the Hudson River Park Trust to redesign and build the southern area of Chelsea Waterside Park. Renovation won't infringe upon the soccer field, basketball court, or the children's playground areas. ABB has done extensive work in New York City, including Hudson River Park's Piers 45, 46, and 51. Terri-Lee Burger, the firm's partner and lead designer, presented, to those assembled, the general perimeters of the Chelsea Waterside project.
"We're here tonight to hear more of what the community has to say," Burger began. "Right now, what we understand is that the dog run is widely popular, and there is an interest in an expansion and improvement. There is an interest in a comfort station. Right now, it is programmed to be around 700 to 750 square feet."
Burger explained that the comfort station's position in the park was not yet determined, although it will be near the sewer, which runs under the park along the 23rd St. line (see diagram). She also announced that Jon Dreyfous, of CDR Studio Architects, PC, would be designing the comfort station.
When opened to discussion, remarks were made by WPE members. Said Kern, "I love the center walkway in some regards, and I hate it in other regards. It does form a nice meeting area. The [Hudson River Park] Trust does events there. Composting is hosted there. But there was talk at one point about making the paths more meandering, so that it matches what's on the other side of the highway. "
Added WPE member Allen Oster, "We have a lot of construction going on, and we have a lot of people moving into the area. We want to encourage people to come in and sit down and have lunch. It's not just a picnic area, but also a seating area where people could get out of their office and have a meeting. I think that the center walkway needs to be reconfigured." Oster also recommended the dog run be expanded, and for it to include an area dedicated to use by small dogs.
Zazel Loven, President of the Chelsea Waterside Park Association, also had comments on the center walkway.
"There's a lot of seating in the park that no one ever sits on," she said. "The walkway has the beautiful stone benches where you never see anyone sitting, and also the seating all around is basically for the homeless. We have to create something that is welcoming to the neighborhood."
Loven also noted, "I spoke with Miguel Acevedo and Hector Varquez, that represent Fulton Houses and Elliott-Chelsea Houses, and they both said to me a picnic area for families is what would be welcoming to them in the park. It's so important for us that the park be welcoming to everyone in the neighborhood."
Loven, who has headed up countless plantings in the park, asked the planners that the giant sycamores be spared, as they are over 100 years old. She added that the park has experienced a lot of theft of plants. "Valuable shrubs and huge rose bushes were stolen in the middle of the night, and carted away. If we focused on native plants, they would be fruitful and take care of themselves."
Chelsea resident Lisa Jasienowski hoped the new plans would bring the picnic area nearer to the children's park and soccer field area, where many people and organizations meet. She also felt the park currently has too many walls, and needs to be more open, noting, "The walkway path has walls, the dog park has walls, even the grassy area near the soccer field has walls."
Martin Zwerling, an advocate for dog run expansion, said, "The dog run surface needs to be smooth, so it can be hosed into a drain, as it is gravel now." The water feature, he noted, "needs to be easily drained… I appreciate the dog run's hills, but from the benches, you can't see what's going on, on the other side."
Also requested were multiple drains with retractable hoses that reach all areas for easy cleaning (with gun nozzles), sufficient lighting, seating of non-rotting materials (stadium style), clear site lines, and surrounding plantings cut back, to avoid insect infestations.
It was established that in three months, ABB would return to CB4 with a plan of renovation ideas.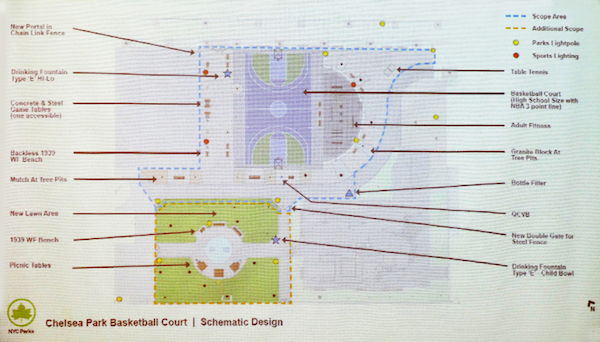 Major renovations for sections of Chelsea Park (9th to 10th Aves., W. 27th to 28th Sts.) were also reviewed by the committee and the community. These plans encompassed upgrades to the basketball court, an adult fitness area, and picnic area. Cecilia Jaeeun Cho, an assistant landscape architect with the NYC Department of Parks & Recreation, presented a second round of plans.
"The new basketball court will be high school size, with an NBA three-point line," Cho said. "It will have new asphalt, and be painted with a mixture of sand, so not to be slippery."
Cho also noted that the backboard posts will be integrated into the fence, and some seating will be along the sides of the court, although one area "will be left open, so that in case there is a big tournament, some bleachers can be rolled in. This was a request of the community."
Regarding the adult fitness, Cho said, "Primarily, the site users are focused on muscle building [as opposed to flexibility], so the units we picked reflect that. There are chin-up bars, sit-up stations, horizontal bars, etc. The colors are shades of grey instead of just black."
Other improvements within the scope of the project included new tables and a lawn in the picnic area, new benches, water fountains, game tables, and even a table tennis set-up. All-new wire mesh would be replacing the old mesh in surrounding fencing.
During the discussion period, Jasienowski asked about the idea of the community voting on the colors of the basketball court. This idea had been discussed at an earlier input meeting with the Parks Department. Cho responded that it was not to late to reconsider it.
WPE member Brett Firfer asked that the design include a child-friendly area near the basketball court, via a backboard with a low rim. WPE's Jeffrey LeFrancois, who also serves as CB4's 2nd Vice Chair, asked that the adult fitness area include exercise equipment for those in wheelchairs—and WPE member Leslie Boghosian-Murphy recommended a more lively color scheme for the adult fitness area, because, "It looks like a prison yard to me."
Cho told the group that after final approval, the project would take nine months for procurement before construction begins.
For more information about CB4, including the monthly full board meeting, visit click here.
Chelsea Community News is made possible with the help of our awesome advertisers, and the support of our readers. If you like what you see, please consider taking part in our GoFundMe campaign (click here). To make a direct donation, give feedback about the site, or send a Letter to The Editor, email us at Scott@chelseacommunitynews.com.