BY DONATHAN SALKALN | On the evening of Nov. 20, a workshop-style public meeting sponsored by the Fulton/Chelsea-Elliott Working group focusing on living conditions within Chelsea's New York City Housing Authority (NYCHA) properties brought together residents, staff from the offices of Chelsea's local elected officials, and NYCHA representatives. The event was sponsored by the Fulton/Chelsea-Elliott Working Group, which describes itself as "a collaboration of tenant representatives, elected officials, Community Board 4, housing advocates, and NYCHA" formed for the purpose of "evaluating all options for generating revenue, and exploring how these options could be implemented at the Chelsea developments [Chelsea, Chelsea Addition Elliott and Fulton Houses] for the long-term protection of tenants and preservation of public housing."
Attendees met in the large cafeteria of the Intermediate School 70 (333 W. 17th St.). The set-up had close to 20 large round tables, each with a target-like poster, which would later be stuck with stickers that ranked resident concerns. There was also pizza, salad, beverages, and a speech or two.
To some attending, it was like making out a list of Christmas wishes, knowing that even if Santa exists, his gifts might come by way of carpetbaggers. To others, it was part of a groundswell of disgust toward NYCHA, and that any change would be improvement to the quality of their lives—even private management and Section 8 federal vouchers.
Said Miguel Acevedo, president of Fulton Houses Tenants Association, "Tonight is historic. We are all trying to come to one big solution—some common ground to preserve and save public housing and to make sure that the residents are the first voices that are heard and are the most important voices."
Acevedo acknowledged all the work Chelsea's elected officials and their staffs had done at previous workshops including those from the offices of the Mayor, NYC Council Speaker Corey Johnson, New York State Assembly Member Richard Gottfried, NY State Senator Brad Hoylman, State Senator Robert Jackson, and Manhattan Borough President Gail Brewer. He also mentioned Congressman Jerold Nadler as being very concerned with the welfare of Fulton Houses.
NYCHA Chair and CEO Greg Russ addressed the group, saying, "The process of this working group is to preserve public housing in the neighborhood that it should be in. We are trying to raise the money we need to invest in the units to make sure that our residents of Chelsea can stay in these properties."
Russ showed the group a series of charts in multiple languages, that displayed the dire need of money for NYCHA, as a whole, and Fulton and Chelsea-Elliott Houses in particular. He admitted to the group that, "We've missed several cycles of reinvestment."
One chart prominently missing from Russ's presentation was the $3.48 billion annual budget of NYCHA, of which $1.3 billion, or 39 percent is comprised of salaries, fringe benefits and paid overtime. These are enormous price tags not mentioned in any discussion.
Russ noted that $334 million was needed to renew the brick and cinder-block fortresses of Fulton and Elliott-Chelsea Houses, and asked the assembled group, "What are the best set of ideas to raise this kind of money? How could we possibly raise this, given the appropriations, and given the demands, and what are the choices?"
Russ explained that the Rental Assistance Demonstration (RAD) was a viable solution that represents "a change of the way a subsidy is divided to the property, so it allows us to leverage dollars that we could otherwise access in traditional ways that subsidies come." Continuing, Russ said, "There's a third party management, but this arrangement continues to carry the mission and a lot of the protections of the residents… NYCHA retains a set of documents that control what the new entity can do and not do. There is a management agreement. There's a number of documents, many to protect the land, the buildings, and the people for long term use as very low income housing."
A group from Fight For NYCHA interrupted the meeting and sounded off against the plans to privatize NYCHA, chanting "Put NYCHA in the city budget!"
The evening's agenda moved to the workshop portion and Fulton Houses residents, who with the aid of facilitators from the offices of abovementioned elected officials, began attaching pre-labeled tickers of concerns to ranking charts.
A survey of eight different working tables found the top vote-getter was keeping the rent at 30% of income, while the other top concerns painted a picture of NYCHA's failure as a management entity. The concerns, in order of votes, were safety & security, good quality of life, rodent and pest control, fewer heat and water outages, and waste management. Also getting a lot of votes were concerns of displacement, demolition, tenant succession rights, and continued public ownership.
Most surprisingly, at the bottom of vote getting was the need to renovated units, onsite social services, economic opportunities, and affordable grocery and retail. As much of the $320 million is slated for renovations of units, maybe there is wiggle room in answering the concerns of residents without spending so much money.
When open discussion, Andy Destin, a facilitator from NYCHA, said residents at his table found difficulty in choosing one concern over another. "All concerns were important and all should be part of the solution," he said. Another table requested that a program be started in providing vocational training so residents could do their own repairs.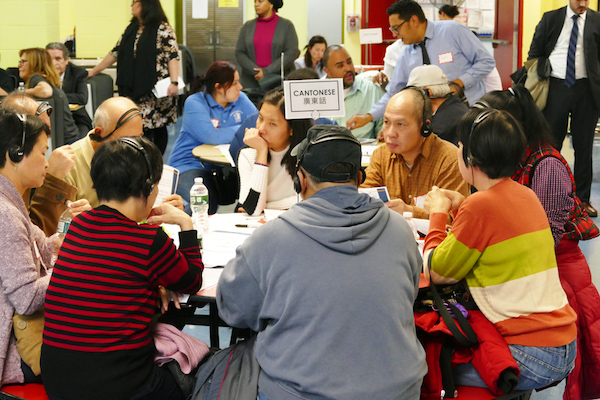 Very alarming was a conversation I had with one Fulton resident, who would prefer to be unnamed for this article. She said many residents have no faith in NYCHA.
"NYCHA doesn't enforce any of their rules. There are drugs being sold out of apartments, homeless living in the hallways, fights, and stairwells filled garbage, piss and poop," she said. "Some people living in Fulton don't even pay their rent, and trash their apartments, and yet NYCHA still does nothing. Packages delivered and left in the mail areas get opened and stolen. Kids loose their keys and break the doors, kids spraying shaving cream and throwing fruit all over the place. People leave their garbage inside at the backdoor, instead of bringing it outside to the bins, and we get rats and mice! Workers come in to clean the messes but NYCHA does nothing to stop it."
"NYCHA's got cameras and know who's doing what, and they do nothing," she continued." I have a friend with a young daughter and she's scared for her daughter growing up under NYCHA—and she can't wait for RAD!"
Chelsea Community News is made possible with the help of our awesome advertisers, and the support of our readers. If you like what you see, please consider taking part in our GoFundMe campaign (click here). To make a direct donation, give feedback about the site, or send a Letter to The Editor, email us at Scott@chelseacommunitynews.com.