BY CHARLES BATTERSBY | Balletomanes tend to roll their eyes at The Nutcracker Suite—but because it takes place during a Christmas party, no one can resist the allure of this seasonal classic. Some people even see it multiple times a year. New York City has more productions of it than you can shake a candy cane at, and here are a dozen places you can get your nuts cracked this year.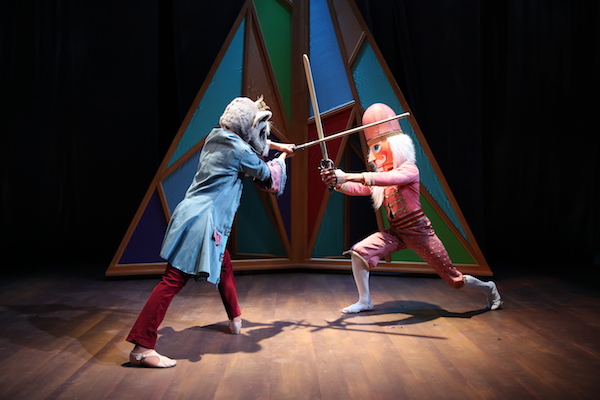 1: Playing now through Dec. 22 at W. 42nd St.'s Theater Row is My First Nutcracker, a NYC Children's Theater production. Aptly titled, it's a place to bring kids ages 3-8 for their first time seeing this story. We spoke to Barbara Zinn Krieger, the Founder and Artistic Director of NYC Children's Theater, who explained that it has a running time of under an hour, plus dialogue to help kids better understand the story. It also has audience participation, so "kids can have the thrill of doing some steps and arm movements themselves." Krieger also explained that the audience will be able to interact with Clara-Marie and the rest of the cast, and will learn the significance of the various dances in the show. There are also a few "Sensory-Friendly Performances" for children on the autism spectrum, or with ADHD.
2: The New York Theater Ballet (which recently became known as NYTB/Chamber Works) also had a shortened version of the show. It played the weekend of Dec. 6-9 at Brookfield Place. If you missed that, they're also performing at Florence Gould Hall from Dec. 13-15. We spoke to choreographer, Keith Michael who told us this Nutcracker has been running since 1985, and is "NYC's longest-running 'Other Nutcracker,' other than George Balanchine's." This is a "small Nutcracker," Michael said. "It focuses on the story and dancing, and not so much on spectacle. Because it's a small cast, you get to know all of the dancers." Of the swarm of competing shows, Michael told us, "The more versions of [The Nutcracker] you see the richer each one of them becomes."
3: For those who already know their way around the Land of Sweets, there is always the New York City Ballet's opulent production of George Balanchine's The Nutcracker. A classical, traditional experience, complete with full orchestra and a massive company that ranges from Megan Fairchild as a breathtaking Sugar Plumb Fairy right down to the swarm of cute kids pouring out from under Mother Ginger's nine-foot-wide hoop skirt. The NYCB production, through Jan. 5 at the David H. Koch Theater at Lincoln Center, is a must-see experience at least once in your life, and their use of Balanchine's choreography each year means that your children will have an experience very much like your own in seeing this essential Nutcracker.
4: Having made its way to NYC on Dec. 7 (but touring New York State throughout the Christmas season) is the Moscow Ballet's Great Russian Nutcracker. We spoke to the Producer, Akiva Talmi, who told us about the unique features and added elements of the touring event. In this show, the second act's Land of Sweets is re-imagined as the Land of Peace and Harmony. The audience will find 12-foot tall animal puppets representing the five nationalities from the Second Act, and character unique to this version: The Dove of Peace. The Dove is a single creature performed by two dancers, Sergey Chumakov and Elena Petrichenko, each of whom controls one wing. "They dance the Dove, which is not seen anywhere in the world," Talmi told us. "It's the only dove duo that exists in the world, it's our original piece." The same duo will also dance a unique version of the Arabian. Other distinct features of the Great Russian Nutcracker include a recreation of the first ballerina to dance en pointe, Marie Taglioni, as well as the use of a historical "Toy Theater" during the party scene.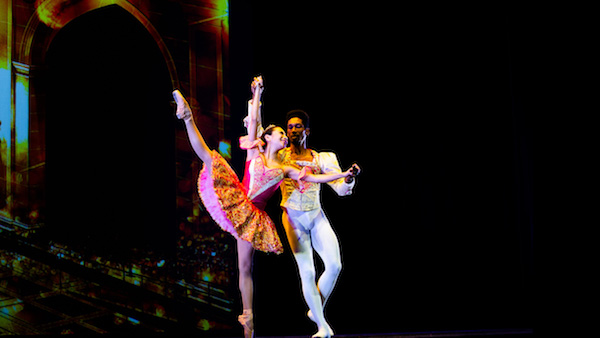 5: One week after the Great Russian Nutcracker departs the Kings Theater, this same venue will host The Brooklyn Nutcracker. The Brooklyn Ballet's version of the show is set in, as it name suggests, Brooklyn, and was created with an eye toward reflecting the borough's diversity. It only plays on Dec. 14 (matinee and evening).
6: That same weekend, the Mouse King will be rampaging all over town! The Nutcracker Goes On Broadway, by Aikun Ballet Theatre, runs Dec. 12-14 at their 1601 Broadway space. Its title is technically true, because this performance takes place right off Broadway, in a self-described "intimate studio setting." It also offers photo ops with the cast after the show.
7: Running from Dec. 13-15 at the Kaye Playhouse at Hunter College is ballet company Dances Patrelle's The Yorkville Nutcracker, which is set in historical locations in New York City. According to Francis Patrelle, the Artistic Director and resident Choreographer of Dances Patrelle, "We wanted to show New Yorkers their own city, and just how magical and wonderful it can be and is. All of these places were important in 1895, and all of them can still be visited and marveled at and enjoyed today." After every performance, the dancers are available for photo op—including The Sugarplum Fairy, Abi Stafford of New York City Ballet. Patrelle added, "You can see the Mouse King, still a bit shaken from his ordeal."
8: For something completely different, a tap dance version of the show, by Dorrance Dance, runs Dec. 17-Jan 5 at The Joyce Theater. We spoke to Hannah Heller, co-creator of this version and a guest artist with Dorrance Dance. She told us that it uses the Duke Ellington interpretation of Tchaikovsky's score, which "puts us flat into this mid-century jazz era. It swings! We are using tap dance and jazz vernacular dance as our language to tell this story." Despite the 20th century style, Heller assured, "We're still telling the story that families know and love."
9: Arriving late in the season is the Hip Hop Nutcracker, which plays Dec. 15 at the Kings Theater. This is a decidedly non-traditional version of the show, and the venue's third Nutcracker production in three weeks.
10: Nut/Cracked is another non-traditional take. We spoke to David Parker, choreographer of Nut/Cracked and co-founder of The Bang Group. "Nut/Cracked remains distinct among the plethora of Nutcrackers in New York," Parker told us. "The story of its creation is part of that." He further explained its origins in the '90s, as a pas de deux with two men engaged in classical partnering through sucking each other's thumbs. Parker described the full show that grew out of that one dance as "both gender non-conforming, and genre non-conforming." It includes the expected ballet en pointe, as well as tap dance, modern dance, disco, and more. "In my heart, it's a tribute to the Nutcracker, not a satire," said Parker, "although it is very funny, a kind of ode to the way that every tiny American town has a ballet school that does a Nutcracker. It plays Dec. at the Flea Theater, in Tribeca. 19-21. For tickets, click here.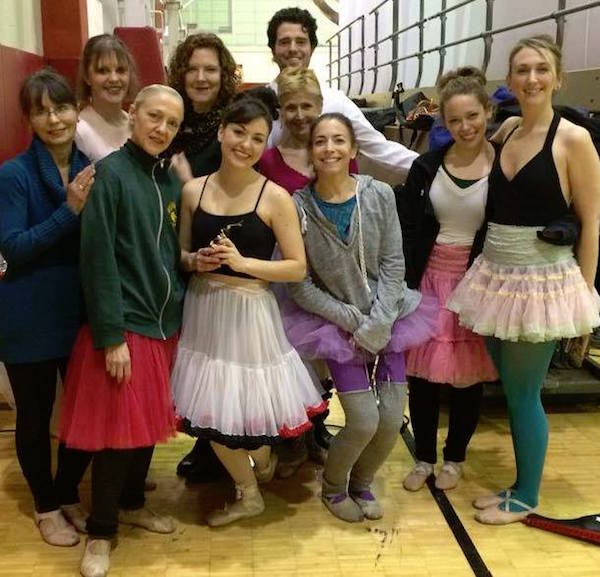 11: Would you like to dance in The Nutcracker Suite? You can, at the West Side Dance Project's Dec. 13 one-night-only Audience Participation Nutcracker, which allows you to become one of Clara's friends, a snowflake, a sleepy Arabian coffee addict, or a waltzing wall-flower. Nutcracker choreography has been taught in their Jazz and Ballet classes in the weeks before the show. Don't worry if you've never taken a dance class. There is a Fundamentals class for absolute beginners, and the party invitation specifies, "Relax folks, these are Nutcracker parodies." Participation is limited to students, and the audience is invite-only. So if you have a yearning to participate and are reading this late in the game, don't despair. As we've learned from our roundup, NYC Nutcrackers have been know to return, year after year.
12: For the adventurous type, currently playing in Bushwick is Nutcracker Rouge, by Company XIV (through Jan. 26). It is a "Baroque Burlesque" version of the show, and an extravagant evening of decadent entertainment which features two and a half hours of burlesque, singing, magic, juggling, aerialists, tango, can-can, and a little bit of ballet to boot. VIP tickets come with champagne, and there is an option for an absinthe shot during the show's second intermission. However, audience members who opt for the absinthe are liable to wake up the following morning, like Clara, wondering if it was all just a dream.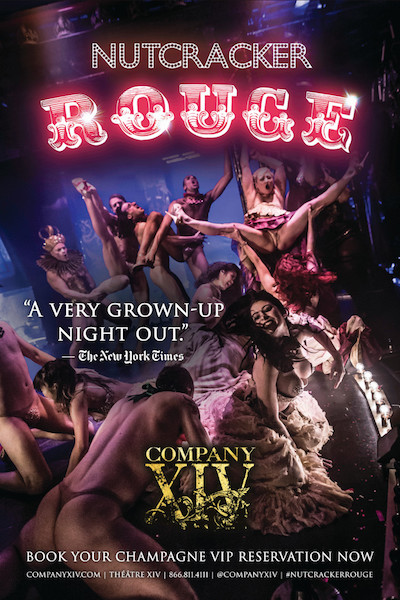 Chelsea Community News is made possible with the help of our awesome advertisers, and the support of our readers. If you like what you see, please consider taking part in our GoFundMe campaign (click here). To make a direct donation, give feedback about the site, or send a Letter to The Editor, email us at Scott@chelseacommunitynews.com.