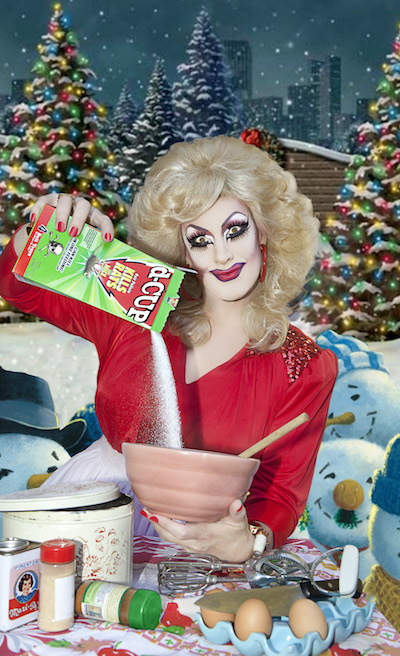 Like drunken outbursts at the office holiday party, relatives you don't want to see even once a year, and climate deniers who believe snowfall makes their wackadoodle viewpoint a slam-dunk, some things are guaranteed to happen in December. Happily add to that list, a new show from drag legend Jackie Beat. The former Gothamite and current Los Angeles resident will be reclaiming New York City for three nights only, Dec. 20-22, as she gifts naughty and nice alike with her reliably sharp satire, raunchy song parodies, cutting observations, and dead-on off-the-cuff quips. It's the 21st annual holiday-themed show from Miss Beat, who gave us a vision of things to come that was more salty than sugarplum. And we ate it up.
Scott Stiffler, for Chelsea Community News: This is your 21st annual holiday show. What can returning audiences expect? What warning/advice would you issue to first-timers?
Jackie Beat: No more warnings. Anyone who isn't familiar with what I do is obviously a moron and deserves whatever they fu**ing get! LOL! Seriously, people need to check their 2019 triggered, social warrior, cancel culture BS at the door. The whole point of comedy is to laugh at ugly shit. Anyone with irony-poor blood should probably sit this one out.
CCN: Illuminati or Nice? is this year's show. Where does the title come from, and how will it play itself out on stage?
JACKIE: Well, my show is always infused with a certain amount of darkness, but in light (see what I did there?) of current world affairs, I am really embracing it now. I mean, we have a president who proudly said he grabs women by the pussy, mocks the disabled, puts children in cages and dismisses some of the most advanced and amazing cultures on this planet as "shithole countries." I've said it before and I'll say it again, if you support Trump then you're not even allowed to eat a taco. That's how it works. You cannot enjoy that culture, even on the most basic level. Stay home and eat your braised cabbage, Nazi!
CCN: Your premiere holiday show, Jesus Christ, It's Your Birthday!, made The Catholic League for Religious and Civil Right's 1998 Report on Anti-Catholicism. Do you keep in touch? Are they on your Christmas card list?
JACKIE: Oh yes. They call frequently asking if I know any hot nine-year-olds. Snap!
CCN: To the extent you can give spoilers, what classic Jackie Beat holiday songs are we likely to hear, and what new material might you bring to the Beecham?
JACKIE: Because I have been touring Australia and New Zealand as the host of Dita Von Teese's Glamonatrix, I have been working on new material in hotel rooms and on planes. Then it dawned on me how much genius classic material I have to choose from and I took some of the pressure off myself. So a lot of classics this year and a sprinkling of new stuff, like my parody of Lizzo's Juice. Mine is called Jews, and it's about how I convert to Judaism around this time every year to take advantage of everything Hanukkah has to offer!
CCN: At press time, Trump had yet to be impeached, let alone removed from office. Thoughts, please, on what his presidency has done to the country, and what those aligned with your take on him can/should be doing?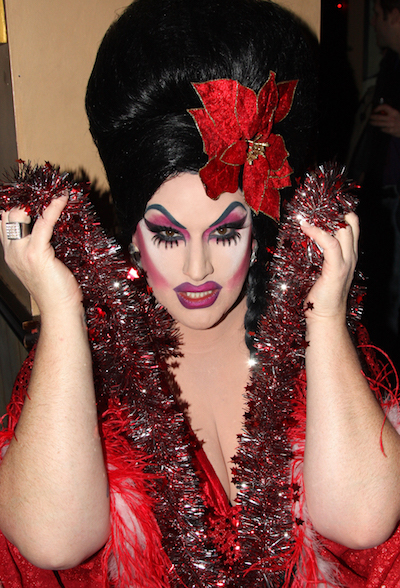 JACKIE: I already touched on this, but I will say that Trump supporters are not welcome at my show. And I am not kidding. You cannot have it both ways. You can't take away my rights and then come laugh at me. Go see Scott Baio's hilarious holiday show.
CCN: Regarding another long-running show, Golden Girlz Live!, you previously named Ginger Minj as Nurse DeFarge and Bob The Drag Queen as Jamaican maid Marguerite as dream "gets" (via an interview we did for the Los Angeles Blade). What episodes and guests do you have lined up for 2020?
JACKIE: Alaska Thunderfuck will be joining us again this January! We are doing two hilarious new episodes, including the one when Rose goes through withdrawal for a pain pill addiction. So timely, right? We're very excited. There's nothing more fun than playing my spirit animal, Bea Arthur, with all my best friends, and the winner of RuPaul's Drag Race All-Stars in the bowels of the Mexican restaurant!
CCN: In Jan. of this year, longtime friend and creative collaborator Sherry Vine had just put down roots in Los Angeles. At the time (again, for the Blade), you both talked about a production company you'd be forming (working name, "Count Jay"). What's the status of that project?
JACKIE: We just finished writing solo shows for Eureka O'Hara and Brooke Lynn Hites. We are also working on a really great follow-up to my podcast/web-series Judge Jackie. And of course, touring with Battle of the Bitches, doing The Golden Girlz Live! and lots of other live shows. We're also working on a project called Ancient Grease, where we play Sandy and Rizzo at the 50th class reunion for Rydell High. Our pal Mario Diaz will be a senior citizen Danny Zuko. We are rewriting the songs from Grease to be all about getting old and falling apart!
CCN: We're expected to leave milk and cookies for Santa. If you were somehow consigned to the role of the Jolly Old Elf, what would you expect to see on the plate?
JACKIE: A really big dick would be nice. Ho ho ho!
Illuminati or Nice? is performed Fri., Dec. 20 at 7pm and 10pm, and at 7pm Sat./Sun., Dec. 21/22. At the Laurie Beechman Theatre (inside the West Bank Café, 407 W. 42nd St., btw. 9th & 10th Aves.). To purchase tickets ($25), call 212-352-3101 or visit SpinCycleNYC.com. A $45 VIP ticket that includes reserved seating and a meet and greet is also available. There is also a $20 food/drink minimum at all performances. For artist info, visit missjackiebeat.com.
Chelsea Community News is made possible with the help of our awesome advertisers, and the support of our readers. If you like what you see, please consider taking part in our GoFundMe campaign (click here). To make a direct donation, give feedback about the site, or send a Letter to The Editor, email us at Scott@chelseacommunitynews.com.