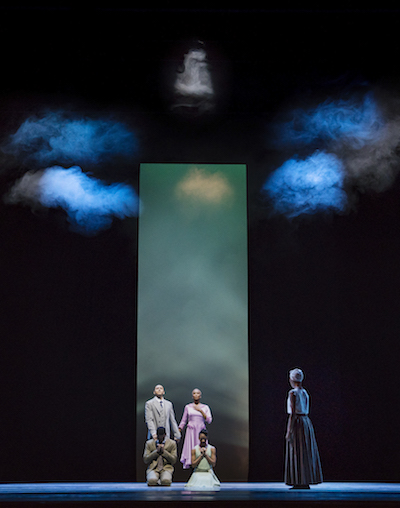 BY ELIZABETH ZIMMER | Donald Byrd's new Greenwood, a Rashomon-like dramatization of the cause and consequences of the 1921 attack by whites on an affluent black neighborhood of Tulsa, Oklahoma, drew me to one of Ailey's "all-new" evenings—but it was the company premiere of Lar Lubovitch's Fandango, first performed by his troupe in 1990, that won my heart. Finding a duet from that period that gives both male and female partners agency, that lets us see their connection as both deeply physical and deeply respectful, both surprises and delights. Performed here by seasoned artists Danica Paulos and Clifton Brown, it towered over the three ensemble works that shared the program.
Greenwood is a valiant attempt to tell a devastating story in dance terms, but what mainly communicates the massacre is Jack Mehler's dramatic, smoky, blood-colored lighting, seeping through an opening in the work's black frame.
The protagonists of the tale, a pair of teens (Paulos and Chalvar Monteiro) whose confrontation in an elevator is viewed three times in different moods, execute conventional pas de deux in various temperamental states. Seven stalking figures, meant to symbolize a rampaging mob or maybe the Tulsa cops, are much too staid, and very confusing in their Tin Man-like outfits. Perhaps most interesting are the four prosperous townsfolk who get slapped around by the hulking troops.
The rest of the bill, completed with performances of Aszure Barton's fluent 2009 Busk and Camille A. Brown's 2010 City of Rain, served to demonstrate that the current Ailey company can do just about anything by anybody, including female choreographers.
In the season's remaining weeks, Darrell Grand Moultrie's Ounce of Faith and Jamar Roberts's Ode, two other premieres, can be seen on several programs. To catch the new works en masse, go on Dec. 28 or Jan. 1.
Through Jan. 5 at New York City Center, 131 W. 55th St.). For tickets ($29-$159), call 212-581-1212 or click here. Student tickets ($15) are available at the box office, and there are discounts for group and quantity purchases.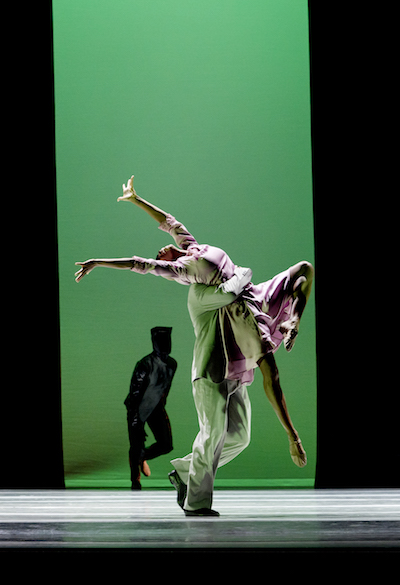 Chelsea Community News is made possible with the help of our awesome advertisers, and the support of our readers. If you like what you see, please consider taking part in our GoFundMe campaign (click here). To make a direct donation, give feedback about the site, or send a Letter to The Editor, email us at Scott@chelseacommunitynews.com.