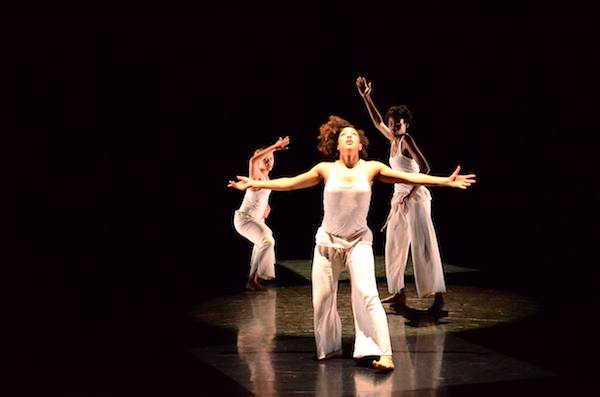 BY ELIZABETH ZIMMER | From January 10 through the 14th, arts presenters from all over the world converge on the Hilton in Midtown Manhattan for the Association of Performing Arts Professionals (APAP) Conference, where artists of all stripes set up opportunities to showcase their work. Ordinary dance fans can share the abundance at these Chelsea spots:
American Dance Platform 2020, Jan. 7-12 | Eighth troupes share four programs, each playing twice: Urban Bushwomen and Dayton Contemporary Dance Company (Jan. 7 & 12 at 7:30pm); Limón Dance Company and Dallas's Bruce Wood Dance (Jan. 8 at 7:30pm, Jan. 12 at 2pm); San Francisco's Embodiment Project and ODC/Dance (Jan. 9 & 11 at 8pm); and Miami's Rosie Herrera Dance Theatre and Philly's Rennie Harris Puremovement (Jan. 10 at 8pm & Jan. 11 at 2pm). At The Joyce Theater (175 Eighth Ave. at W. 19th St.). For tickets ($10-$45) and info, visit joyce.org or call 212-242-0800.
Live Artery, Jan. 8-14 | New and revisited work by some of the country's wilder dance artists, including, on the main stage, Faye Driscoll (January 8-10 at 8:30pm, Jan. 11 at noon), Molly Lieber & Eleanor Smith (Jan. 11 at 9pm, Jan. 12 at noon), and Sean Dorsey (Jan. 12 at 8:30pm, Jan. 13 at 8pm, and Jan. 14 at 7:30pm). In the studio, at various times: Liana Conyers, Raphael Zavier, Yanira Castro, Holly Bass, Milka Djordjevich, Marjani Forté-Saunders + Everett Saunders, Colleen Thomas, Jaamil Olawale Kosoko, Abby Z and the New Utility, Kimberly Bartosik, and Kathy Westwater. At New York Live Arts (219 W. 19th St., btw. Seventh & Eighth Aves.).  For tickets ($10-$20), visit newyorklivearts.org or call 212-924-0077.
And well worth traveling out of Chelsea for: Mariana Valencia's AIR, Jan. 9-11 & 16-18 at 7pm | Based in Brooklyn, Valencia is the product of a "hybrid" family, and she's "positioned in-between, learning how to belong and not belong to the one or the other." She identifies as a Latina artist, melding movement and text, but her roots and influences are very diverse, and her talent, marinated in years of popular culture and syndicated television, is substantial. At Performance Space New York (150 First Ave., fourth floor). For tickets ($25), visit performancespacenewyork.org.
Chelsea Community News is made possible with the help of our awesome advertisers, and the support of our readers. If you like what you see, please consider taking part in our GoFundMe campaign (click here). To make a direct donation, give feedback about the site, or send a Letter to The Editor, email us at Scott@chelseacommunitynews.com.