Tuesday, January 14: Housing Attorneys On Site at Speaker Johnson's District Office | New York City Council Speaker Corey Johnson's office offers a monthly housing clinic for tenants, to assist with housing issues, including landlord harassment/disputes. Attendees receive legal advice from housing attorneys on a first come, first served basis. The clinic takes place on the second Tuesday of every month. The  Jan. date is Tues., Jan 14, 5:30pm, at 224 W. 30th St., Suite 1206 (btw. 7th & 8th Aves.).
Tuesday, January 14: SCRIE/DRIE workshop AND Thursday, January 16: Department of Buildings Information Session | The Northern Manhattan office of Manhattan Borough President Gale Brewer is again joining with the NYC Department of Finance to assist seniors and the disabled in applying for property tax exemptions, the Senior Citizen Rent Increase Exemption (SCRIE), or the Disabled Rent Increase Exemption (DRIE) programs. The workshop takes place on Tues., Jan. 14, 2-5 pm. Then, on Thurs., Jan. 16, from 6-8pm, BP Brewer also offers an information session with the Department of Buildings (DOB), to give Manhattanites the opportunity to meet one-on-one with DOB officials for help resolving violations, applying for permits, dealing with construction harassment, hiring a licensed professional, and any other topics or community concerns. Both events take place at Brewer's Northern Manhattan office (431 W. 125th St.). To RSVP, or for more information, call 212-531-1609.
Thursday, January 16 Chelsea Reform Democratic Club meeting |The Chelsea Reform Democratic Club is having its Annual Meeting on Thurs., Jan. 16. At the meeting, they will be electing the officers and the members-at-large of the Executive Committee for the Club. Only members in good standing are eligible to vote. The CRDC will also be endorsing for State Committeewoman for the 75th Assembly District. If you would like to announce your candidacy for any club position or for State Committee prior to the meeting, please email our Recording Secretary, Willa Hahn, at willahahn@gmail.com. See the below flyer for info on Jan. and Feb. meetings.
Tuesday, January 21 Deadline to Apply for Serving on Your Local Community Board | For info, see the below flyer.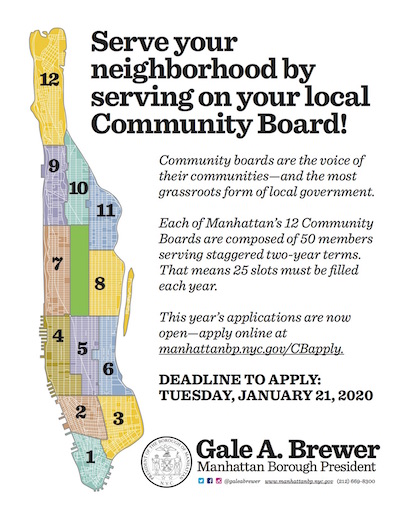 Free Fitness Classes | Ryan Chelsea-Clinton is offering free fitness classes for everyone, including Zumba, Low-Impact Cardio, and Dance Cardio. For info, see the below flyer.
Heat or Hot Water Off in Your Building? Here's What to Do | There are enforceable standards to protect you from winter's bitter cold—as Chelsea's 10th Precinct of the NYPD reminded us, in a public safety-minded message sent via Twitter. We're passing it along. Follow the 10th Precinct on Facebook, via #NYPD10PCT and on Twitter, via @NYPD10Pct. For more info, click here. The 10th Precinct tweeted: "If the heat or hot water is turned off in your building, please call 311. See the attached photo regarding the heating rules."
Through Thursday, January 16: "Quit Today, Be There Tomorrow," Urges Health Department | Through January 16, New Yorkers who want to quit smoking can apply for free nicotine patches and lozenges by visiting nysmokefree.com or calling 1-866-NY-QUITS. Using cessation medications, such as nicotine patches and lozenges, and counseling can double the chances of quitting successfully. See the below flyer.
Through Feb. 11: "Light 4 Nights" Exhibit at Hudson Guild Gallery. See the below flyer for details. Click here to be taken to the Hudson Guild website.
Tuesday, January 7: Town Hall: Planning for the Future of Hell's Kitchen | For info, see the below flyer.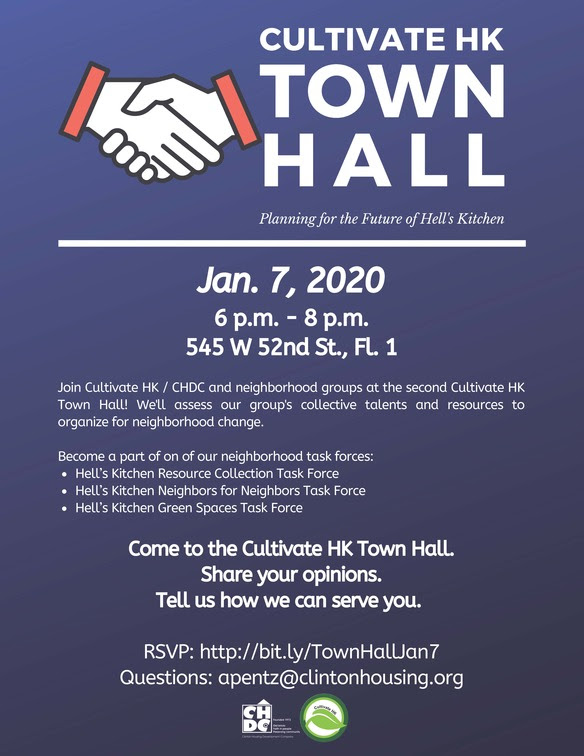 —Listings compiled by Scott Stiffler
Chelsea Community News is made possible with the help of our awesome advertisers, and the support of our readers. If you like what you see, please consider taking part in our GoFundMe campaign (click here). To make a direct donation, give feedback about the site, or send a Letter to The Editor, email us at Scott@chelseacommunitynews.com.