BY DONATHAN SALKALN | Bill de Blasio won his election for mayor of New York City on the bedrock of a Charles Dickens book titled A Tale of Two Cities. It is an 1859 story about the disparity between rich and the poor, where "we had everything before us, we had nothing before us."
The years since de Blasio's election have seen zoning changes, gentrification, and extreme development to neighborhoods where too many residents have been squeezed out of affordable housing and onto the streets. Maybe Dickens would rename it A Tall Tale of Two Cities.
On Thurs., Jan. 9, buses took NYC activists to Albany to demand solutions to its housing crisis. The rally, called Upstate Downstate Housing Alliance & Justice for All NY Homes Guarantee Lobby Day, brought together a coalition of housing organizations demanding a safe place for all New Yorkers to live. Over 500 boisterous advocates lined the famed cavernous Great Western Staircase (aka the "Million Dollar Staircase") of the State Capitol Building.
What made the event special was that its organizers and their supporters were joined by an equally boisterous group of State Senators, Assemblymembers, and others committed to demanding all the same things.
The visiting coalitions included the Cooper Square Committee, Neighbors Helping Neighbors, Housing Justice For All, Vocal New York, Red Hook Initiative, Community Action For Safe Apartments, Organizing Asian Communities, Community Voices Heard, Neighbors Together, Crown Heights Tenant Union, MET Council on Housing, Poor People's Campaign, and Woodside on the Move.
While the chambers of both the State Senate and Assembly were struggling with repercussions of a new progressive "no-bail" law that recently allowed a suspect to walk free, who had allegedly randomly punched out three NYC women, many members took a break and came out of chamber to energize the rally. They flooded the stairwell with hope of getting housing for all New Yorkers—and vowed to never take campaign contributions from real estate special interests, so that their votes are not swayed by financial favors.
Below are some snippets of the rally: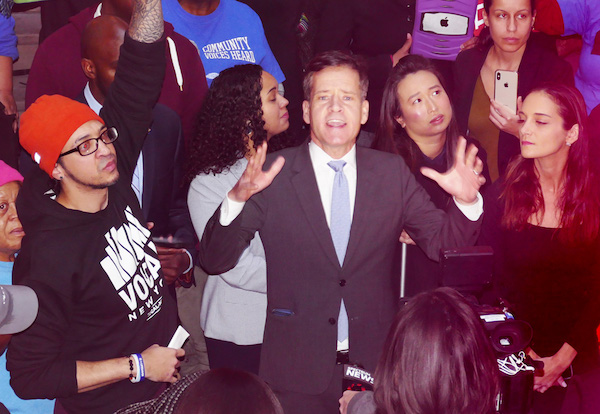 "I represent a district where a billionaire bought an apartment for not $50 million, not $100 million. He bought an apartment for $238 million. Let me tell you what the real crime is… that billionaire is paying a lower tax rate than a single family home in Queens," exclaimed Chelsea's State Senator, Brad Hoylman. "Billionaires should pay their fair share so everyone has a home to live in."
The crowd chants: "What do we want? HOUSING! When do we want it? NOW!"
Yelled Upper West Side's State Assemblymember Linda Rosenthal, "You see a homeless person wrapped up in dirty blankets, no food, no shelter, no home, and around them all I see are towers with multi-millionaires. That's why we need a home guarantee and we are going to fight like hell to make sure that happens."
The crowd chants: "Housing is a Human Right! Fight, Fight, Fight!"
"New York City public housing is falling apart because the state and city is failing over 400,000 New Yorkers," shouted the Lower East Side's Assemblymember, Harvey Epstein. "Tax the Rich and fund public housing. We can fix it this year!"
The crowd chants: "El Pueblo Unido, Jamas Sera Vencido!" (the people united, will never be defeated)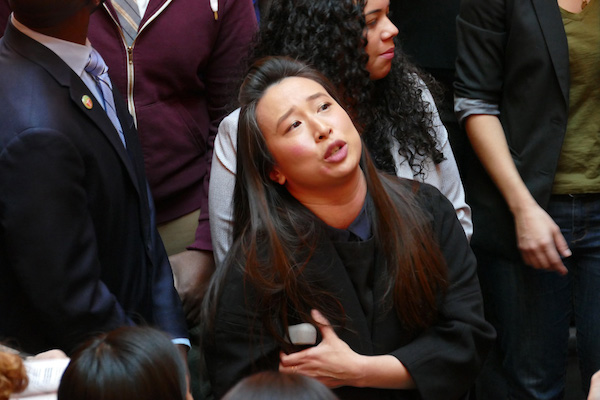 Screamed Assemblymember Yuh-Line Niou, whose district includes Chinatown, where four homeless men were recently beaten to death by a man, "Violence and cruelty towards New Yorkers experiencing homelessness is unacceptable. We have so much we need to do. It's not about fixing a broken system. The system was designed this way —where certain people benefit and certain people fail." Niou added, "We are asking for not to fix the system, but to redesign the system!"
The crowd chants: "Tax the Rich, Not the Poor! Tax the Rich, Not the Poor!"
"The shelter business is a multi-billion dollar business. It's cheaper to help people with their rent than to put them into shelters," exclaimed Assemblymember Andrew Hevesi, from Queens. "Since Governor Cuomo came into office, the shelter industry has grown by 66 percent. They have made 33,000 new beds, the most in the history of New York State. Why is he doing that? Shelters are more expensive, shelters don't produce the results they're supposed to, and the shelter industry is failing! They are supposed to reduce the time for people in shelters and when you get out, you're supposed to stay out. You're not supposed to come back!"
The crowd chants: "All the Rent, All the Rent, All the Rent is Damn Too High!"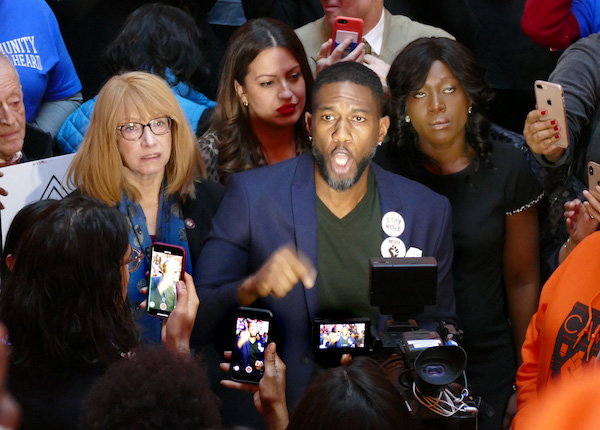 Hollered NYC Public Advocate Jumaane Williams, "We want public funding for public housing. We want this Governor to stop taking money from the very people who want to roll back the new rent laws." Williams added, referring to Governor Cuomo's State of the Union speech, "It was an hour and a half of smoke and mirrors. I heard him talk about the money he wants to put into affordable housing. Well, where have you been for eight or nine years?"
Williams leads the crowd's chant: "Housing is Expensive! Housing is Segregated! Housing is not Diverse Across the State! We Want a Home! A Home of Safety! A Home That's Secure! A Home is Our Right!"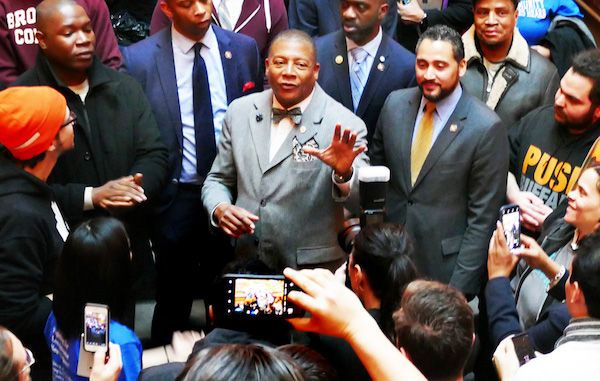 "I know a little about affordable housing. I was born in public housing. Not a hospital. I was born in the Hammel Houses," yelled Queen's State Senator, and former Marine, James Sanders Jr. "Why are we killing NYCHA? Because we don't fight enough. If we organized we will stop being killed." Sanders then directed his thoughts toward Andrew Cuomo, saying, "Alright Mr. Governor. We need to put our money where our mouth is on this issue. You said you would put billions to help public housing and affordable housing. And not so called affordable housing where you have to be in the middle-class just to afford it!"
The crowd chants: "People Over Profit! People Over Profit!"

Chelsea Community News is made possible with the help of our awesome advertisers, and the support of our readers. If you like what you see, please consider taking part in our GoFundMe campaign (click here). To make a direct donation, give feedback about the site, or send a Letter to The Editor, email us at Scott@chelseacommunitynews.com.