Monday, January 20 through Wednesday, January 22 | Water service interruptions are coming to Chelsea, as the neighborhood's 10th Precinct of the NYPD told us, via Twitter. We're passing it along. Follow the 10th Precinct on Facebook, via #NYPD10PCT and on Twitter, via @NYPD10Pct. The 10th Precinct tweeted: "ATTN: Chelsea, there will be a water service interruption on Monday 1/20 through Wednesday 1/22. See below for details."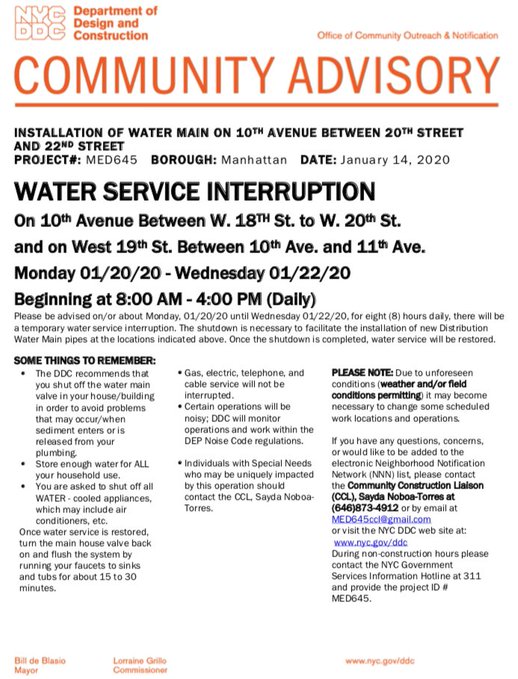 Tuesday, January 21: 13th Precinct Community Council | Typically taking place on the third Tuesday of the month, as it does this time around. the Community Council of the NYPD's 13th Precinct provides a forum for community members to work with local police officers to address safety and quality of life issues that affect us all. On the agenda this time around: A report from the precinct's Commanding Officer, Deputy Inspector Steven M. Hellman, the Cop of the Month award, and comments and questions from the community. Tues., Jan. 21, 6:30pm, at the 13th Precinct (230 E. 21st St., btw. Second & Third Aves.). For more info on the 13th Precinct, click here.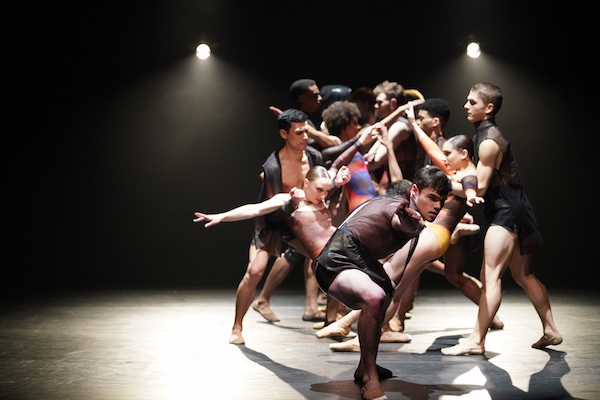 Through Sunday, February 2: Complexions Contemporary Ballet at the Joyce Theater | Complexions Contemporary Ballet (CCB) opens its 26th season at essential Chelsea dance destination The Joyce Theater, via three dynamic programs over a two-week period. CCB's signature style of athleticism, virtuosity, and passion is in full force, with programming that includes the world premiere of Love Rocks, a full-company ballet set to works by iconic singer and songwriter, Lenny Kravitz. Returning is Bach 25, set to the music of Johann Sebastian and Carl Philipp Emanuel Bach, and featuring the full company in continuous movement, to the Baroque composers' dramatic compositions. The company will also reprise Woke, a socially conscious one-act ballet featuring the full company that examines our humanity in conjunction with today's political climate. Tickets range from $20 to $65 and can be purchased at Joyce.org. Artist info at complexionsdance.org.
DEADLINE EXTENDED to Feb. 14, for Applying to Serve on Your Local Community Board | For info, see the below flyer.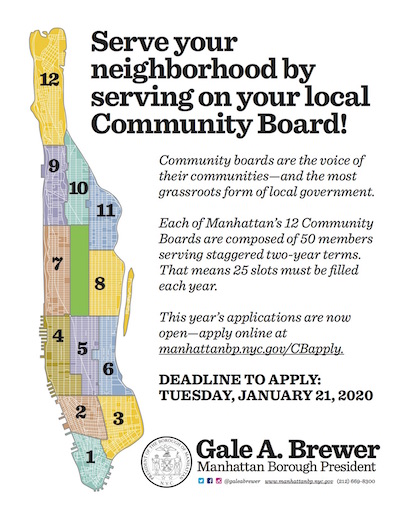 Wednesday, January 22: "Continuum at The Eagle NYC | "Senior LGBTQ men and women, as pioneers of the movement that has brought greater freedom and acceptance to our entire community, deserve our utmost respect and attention," says Derek Danton, owner of The Eagle NYC, the venerable  leather bar located on Chelsea's W. 28th St. "We, their concerned friends, associates, and colleagues, want to ensure that they will not be forgotten, nor their welfare taken for granted as they age." To that end, Danton's Continuum series at The Eagle is an intergenerational, monthly gathering that offers up a robust roster of boylesque, drag, vocalist, and theater performances. See the below flyer for details on this month's installment.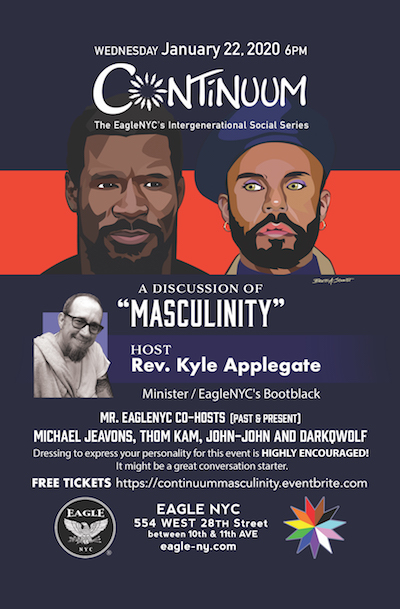 Free Fitness Classes | Ryan Chelsea-Clinton is offering free fitness classes for everyone, including Zumba, Low-Impact Cardio, and Dance Cardio. For info, see the below flyer.
Heat or Hot Water Off in Your Building? Here's What to Do | There are enforceable standards to protect you from winter's bitter cold—as Chelsea's 10th Precinct of the NYPD reminded us, in a public safety-minded message sent via Twitter. We're passing it along. Follow the 10th Precinct on Facebook, via #NYPD10PCT and on Twitter, via @NYPD10Pct. For more info, click here. The 10th Precinct tweeted: "If the heat or hot water is turned off in your building, please call 311. See the attached photo regarding the heating rules."
Through Feb. 11: "Light 4 Nights" Exhibit at Hudson Guild Gallery. See the below flyer for details. Click here to be taken to the Hudson Guild website.
—Listings compiled by Scott Stiffler
Chelsea Community News is made possible with the help of our awesome advertisers, and the support of our readers. If you like what you see, please consider taking part in our GoFundMe campaign (click here). To make a direct donation, give feedback about the site, or send a Letter to The Editor, email us at Scott@chelseacommunitynews.com.