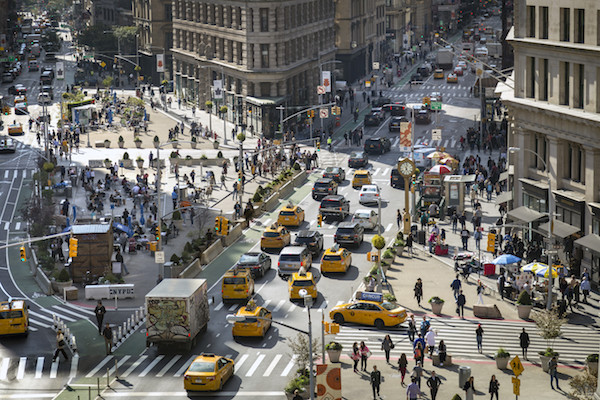 BY SCOTT STIFFLER | Most people's minds conjure "the water" (aka the Hudson River), when asked to name Chelsea's westernmost point. But when the conversation turns to its crosstown counterpart, there's no clear winner. That's what we found, during some informal, totally unscientific polling of local residents and business owners. People were split pretty much 50/50, between Fifth and Sixth Aves.
The Flatiron 23rd Street Partnership Business Improvement District has its own idea of where Chelsea begins and ends—and they're looking to expand that definition, at least as it applies to what part of the area benefits from its caretaking and advocacy.
A plan to broaden their current services boundary is in play, in hopes of, they say, "including additional adjacent blocks to form a more cohesive, clean, and safe neighborhood." As the neighborhood grows and evolves, they noted, so too does "the need for further district-wide promotions, advocacy, and public realm services and enhancements. The proposed expansion will bring our robust services—sanitation, safety, homeless outreach, marketing, and public improvements—to a larger footprint."
The proposed expansion would include extended boundaries in the West side of Sixth Ave: 20th St. and 24th-26th Sts. The Sixth Avenue mixed-use corridor, says the BID, is " a fitting addition, since Sixth Avenue is a gateway to the Flatiron District."
The Partnership's expansion effort began in fall 2018, with a Needs Assessment Survey sent via direct mailing. Since then, they've solicited comment from local businesses (via door-to-door canvassing), done outreach to co-op and condo associations, and held an October 2019 public information meeting.
On Tues., Jan. 28, you're invited to a second public information meeting—which will, says the Partnership's executive director, James Mettham, "allow participants to provide feedback on current conditions as well as ideas for proposed services and programs that the Partnership should consider developing and delivering up expansion implementation."
The January 2020 Public Meeting—Flatiron Partnership Expansion takes place Tues., Jan. 28, 6pm-7:30pm, at the CUNY School of Professional Studies (119 W. 31st St., btw. Fifth and Sixth Aves.; 4th Floor, Room 407). To register, click here.
Chelsea Community News spoke with Mettham about the proposed expansion, and why new parts of Chelsea are in the mix.
CHELSEA COMMUNITY NEWS (CCN): The area's evolution into a hub of residential activity and hospitality is mentioned as one of the reasons that compel expansion. What are some examples of residential activity and hospitality expansion, and what advantages does an expanded BID area bring?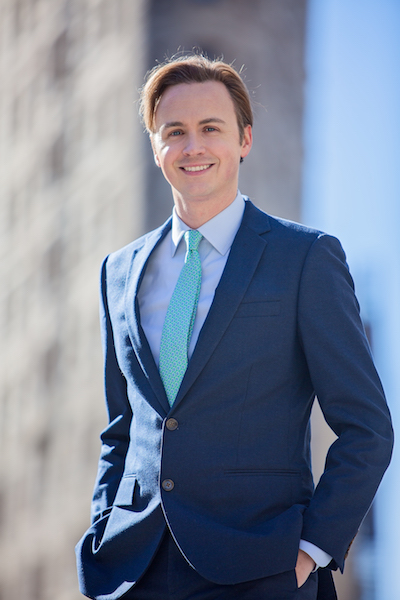 METTHAM: Our current service area has steadily become more mixed-use in nature with an estimated population of 30,000 and 16,000 households. The Sixth Avenue corridor, from 23rd Street to 31st Street, is home to thousands of residents—particularly the towers that tend to market themselves as "Chelsea")—since the stretch was rezoned in the mid/late 1990s, and there are several new residential towers being erected in the NoMad area.
The Partnership believes that what is good for a thriving commercial office district is good for a vibrant mixed-use neighborhood that can accommodate the needs of a growing number of residents that want live in close proximity to transit hubs, parks, cultural institutions, and competitive job opportunities.
The Partnership's delivery of above-and-beyond services and programs (sanitation, public safety, homeless outreach, marketing & branding, streetscape enhancements, beautification, economic development, district advocacy) will help ensure that the maintenance and TLC for our streets, sidewalks, and public spaces keep pace with the amount of investment and changes that is happening behind building faces and along the skyline.
CCN: The Partnership's current area of coverage shares space with Chelsea, depending on your feeling as to what the cut-off point of Chelsea truly is, going east. With expansion, how will the BID make any further inroads to benefitting Chelsea?
METTHAM: We are a community partnership with the goal of making the neighborhoods we work in the most vibrant places to live, work and play in. While our service boundaries are cut and dry and we do our best to appropriately market an identity for this defined geography for the benefited businesses, properties, residents, and institutions, we are successful by establishing strong and trusting relationships with all communities in and around BID lines.
To that end, we thought it was important to include all of Sixth Avenue, from 20th Street to 31st Street, to cultivate more established relationships with the Chelsea community by providing additional streetscape and business support services that should enhance one the neighborhood's important gateways while collectively establishing Chelsea, Flatiron & NoMad as a dynamic hub for world class commercial space & opportunities, hospitality, and residences.
CCN: What relationship does the Partnership currently have with Chelsea-identified businesses, residents, organizations, and how will expansion further that relationship?
METTHAM: The Partnership has established relationships already with Sixth Avenue property owners and business between West 20th Street, and West 23rd Street (current BID service area). We recently featured the fitness studio, Brrrn, in our 2019 Annual Report and had one of the Brrrn founders speak at our 2019 Annual Meeting in June. Through our Friends of Flatiron Partnership sponsorship, we have worked closely with the School of Visual Arts (W. 21st St.) and new neighbor Poster House (W. 23rd St). We've created good ties with the Renaissance Chelsea Hotel, the Chelsea Vanguard tower, and the Hampton Inn of Chelsea and are proponents of our community-wide work.
We also maintain a close relationship with Bowery Residents' Committee (BRC) on 25th Street, as we dually address homelessness in our neighborhoods. The 29th Street Association sits on our BID Expansion Steering Committee. Of course, we maintain strong relationships with Speaker Johnson's office (a rep sits on our Board), Community Board 4 (a rep sits on our Board), and the NYPD 13th Precinct. Many Chelsea residents attend our seasonal programs, events, and plaza activations. A considerable number of Chelsea residents and workers are included in our weekly newsletter, that reaches over 10,000 people.
These relationships as well as others with business and other civic groups, as well as the Traffic Taskforce, will become strategic partners as we proceed with the expansion, and we hope to establish roots in these relationships before the expansion is formally enacted.
CCN: Tin Pan Alley, which the city's Landmarks Preservation Commission recently recommended for protection, is part of the proposed expansion area. What is the Partnership's position, and present/future involvement, in landmarking that area? How will the BID's presence benefit Tin Pan Alley?
METTHAM: As an organization that champions and celebrates the historic vibrancy of Flatiron and NoMad, the Partnership supports landmark designation when it is done in a responsible and appropriate way to maintain the character of neighborhoods. We look forward to providing important supplemental services to West 28th Street upon the implementation of the expansion process.
CCN: Homeless outreach is one of the BID's services. How do you work with NYPD/DHS [Department of Homeless Services], and how would you assess the homelessness situation within the BID's current area of coverage?
METTHAM: Homelessness is a challenging issue in neighborhoods throughout the city, including Flatiron and NoMad. That's why homeless outreach is a core part of the Flatiron/23rd Street Partnership's mission. Since 2007 we have partnered with homeless services nonprofit Urban Pathways to offer ongoing assistance and critical services to individuals and families living without shelter.
Two-person outreach teams connect with individuals on the streets to understand and address their specific needs, provide transportation to shelter and treatment facilities, and work on referrals for more permanent housing solutions. An outreach team is on duty five days a week, including late night and early-morning shifts in collaboration with the NYPD 13th Precinct. The program is overseen by our Director of Operations Scott Kimmins who spent 20 years as an NYPD officer in the 13th Precinct, which serves Flatiron. He joined the Partnership in 2006 and helped develop the program.
While DHS isn't directly involved in the day-to-day operation of our outreach program, we do work with the agency periodically, in tandem with Urban Pathways and NYPD's Homeless Outreach Unit Captain – who attended our September homeless outreach residential information forum.
Our dedicated, compassionate outreach workers engaged with more than 140 people on the streets more than 1,000 times in the first 10 months of FY19. Twenty-four of those individuals were provided with temporary shelter or housing, or placed in a treatment program—a 20% increase, year-over-year.
About the Flatiron/23rd Street Partnership
The Flatiron/23rd Street Partnership, formed in 2006, is a nonprofit organization and Business Improvement District whose mission is to enhance the reputation of Flatiron and NoMad as two of New York's most vital and exciting neighborhoods. This is accomplished by maintaining a clean and safe environment for the district's businesses, residents and visitors; by spearheading area improvement projects; and by marketing the diverse business and retail options in this vibrant and historic neighborhood. Website: FlatironDistrict.nyc. Email: info@flatirondistrict.nyc. Facebook, Instagram, Twitter: @FlatironNY
Chelsea Community News is made possible with the help of our awesome advertisers, and the support of our readers. If you like what you see, please consider taking part in our GoFundMe campaign (click here). To make a direct donation, give feedback about the site, or send a Letter to The Editor, email us at Scott@chelseacommunitynews.com.