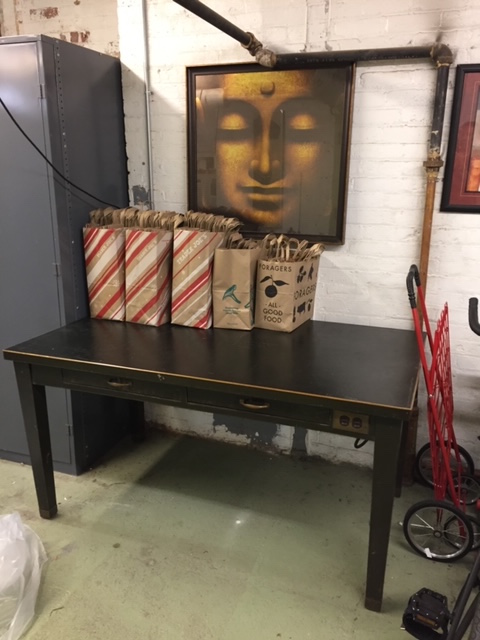 BY PAMELA WOLFF | Located at 346 W. 20th St. (btw. 8th & 9th Aves.), St. Peter's Chelsea—the Episcopal church founded in 1831 by Clement Clarke Moore, architect of the Chelsea neighborhood—has been running a food pantry for many years.
In 2019, they distributed food to 32,559 clients. Of those, there were 1,359 children and 12,053 seniors. The food they distribute every Saturday morning is provided to them, for the most part, by Food Bank for NYC.
My building's co-op has, for several years, supported these efforts by providing paper grocery bags (clean and not torn), that are collected from our recycling closets and the basement paper recycling containers. The bags are from Whole Foods, Trader Joe's, Forager's, and Eataly. We are good consumers here—this co-op produces about 400 bags a week! They are processed in the LMN storage room, and are then delivered weekly to the church.
It would be very helpful if others in the neighborhood participated in this effort. Residents should fold the bags back into their original shape when dropping them off at St. Peter's.
There is no downside to this effort.  It has no cost, and is something we can all feel good about.
About the Food Pantry | This information is from the St. Peter's website, and additional information provided by St. Peter's. To visit their food pantry page, click here.
History | The St. Peter's Food Pantry was founded in 1981 by clergy and parishioners to meet the increasing need for food services in our neighborhood.
Day and Hours of Operation | Saturday, 10:30am–11:30am
Types of Services Provided |St. Peter's Food Pantry provides emergency food packages to share God's bounty. Our packages are nutritionally balanced and provide clients with food supplies for breakfast, lunch and dinner. We provide an average of 160-200 bags containing non-perishable food products per week. Each client's bag usually contains: milk, hot or cold cereal, fruit juice; a can or package of fruit; rice other pasta; a can of vegetables; and a protein item such as stew, canned chicken, tuna and beans. A donation of $15 can provide two bags of food.
Who May Receive Food Services | We provide food services support for anyone in need and requests our services. We do not require identification, with the exception of those clients requesting bags for other parties. Our clients come to the pantry for a variety of reasons. Some clients need the services offered to supplement their food budget. Some clients are homeless and live in shelters and there are some that are considered the "working poor." Clients come from all walks of life and include the elderly, children, the unemployed, underemployed, the homeless, natural disaster victims and those otherwise struggling to meet their food needs.
To Volunteer and Food Donation Information:
To volunteer: Contact Alice Blount-Fenney via email, at foodpantry@stpeterschelsea.com or click here.
Community service letters are provided to students that earn volunteer hours at the pantry.
To host a food drive, call 212-929-2390 to confirm a delivery drop-off and contact Ms. Blount-Fenney, Director. We accept non-perishable food items. Our "wish list" is as follows-cereal, canned fruit or vegetables, canned meats or tuna, and shelf-stable milk.
Chelsea Community News is made possible with the help of our awesome advertisers, and the support of our readers. If you like what you see, please consider taking part in our GoFundMe campaign (click here). To make a direct donation, give feedback about the site, or send a Letter to The Editor, email us at Scott@chelseacommunitynews.com.