BY PUMA PERL | In mid-October, 2019, Gina Healy, her daughter, Simone Wolff, and her mother, Mindy Rinkewich, set off on a trip to Eastern Europe. Rinkewich, age 90, had been invited to be a featured reader at the 3rd International Poetic Conference in Poznań, Poland; Gina and Simone were to accompany her. Gina and I met for coffee at Odessa's shortly before their scheduled departure date.
"My mother has been going to Russia and Poland every year for a long time, to study," she told me. "Growing up, my family never went camping or to the beach for vacations. We went to Europe and, a few times, to Israel."
Gina recalled that, as a teenager, she went through a phase of barely speaking to her mother. Despite, or because, of that, her mother planned a summer trip to Russia for the two of them. I asked if this was a study trip of some sort.
"No," she replied, "just a vacation."
This fascinated me, since my childhood travel involved the Long Island Railroad, taking me from my Gravesend apartment to my aunt's house in Syosset, Long Island. The comparisons don't stop there.
Gina grew up in a high-rise on Ninth Ave. in Chelsea, where she lived with her parents and her older sister, Rina Rinkewich Spielberg. Her mother was born in the Bronx, and her father, in Poland. While he was not an artist, he had a great interest in culture, regularly taking the family to museums, Broadway shows, and other events. Gina's daughter, Simone, a poet and writer, was born in Tribeca and raised in Brooklyn, with her mother, and in Connecticut, with her father. She currently divides her time between the Chelsea apartment and Hudson, NY.
"My older sister was the talented one in the family," Gina related. "She played instruments, started dancing when she was five. I tried piano lessons, but I didn't like it." She doesn't recall her mother writing poetry when she was growing up.
At age 11, Gina's father, an irrigation engineer, moved the family to Martinique for a year, for business reasons. It was there that she followed her sister to dance lessons, and discovered her own love of dance. When they returned to the states, her sister helped her continue her lessons by taking her "everywhere," and she began choreographing at a young age.
She had always sung in school, and when she moved to Brooklyn, years later, she became involved with the Heights Theater, and further developed her singing and acting skills. For the last several years, she has focused on singing, fronting bands, and recording, in addition to her day job as a physical therapist. She still has some involvement in the dance world, and is currently engaged in an installation at the Chelsea Hotel, which revisits a 1983 performance in which she played a part. Her sister, who was not interviewed for this article, has continued her career in dance as a choreographer and a teacher, and at one point founded a dance company.
Several weeks after their return to the city, I visited the three women in the sprawling Chelsea apartment, to learn more about the recent trip and about life in a household that supports art as a way of life. Their trip began in Berlin, where they all have friends, and after several days, they took the bus to Poland.
"It seemed like we were on the road for hours," Mindy Rinkewich said, "but I assumed Simone would like to see Berlin, because it's popular with young people."
At the conference, Rinkewich chose to read in English, although most people read in Polish. She holds a Master's Degree in Slavic Studies from Columbia and speaks Yiddish, Polish, and Russian, and all of her books, save one novella, are in at least two languages. She has also written several plays, one of which was mounted at The Playwright's Horizon. I asked her if she thinks in English while writing.
"Sometimes I don't remember which language I originally thought of it," she noted. "Sometimes, you get a poem, because a phrase hits you in some language which is interesting, and you recall it. Sometimes, you don't."
For the symposium, Rinkewich included a Holocaust poem among her selections.
"There was a Gypsy poet there," she said, "and an organization that saved Gypsy and Jewish children during the war." Several poems were from a recent book, From the Kitchen of the Polish Witch, published by her granddaughter, Simone. Included was Warsaw Interlude:
It's the familiar faces that hurt most,
the woman who got friendly at the airport,
the spitting image of my mother's friend,
complete with gestures and speech mannerisms.
I haven't seen her since my mother died.
I wonder if she's still among the living.
I can't explain just why I ran away.
I should have stayed, maintaining the illusion.
I'm sure that's all it was in Warsaw.
Well-meaning gesture of some kindly god
who cannot stand to see me so alone here,
who doesn't quite know what he's doing. 
Rinkewich's poetry is strong and forthright, without the need for excessive imagery to convey her message and evoke emotion. History of Relativity, another piece that she performed, opens with the lines: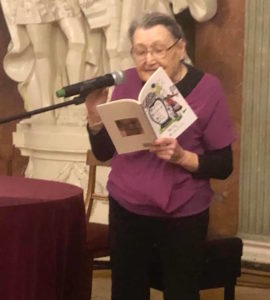 Hell is so relative
No one knows
the exact location of the lowest point
of the Valley of the Shadow
or what narrow, tricky mountain path
leads to the Highest Heights
where God's country blooms.
She said that she enjoys reading to audiences, and Gina added that she has a very theatrical flair and often uses props, like a "show and tell" with a coordinated outfit.
"We finished up what we wanted to do and decided to go to Vienna," Rinkewich continued, noting that the sightseeing excursions they'd planned for them were not of great interest. In Vienna, which she'd visited twice before, she finally fulfilled her dream of visiting the Swarovski Crystal Worlds. "We traveled 14 hours to get there," said Gina, but she can finally cross it off her bucket list." Gina observed that neither she nor Simone have the same "serious travel bug" as the rest of the family.
"I like to travel, but I like to go home," said Simone, adding that she and her mother love vintage shopping and eating native foods in other countries.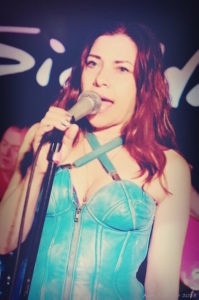 Simone has earned an MFA in poetry from Vanderbilt University and has since veered into theater. She began working with award-winning poet/playwright Kit Yan, while still in graduate school. They are currently "contextualizing the characters" in a play titled Testosterone, which they are hoping to mount. There is a workshop performance scheduled in April, in Boston. I asked Simone about her thoughts on growing up in an atmosphere where the idea of becoming an artist was validated and encouraged.
"I can see the difference with my friends," she said. "My childhood best friend's parents allowed her to go to LaGuardia High School, but said she should study 'something real' in college. All of my friends who are artists have parents who ask when they are getting a real job." She added that her family exposed her to dance and music classes, but that she discovered that she likes the written word.
To a degree, both her grandmother and even her mother share some experiences much like her friends'.
"My father forced me to go to college," said Gina. "I didn't want to go, I just wanted to dance." She used all of her available financial aid on a dance degree from Empire State College, and ended up having to self-finance her physical therapy studies when she decided for herself that she was ready to become serious about her formal education.
Her mother, Mindy Rinkewich, traveled "all the way from the Bronx to Brooklyn College, because they had Russian there. My Russian teacher hated me, and she wouldn't give me the recommendation for Columbia, because Polish was the language I used in class."
She appealed to the Polish professor and was accepted at Columbia. Her parents were against her studies in Slavic languages, because they felt she couldn't make a living with it—but she prevailed.
"My parents wanted me to study journalism because I always had a flair for writing. I used to write little poems when I was 10. They didn't think I could make a living with languages." Ironically, studying languages turned out to be the steadier career choice. Even at age 90, Rinkewich still occasionally works as a translator, when she is contacted by former employers.
I've been to several of Gina's singing engagements and, many times, met her mother sitting happily at a front table and cheering her on. At one of the shows, Simone participated by reading some of her own poetry. It's not many 90-year-old women that go out on the town, much less to Poland, and it's almost as rare to see three generations in a rock, blues, or jazz club.
Rinkewich is working on "half a dozen books" and, hopefully, with the help of her family, will see another one of her plays mounted. And when it happens, you can count on Gina and Simone to be right up front alongside her.
For information about purchasing Mindy Rinkewich's work contact Gina Healy, ginahealy6@gmail.com. Gina Healy can be heard on reverb nation: https://www.reverbnation.com/ginahealy?fb_og_action=reverbnation and followed on Instagram, https://www.instagram.com/ginahealy6/.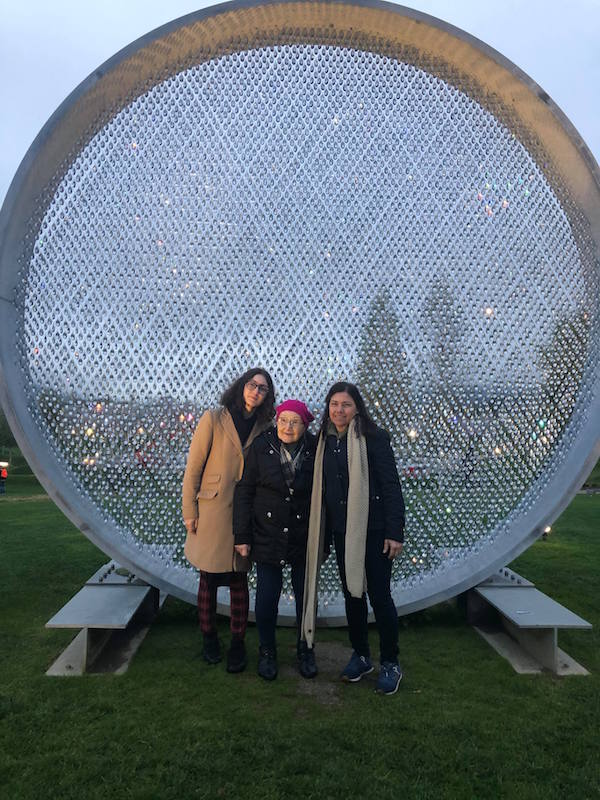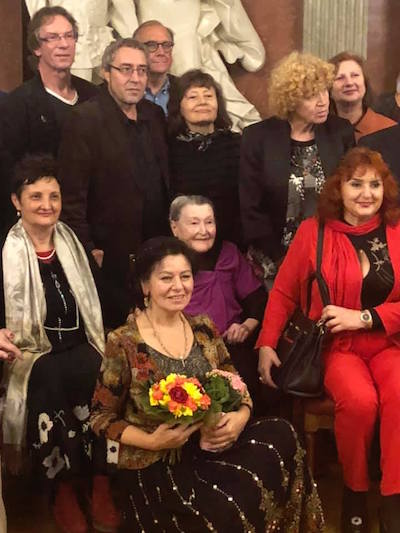 Chelsea Community News is made possible with the help of our awesome advertisers, and the support of our readers. If you like what you see, please consider taking part in our GoFundMe campaign (click here). To make a direct donation, give feedback about the site, or send a Letter to The Editor, email us at Scott@chelseacommunitynews.com.