Saturday, February 8, 11am-1pm: Reusable Bag Giveaway | New Yorkers use 9.37 billion carryout bags per year, the vast majority of which are not recycled. That's why beginning on March 1, state law will prohibit businesses from distributing plastic carryout bags to customers. On Saturday, from 11am to 1pm, NYC Council Speaker Corey Johnson's team will be at the northwest corner of W. 23rd St. and Eighth Ave. to hand out hundreds of free, reusable bags. See the below flyer for details.
DEADLINE EXTENDED to Fri., Feb. 14, for Applying to Serve on Your Local Community Board | For info, see the below flyer.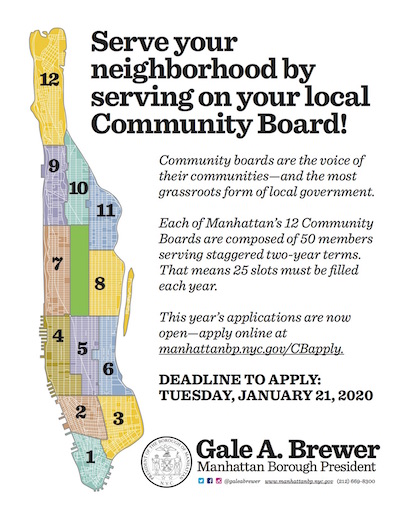 Free Fitness Classes | Ryan Chelsea-Clinton is offering free fitness classes for everyone, including Zumba, Low-Impact Cardio, and Dance Cardio. For info, see the below flyer.
Heat or Hot Water Off in Your Building? Here's What to Do | There are enforceable standards to protect you from winter's bitter cold—as Chelsea's 10th Precinct of the NYPD reminded us, in a public safety-minded message sent via Twitter. We're passing it along. Follow the 10th Precinct on Facebook, via #NYPD10PCT and on Twitter, via @NYPD10Pct. For more info, click here. The 10th Precinct tweeted: "If the heat or hot water is turned off in your building, please call 311. See the attached photo regarding the heating rules."
Through Feb. 11: "Light 4 Nights" Exhibit at Hudson Guild Gallery. See the below flyer for details. Click here to be taken to the Hudson Guild website.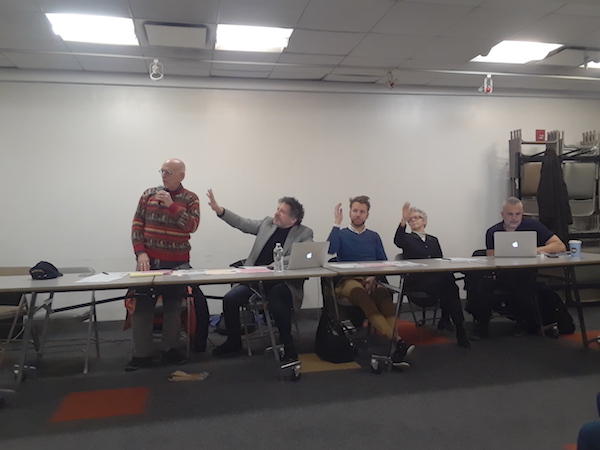 Wednesday, February 5, 6:30pm: Full Board Meeting of Community Board 4  | New year, new leadership: The second full board meeting of Community Board 4 (CB4) finds the board, for the second time, with a fresh roster of recently elected officials presiding over the proceedings. As we reported in December, CB4's new leadership sees Lowell Kern as Chair, Jeffrey LeFrancois as 1st Vice Chair, Jessica Chait as 2nd Vice Chair, and Michael Noble and Maria Ortiz in the Co-Secretary position. One thing remains unchanged: Showing up early to sign up for the Public Comment section ensures you two minutes of uninterrupted time at the podium, to speak your mind on matters of your choosing. The meeting takes place at 6:30pm, Wed., Feb. 5, at Hudson Guild Elliot Center (441 W. 26th St., btw. 9th & 10th Aves. Dan Carpenter Room A/B). For info on all things CB4, visit their website by clicking here.
Monday, February 3, 6:30pm: Free Health Care Consumer Workshop | See the below flyer for details.
—Listings compiled by Scott Stiffler
Chelsea Community News is made possible with the help of our awesome advertisers, and the support of our readers. If you like what you see, please consider taking part in our GoFundMe campaign (click here). To make a direct donation, give feedback about the site, or send a Letter to The Editor, email us at Scott@chelseacommunitynews.com.