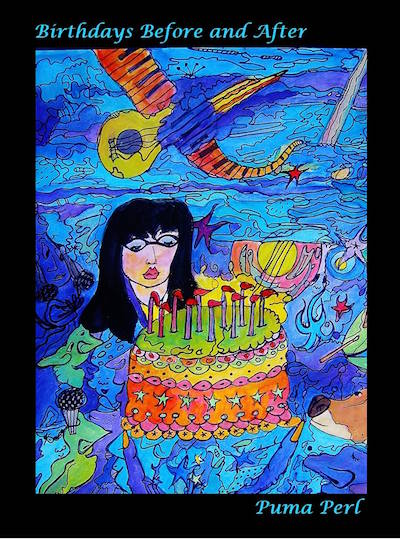 BY ELIZABETH GREY | Poetry and I are uneasy friends. I find some of it moving, and some of it beyond my pay grade. I grow annoyed with poems that try too hard to be good; or even words, important. I am exasperated by metaphors that sound like they were fretted over for days.
I like a good read. Birthdays Before and After, published by Beyond Baroque, is a book of poetry that's a very good read.
The author, Puma Perl, and I are friends. Now. I have been asked more than once to review a friend's book, and I can't do it, if I don't like the writing. I once insulted someone personally in order to avoid telling him I couldn't review his last book—it ruined the friendship, but saved me from disparaging the work.
Happily, I didn't need to insult Puma.
I don't really know how to critique poetry. This is what I can say: I turned the pages eagerly. I wanted to know what she'd reveal next. And through those reveals, I experienced epiphanies.
There were so many poems, and lines in poems, that I loved. I can't list them all. I read the book over the span of a week. It has markings all over it in different colored pens and pencils; notes to myself.
For instance, in The Most Perfect Day, this struck me dumb:
I've seen many beautiful men before
and since, but none so unexpectedly
and none of them were washing dishes.
There are no bad, agonizing metaphors here. In It's Not Depression, It's August, this jewel of a line:
…the heat returns
pressing in like jailhouse grilled cheese.
Puma's writing is accurate. I would know that she was writing about New York City in August without looking at the title.
She captured something about a relationship so exquisite and heartbreaking in the poem Discretion, that I burst into tears as soon as I read the last line. I won't ruin the surprise of the last, so here's the first:
Nobody is safe from a writer.
I am not even safe from myself.
Exactly.
The other delight, throughout these poems that read like tiny, etched, short stories, is her absolute deadpan hilarity. I laughed out loud more than once.
Again, from The Most Perfect Day:
He finally stopped talking.
Then he wanted phone sex.
I read the two lines italicized above to two friends I met for coffee, and one of them immediately wanted the information needed to buy the book. Like I said. Accurate.
Aging can be the butt of some very stupid jokes. Growing older can mean younger people infantilize you. Puma, while ruminating on aging, birthdays, and old loves that are gone (in body, but not mind), lets us in on a secret.
We are lovers as long as we live. Missing an old love isn't cute. It's torture, and will continue to be so until we die.
Reading these poems was so reassuring to me. It made my own memory more sacred. Puma treats her past with the greatest of respect. That's important to witness, as a reader. It buffers our own memories.
Elizabeth Grey is an essayist. You can read her latest work on Medium (https://medium.com/@lizardgrey/red-flags-everywhere-and-i-didnt-care-eaa16524f703
Puma Perl's books are available on Amazon and other online bookstores, or directly from the author. Puma Perl and Friends will perform at the 11th Street Bar, Feb, 19, 9pm, and Café Bohemia, Feb, 26, 8pm. For more details, click here and also click here. NOTE: This review originally appeared on Medium, and is reprinted with the permission of the author. Also note: Puma Perl is a regular contributor to Chelsea Community News.
Chelsea Community News is made possible with the help of our awesome advertisers, and the support of our readers. If you like what you see, please consider taking part in our GoFundMe campaign (click here). To make a direct donation, give feedback about the site, or send a Letter to The Editor, email us at Scott@chelseacommunitynews.com.