BY SCOTT STIFFLER | "It was not conceived as a 'Gay Sway Lake,' " said choreographer/creator Matthew Bourne, of the overly simplified buzz phrase bestowed upon Matthew Bourne's Swan Lake at the time of its 1995 premiere in London, and during its 1998 Broadway run (nominated for five Tony Awards, winning for Best Choreography, Best Direction of a Musical, and Best Costume Design).
Happily absent of hype, the press release-supplied adjectives "thrilling," "audacious," "witty," and "emotional" are more apt ways to, if one must, pigeonhole Bourne's paradigm-shifting interpretation of the beloved ballet, in which the central character, a prince, awakens (and dreams, and awakens) to same-sex attractions.
"It does have a gay resonance in the story," said Bourne, "but it's also a straightforward story about a young man looking for love."
"To have male swans," recalled Bourne, "created an enormous amount of interest in the piece" during its original run—a time when, it's worth noting, depictions of gay longing, romance, and sexuality were still rarities in the mainstream world of arts, entertainment, politics, and culture (stateside, across the pond, and around the world).
"The black swan/white swan became like voices in his head; the white swan the good voice, the black swan, the bad," said Bourne. "So it became a kind of psychological battle in the prince's head."
Upon its premiere, noted Bourne, "there was a controversy around it, in two man dancing together in a seemingly romantic way. We had walkouts. We had little girls in tears. This wasn't the Swan they came to see."
That all changed as the years went by, said Borne, and rather rapidly, at that. The notion of two men dancing with romantic intentions is, although still a rarity in the dance world, no longer scandalous in and of itself—and those little girls who shed tears have grown up, grown to love this take on Swan Lake, and are coming back their own children in tow.
"In the UK, it's a much-beloved, bring-the-family, Christmas treat. People bring their small kids," beamed Bourne, who attributes the piece's longevity to its "universal appeal. It's about someone who's looking for love. Alfred [the prince] just wants a hug, really. He wants to be held, and it's very touching, in that way."
As for the personal impact, recalled Bourne, "It changed my life. It made my company into an international company. Most of what was going on was very positive. When you do have an adverse reaction, it does make you feel, as an artist, that you've done something different, enough to make people excited, or upset… You're doing something to wake it [the classical interpretation of Swan Lake] up a bit. To just hear this incredible music again, with different imagery, made it alive for audiences."
Asked what unique attributes returning audiences might notice during its run at City Center (the press release pegs this as a being "reimagined"), Bourne noted that the production retains all of its iconic elements, with the benefit of 21st century tech.
The most significant do-over, said Bourne, is the visual aspect. After years of touring, "the set was basically lacquered. It was time to throw it away. We thought, rather than remake it, we would redesign it. So Lez Brotherston, the original [sets and costumes] designer, gave it an overhaul. And we were able to add some really wonderful, subtle moments of projection that we couldn't have done 25 years ago."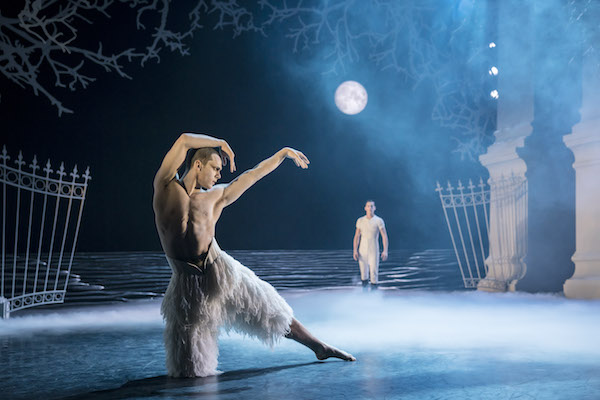 Although Bourne assures the iconic swan costume remains intact, he noted, "We've changed the whole SoHo club scene completely." Still, he said, "People who knew the piece from a long time ago won't think, 'You've ruined it.' But they're seeing a very different show now."
A new set and modern tech are not the most significant changes. For that, one need only look to the swans to see the elephant in the room.
"This is the first time I've ever put the show on where a large majority of the cast were not born when I made this," said a bemused Bourne. "This is a show that everyone in the cast grew up with. It's their dream show to be in, which is quite incredible."
Presiding over a cast largely comprised of people who weren't, or were barely, born at the time of the show's inception makes for, noted, Bourne, a slightly surreal experience. "To them, I'm some sort of historical figure walking around, so it's a different kind of relationship I have with the dancers. But I have respect for them. Dancers become artists at a very young age. The lead dancers have to be incredibly charismatic, all three of them are certainly that—and they're all very different."
Asked to cite those differences within the context of the men who play the swan, Bourne says the interpretation they bring to the table "depends on who they are, as people."
Two out of the three playing the swan "are from a classical background, one is from a musical theater background, so that's how they approach the role. One is very intense and mean and moody. Another is a more sexy, cheeky approach, and another is very masculine, and sort of flirtatious. They all bring different elements, although they're still doing the same thing, choreographically."
Coming full circle to the chafe-worthy label once bestowed upon the piece, said Bourne, "It's very meaningful for a gay audiences, and the dancers, as well, who are gay… It's interesting, because I remember when we first came to New York, on Broadway, I was told to actively tone down that aspect of it: 'We don't want it to be the 'Gay Swan Lake,' and of course, we celebrate that now."
As a gay man, noted Bourne, "I've always put gay stories in the forefront, or on the side, in all of my pieces. It's always been there. I feel if you're not reflecting your own life in your work, you're missing what it means to be an artist."
Yet for all the political advances and shifts in the cultural conversation, Bourne said, "In dance, ballet in particular, there's still quite a long way to go, with the representation of gay stories. It [ballet] is still very male/female couplings. Physically, it can be difficult. But it's possible. I want to continue exploring that in the future, to tell different stories through dance."
Through Feb. 9 at City Center (131 W. 55th St. btw. 6th & 7th Aves.). Tues.-Thurs. at 7:30pm; Fri. at 8pm; Sat. at 2pm & 8pm; Sun. at 2pm. Tickets start at $35 and can be purchased via NYCityCenter.org, by calling 212-581-1212, or in person at the box office. For artist info, click here.
Chelsea Community News is made possible with the help of our awesome advertisers, and the support of our readers. If you like what you see, please consider taking part in our GoFundMe campaign (click here). To make a direct donation, give feedback about the site, or send a Letter to The Editor, email us at Scott@chelseacommunitynews.com.