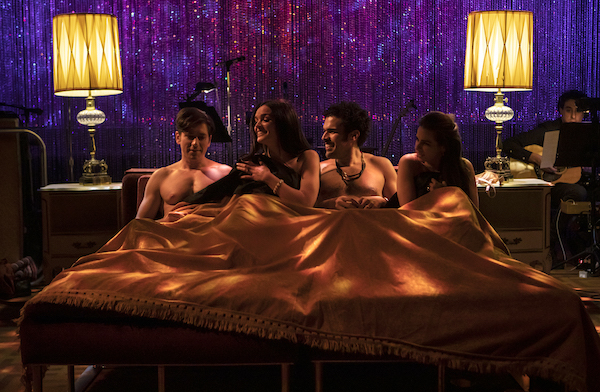 BY ELIZABETH ZIMMER | Pershing Square Signature Center's Romulus Linney Courtyard Theatre is a long, narrow, terraced space with seating on three sides; performers practically fall in the laps of spectators. So when Michael Zegen and Ana Nogueira, who play Ted and Alice in the New Group's musical version of Bob & Carol & Ted & Alice, invite members of the audience onstage to participate in an encounter group at Big Sur, it takes only a few seconds to fill all the empty chairs.
Those white Eero Saarinen chairs and matching tulip tables are part of Derek McLane's ingenious mid-century modern set for the intermission-less show, which is almost exactly as long as the smash-hit 1969 movie that inspired it. And Jeff Mahshie's period-perfect costumes, of which there are dozens, are among the highlights of the undertaking.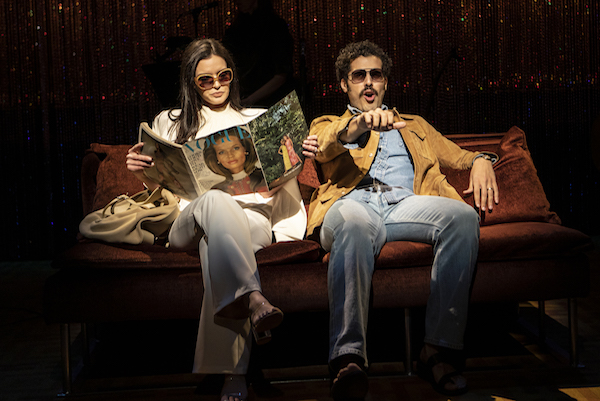 The first thing Joél Pérez and Jennifer Damiano (playing Californians Bob and Carol respectively) do is take off their clothes, replacing them with lovely robes that crash down from the ceiling. Later, they sport towels, caftans, mini-dresses, loungewear, bell-bottom trousers, sharp suits, and more. Watching Zegen (who's better here than in his star turn as Mr. Maisel) try to tuck his boxer shorts into his tight pants almost saved the evening for me. But the constant smoking of clove cigarettes feels, to this breather, nearly as toxic as ordinary tobacco.
The titular quartet is ably supported by a clutch of other characters, all played in voice-over by Grammy-winning songwriter Suzanne Vega. Poised on a platform upstage center, surrounded by the other musicians, she wears the same simple outfit throughout, as she quietly cycles from encounter-group leader to flirty grad student to adulterous tennis pro to shrink to bartender to flight attendant. She also solos on guitar, as does Zegen; Pérez sits in on the drum kit, and Damiano and Nogueira sing backup with style. Jason Hart, Simon Kafka, Noelle Rueschman and Jamie Mohamdein make up the competent band.
Duncan Sheik's score is forgettable, as are the lyrics by him and Amanda Green. Jonathan Marc Sherman's book marshals lines that telegraph themselves. The show's a trifle—an exercise in nostalgia redolent of a time many of us who survived it would just as soon forget.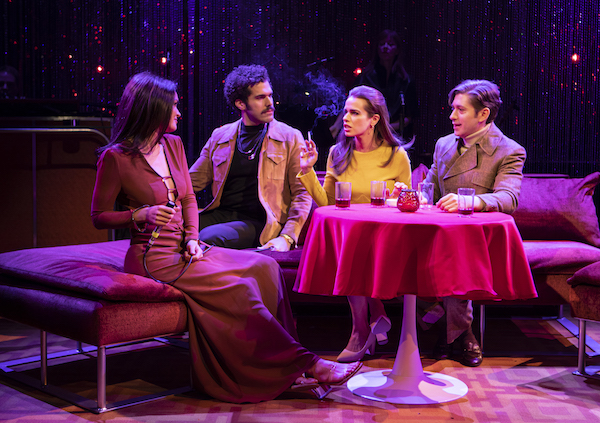 The actors do good jobs. The women turn out to be the production's secret weapon, less invested in traditional sex roles (though they're represented as housewives and mothers, with no obvious professions) and more emotionally honest than the blustery guys. "First we'll have an orgy; then we'll go see Tony Bennett," Ted declares, as the foursome arrives in a Vegas hotel room. We in the audience are cheated out of both.
Through March 22, at The Pershing Square Signature Center (The Romulus Linney Courtyard Theatre 480 W. 42nd St. btw. Ninth & 10 Aves.). For tickets ($75-$95), call 917-935-4242 or visit TheNewGroup.org. Book by Jonathan Marc Sherman, music
by Duncan Sheik, lyrics by Duncan Sheik and Amanda Green, musical staging by Kelly Devine.
Chelsea Community News is made possible with the help of our awesome advertisers, and the support of our readers. If you like what you see, please consider taking part in our GoFundMe campaign (click here). To make a direct donation, give feedback about the site, or send a Letter to The Editor, email us at Scott@chelseacommunitynews.com.