BY SCOTT STIFFLER | Confrontation risks escalation; windows have locks, so use them; keep your valuables in plain sight, and out of the sight of would-be thieves.
Those savvy public safety nuggets were the marquee takeaways, at Jan. 29's 10th Precinct Community Council meeting.
About a dozen local residents, joined by an equal number of NYPD detectives and police officers, attended 2020's first iteration of this monthly gathering, at which attendees are encouraged to voice their concerns about crime and quality of life issues.
Filling in for the 10th Precinct's Commanding Officer, Deputy Inspector Kevin J. Coleman (who was on vacation at what we can only conjecture was some jealously-inducing tropical locale) was 10th Precinct Special Operations Lt. Steven Cameron, who began the proceedings by noting a notable uptick in robberies and larceny crimes (petit larceny being the theft of valuables $1,000 and under; past that point, it's classified as grand larceny).
As of Feb. 2, according to an NYPD CompStat report, the 10th Precinct's 2020 year-to-date robberies are 14, compared to 2019's 4. Grand larcenies number at 79, up from 61 at this time last year.
Retail theft drove the uptick in robberies, Lt. Cameron said, noting an upcoming meeting with CVS employees, after several incidents of shoplifting were upgraded to robberies, when the staff stopped people thought to be leaving the premises with pilfered merchandise.
"If you attempt to confront these people," Lt. Cameron told Chelsea Community News on Feb. 7, "It can result in physical force being used against the victim—and we don't want them to get hurt." Cameron strongly advises a call to 911 instead of direct action.
Other worrisome patterns in the robbery uptick involve, said Lt. Cameron, so-called "wolf pack robberies,' in which the perps are "four or five transient [non-neighborhood resident] kids" working as a group, to come up from behind a pedestrian, snatch valuables (phone, purse, etc.), and make a swift getaway.
Lt. Cameron recalled his time spent as a police officer in Brooklyn North, noting that Chelsea has many more exit points that afford quick getaways (subways, the West Side Highway), making the neighborhood a tempting target for transient thieves. Such perps, he said, "are a lot harder to catch." To that end, the 10th Precinct has compiled a list to track robbery-related recidivism and help identify potential perps.
There have also been several robberies of fifth/sixth floor apartments, with the perp gaining entry by climbing up a fire escape and coming in through an unlocked window. Bars, restaurants, and clubs, Lt. Cameron noted, continue to account for the majority of larceny incidents, when bags or purses are left unattended (leading to a loss of property, and unapproved charges on credit cards).
Preventative advice at previous Community Council meetings, as doled out by Commanding Officer Coleman: Close and lock your windows, no matter what floor you live on; don't leave valuables unattended in public places; and avoid using your phone while walking. (Where you see a phone, Coleman frequently notes, thieves see hundreds of dollars in cold hard cash, in the resale value of a stolen cell phone.)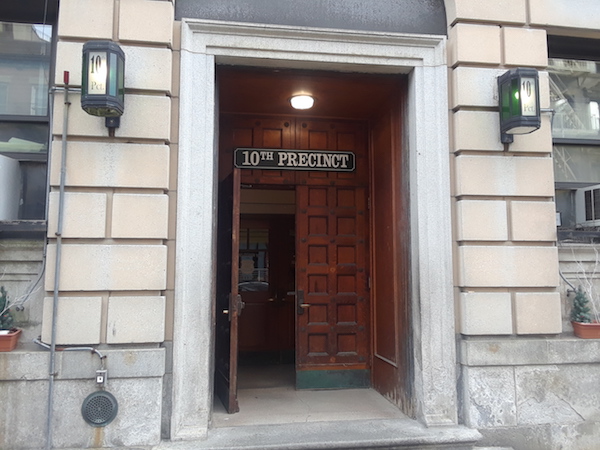 Opening the floor to questions from attendees, Lt. Cameron vowed to devote resources from the overnight (midnight to 8am) shift, in response to a nearby resident's complaint about loud music from Regal Gourmet Deli (corner, Seventh Ave. & W. 14th St.). "They must have a kill switch," the resident said, describing the sudden silence when "they see you [responding police officers] coming."
Two representatives from Success Academy Hudson Yards Middle School (500 W. 41st St. btw. 10th & 11th Aves.) spoke about school safety concerns, stemming from reports of a shooting at W. 42nd St. and Ninth Ave.). "We go into lockdown" during such cases, one of the reps noted, with Lt. Cameron advising they not take action based on information from apps (specifically, Citizen). "It's unverifiable," said Lt. Cameron, adding, "In an active situation [i.e., a reported, unfolding incident], you can call the Precinct [for the latest information]."
The meeting concluded with Lt. Cameron encouraging attendance at monthly Build the Block meetings, at which Neighborhood Coordination Officers (NCOs) speak with the public about neighborhood crime and safety concerns. Chelsea-area sectors A, B, and C, he said, are, respectively, 14th to 21st St., 21st to 29th St., and 29th to 43rd St. For info, click here.
The  Community Council meets on the last Wed. of the month, 7pm, at the 10th Precinct (230 W. 20th St. btw. 7th & 8th Aves.). For more information, call the Community Affairs Office, at 212-741-8226. The main number is 212-741-8211. On Twitter: ‪@NYPD10Pct. On Facebook: www.facebook.com/NYPD10PCT. The next meeting will be held on Wed., Feb. 26.
Chelsea Community News is made possible with the help of our awesome advertisers, and the support of our readers. If you like what you see, please consider taking part in our GoFundMe campaign (click here). To make a direct donation, give feedback about the site, or send a Letter to The Editor, email us at Scott@chelseacommunitynews.com.