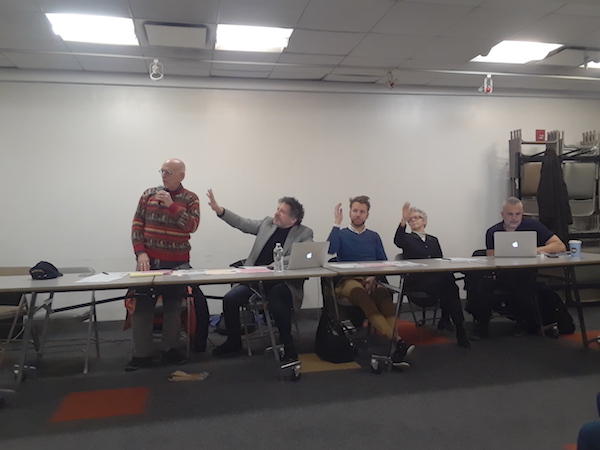 BY SCOTT STIFFLER | Chelsea's own Burt Lazarin, a London Terrace resident since 1977, was honored with not one, but two, Proclamations extolling his work as former Chair of Manhattan Community Board 4 (CB4), and so very much more. That he's worthy of such recognition should come as no surprise to those familiar with his tireless track record of advocacy and activism. But usually unflappable Lazarin was caught pleasantly off-guard, when Manhattan Borough President Gale Brewer and New York City Council Speaker Corey Johnson showed up at the Feb. 5 full board meeting of CB4, to personally deliver the goods.
"I was surprised at the two Proclamations," Lazarin told Chelsea Community News (CCN), "even though I think Chairs in the past have received similar spotlights, and was genuinely touched. I had no idea they were coming."
Come they did, the Proclamations, whose text had high praise for Lazarin's tenure as CB4 Chair, as well as a laundry list of personal and professional achievements. There were fun facts as well, with Brewer noting, "Burt will always be known as the Chair who introduced the CB4 baseball Cap," and Johnson noting Lazarin's training and experience as a psychotherapist "provided a very helpful foundation for his work as Chair of Manhattan Community Board 4."
Lazarin, who has been a member of CB4 for 15 years, held many positions before ascending to its top post, including co-chair of the Business, License and Permits Committee, all four executive positions, and co-chairing the Business Diversity Task Force.
"Contributing to the community in which I live, giving back to the community, has always been a guiding principle of my life," Lazarin told CCN. "Being on MCB4 has enabled me to connect to people and groups throughout Chelsea and Hell's Kitchen, widening my perspective and enlivening me with the contact."
Added Lazarin, of his time at CB4's top post, "The Chair is a leader only to the extent that he helps others on the Board take their positions in leading. One of the most important functions of the Chair, as I see it, is to help others on the Board work in a coordinated manner so we can all function more effectively with some of the major players in our area such as the Port Authority and the commercial residential and business developers."
Lowell Kern took over the position of CB4 Chair in January, 2020. Lazarin will remain a member of the Board. For all things CB4, including their monthly schedule of committee and full board meetings, click here.
At the Feb. 5 meeting, Brewer and Johnson read their respective Proclamations out loud, eliciting nods of approval, laughs, and at least one audible gasp. To fully appreciate the depth and breadth of Lazarin's life, we're running both Proclamations, below, in full. Trigger Alert: May cause excessive nods of approval, laughs, audible gasps.
Manhattan Borough President Gale Brewer's "Burt Lazarin Appreciation Day" Proclamation Text
WHEREAS, We are proud to acknowledge those individuals and organizations that are committed to improving our city and have enriched the community; and
WHEREAS, Burt Lazarin joined the Peace Corps straight after obtaining his Masters of Urban Planning from the University of Washington, demonstrating his compassion and his ardor for helping others through his work in government service in Chile and Peru; and
WHEREAS, upon his return Mr. Lazarin co-established a consulting firm dedicated to providing fiscal and economic analysis and assistance to several municipal unions in the City as well as their welfare funds, with special attention given in regard to pension, healthcare, and economic issues; and
WHEREAS, Mr. Lazarin also trained as a psychotherapist with members of the New York Institute for Gestalt Therapy, utilizing his wisdom and experience to become its vice president, then president, even traveling to Sicily in order to complete 2 years of planning as one of the 4 co-conveners of a joint conference with a European Gestalt association; and
WHEREAS, Mr. Lazarin has devoted much of his time to philanthropy and community service, working with Identity House, a counseling center for LGBT people, being one of the founders of the Chelsea Gay Association, the Chelsea Waterside Park Association, and having served as Chair of Community Board 4; and
WHERAS, during his time at CB4 Burt has displayed his versatile leadership skills, first as Co-Chair of the Business Licenses and Permits Committee when he worked out detailed negotiations between bars and restaurants and block associations, then as chair of the board going head to head with a roomful of stunned Port Authority Real Estate Staff declaring "ignoring the community wasn't an option"; and
WHEREAS, Burt will always be known as the Chair who introduced the CB4 baseball Cap, as an avid supporter of the arts and world traveler, and for his uncanny ability to instantly read a room;
NOW THEREFORE, I, Gale A. Brewer, do hereby commend Burt Lazarin for his contributions to the City and proclaim Wednesday, February 5, 2020, "Burt Lazarin Appreciation Day" in the Borough of Manhattan.
Burt Lazarin NYC Council Proclamation Text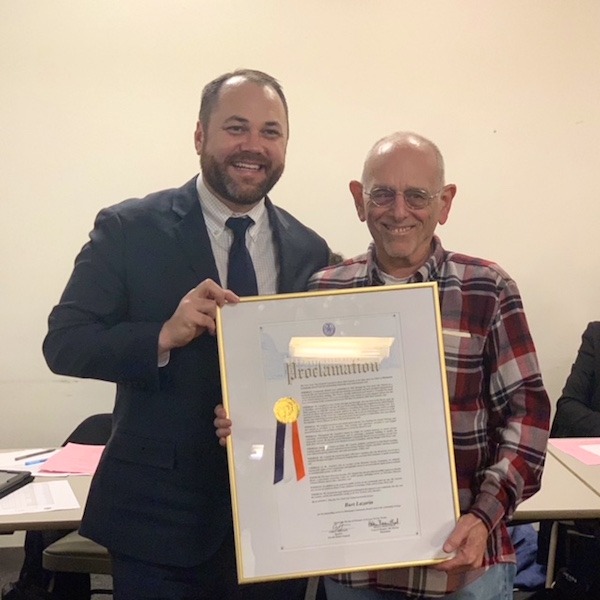 The New York City Council is proud to honor Burt Lazarin as he steps down as Chair of Manhattan Community Board 4 for his outstanding leadership and achievements; and
Whereas: Community Boards were established in 1963 through the New York City Charter as a means for the city's governance to provide opportunities for broader and more in-depth engagement of citizens in local decision-making. The Charter broadly authorized each board to "Consider the needs of the district which it serves." It is a great privilege to pay tribute to a truly engaged citizen who has been instrumental in the continued success of CB4 since he joined in 2005: Burt Lazarin; and
Whereas: Mr. Lazarin is a New Yorker through and through, who was born in the Bronx, grew up in Brooklyn, and has lived for the last 40 years in the fabled Manhattan neighborhood called Chelsea. With a partner, in 2003 Mr. Lazarin established a consulting firm, Policy Research Group LLC. It is involved in fiscal and economic analysis utilized by labor in collective bargaining which provided assistance to many of New York City's municipal unions. He is also an avid playgoer whose love of the theatre was inspired by learning about his great-uncle Louis Lazarin, a vaudevillian who once played the legendary Palace Theatre at West 47th and Broadway; and
Whereas: Mr. Lazarin trained as a psychotherapist with the New Institute for Gestalt Therapy, and also served as president of the Institute. That training and experience provided a very helpful foundation for his work as Chair of Manhattan Community Board 4; and
Whereas: Throughout Mr. Lazarin's tenure as Chair, he worked tirelessly to ensure greater community involvement and participation and to encourage consensus building to further the community's goals. He has also served Manhattan Community Board 4 as co-secretary, second vice-chair, first vice-chair, co-chair of the Business License Committee, and the Budget Task Force; and
Whereas: During his tenure a Chair, Mr. Lazarin skillfully conducted 22 full Board meetings, nodding sagely while the most contentious issues facing Chelsea, Clinton, and Hell's Kitchen residents were addressed openly, judiciously, and with uncommon civility; and
Whereas: Mr. Lazarin has mentored quiet CB4 board members like Joe Restuccia, Lowell Kern, Christine Berthet and Jeffrey LeFrancois, helping them overcome their hesitance to speak at meetings.
Whereas: In Mr. Lazarin's role as co-chair of the Business License and Permits committee, he skillfully balanced the rights of bars, restaurants, and nightlife venues to succeed with the rights of area residents to maintain their quality of life; and
Whereas: For more than four decades, Mr. Lazarin has also provided incredible support of Identity House, a peer-based counseling center for LGBT people, including service a Executive Director, Clinical Director and in other capacities; and
Whereas: In addition to his generous public service to our community and our city, Mr. Lazarin also served our nation as Peace Corps volunteer in Santiago, Chile and in Lima, Peru; and
Whereas: Mr. Lazarin has truly distinguished himself in his support to our community, the city, and the country, and he has earned the esteem of all new Yorkers; now, therefore BE IT KNOWN: That the New York City Council gratefully honors Burt Lazarin fo his outstanding service to Manhattan Community Board 4 and to the community at large.
Signed this 5th day of February in the year twenty twenty.
Chelsea Community News is made possible with the help of our awesome advertisers, and the support of our readers. If you like what you see, please consider taking part in our GoFundMe campaign (click here). To make a direct donation, give feedback about the site, or send a Letter to The Editor, email us at Scott@chelseacommunitynews.com.