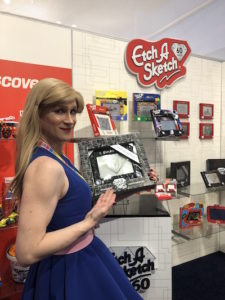 BY CHARLES BATTERSBY | Once a year, the Jacob Javits Center is transformed into a giant toy box for Toy Fair New York. Alas, children cannot attend. It is reserved only for members of the toy industry (and lucky kids who parents work in the toy business). We infiltrated this wonderland for a look at award-winning toys from the last year, as well as upcoming delights that won't hit shelves until later this year.
As always, "Nostalgia" is in fashion for the toy industry. This year, the industry term is "Generations of Play," and there are some big anniversaries for several classic products. The Etch A Sketch is now 60 years old, and a special Diamond Edition with a now color scheme will be coming soon. For purists, the classic red version is still available, and there are new models with a third knob for making curved lines!
Pac-Man is having his 40th birthday this year too. Among the celebrants is 1Up Arcade, a company that makes arcade cabinets with classic video games built in (Winner of the Tech Toy Of The Year Award last year). Although there are "Emulator" programs that allow people to play Pac-Man and other classics on modern computers, nothing beats the classic interface of an 80's arcade cabinet with the vertical screen and giant buttons.
Aside from Pac-Man, 1up Arcade was debuting a "NBA Jam" cabinet that connects to the Internet for online multiplayer; online play is a new feature for their old school tech. Those without the internet can console themselves with 1Up Arcade's other multiplayer games that come in cabinets with up to four sets of controls built right in. (Yes, Ninja Turtles, and the '90s X-Men game can be played simultaneously by four people on one cabinet.)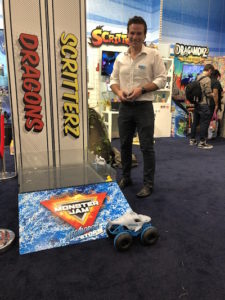 Another trend this year is "H20 Play," which is toy pro talk for products that can be used in water, or with water are an integral part of play. Spinmasters was showing an upcoming addition to their "Monster Jam" remote controlled trucks. This one is shaped like a shark, and its low weight lets it ride on water or land.
Elsewhere, in a tiny booth on the lower floor was a different kind of H20 Play. Froggy's Lair has a line of aquariums for "African Dwarf Frogs" which can live in a completely sealed tank, which requires little maintenance. Even as our reporter was interviewing the company's CEO, an excited fair attendee rushed over asking to buy a frog. Sadly, these were just display frogs. Even more unfortunate is that they are only available for sale at certain educational retailers. Alas, none are in New York yet.
Winning the Toy Of The Year award (For the second year in a row) is LOL Surprise, a relatively new franchise that most adults have never even heard of. The LOL Surprise dolls come in elaborate packaging, and have are layers of hidden accessories which are only revealed after fully "Unboxing" the dolls.
The franchise won TOTY's in multiple categories the last two years, and this kind of play has become an industry standard. Now almost every toy has a series of random items and accessories hidden away, right down to the upcoming line of Batman action figures that come with mysterious Bat-Gadgets, which are only revealed after purchase.
"My Singing Monsters" is another Toy Of The Year finalist. These collectible figurines connect wirelessly to the mobile game of the same name. They will sing like their characters from the game but, when multiple figures are near each other, they will sync up and harmonize. People who remember the Furby fad from the '90s will recall a similar form of play.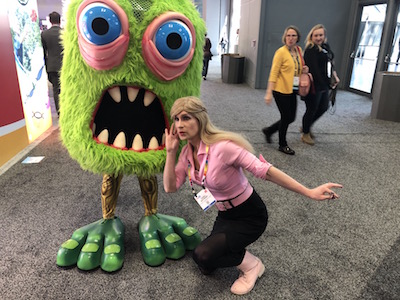 At the Toy Of The Year Gala, the Toy Association passed out their TOTY's (Pronounce "Toaties" by those in the industry). The winner for Innovation was a real invisibility cloak from Harry Potter, made by Wow! Stuff. The cloak uses an app, and (Within your smartphone's camera and social media), people can appear to disappear.
In real life, the cloak is a wearable garment, meticulously patterned after the costume from the Harry Potter movies, making it suitable for cosplaying, or dazzling your Tik Tok followers. The adult-sized cloak is already on the market, but a new "Junior" version is on the way for smaller kids.
The classic toy companies still find ways to innovate too; Crayola has a new "Glitter Dots" line, which was a Toy Of The Year finalist. The Glitter Dots come pre-mixed with a glue paste, allowing kids to decorate things with glitter, but not get glitter all over the place.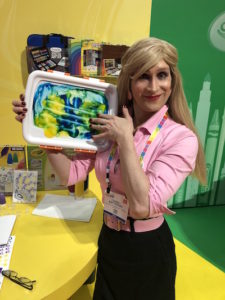 Another stroke of genius from Crayola is an upcoming finger paint kit with a layer of clear plastic between the paint and your child's fingers. That way babies and toddlers can learn to finger paint, but not get paint on their fingers (or all over the house).
Toy Fair also took a serious turn this year; environmentally friendly products were everywhere, including numerous companies boasting that their new items are made from recycled plastic. With Earth Day seeing its 50th Anniversary this year on April 22, Aurora World is making a new plush Lorax (From the Dr. Seuss book) who is holding a soft, huggable Earth to commemorate Earth Day
Aurora World and other makers of plush, stuffed animals are introducing new Koala bears this year; the proceeds of which are going to help relief efforts for the Australian wildfires. Persons interested in helping, can buy "Lewis the Koala" from Aurora, or "Katy Koala" from Ty, the makers of Beanie Babies.
Finally, a bit of tragic news from Toy Fair New York: Baby Shark won the TOTY for Best License. The Internet viral video spread faster than COVID 19, racking up over 200 licensed product lines in less than a year.
It's. Not. The. End doo doo doo doo doo doo.
Chelsea Community News is made possible with the help of our awesome advertisers, and the support of our readers. If you like what you see, please consider taking part in our GoFundMe campaign (click here). To make a direct donation, give feedback about the site, or send a Letter to The Editor, email us at Scott@chelseacommunitynews.com.