Saturday, March 7 and Sunday, March 8: High Line Open Studios Annual Spring Artists' Open Studios Event | Talent can be discovered and artwork can be purchased directly from the artists, at studio prices, without a gallery markup (which can be 50% or more), at this free, self-guided walking tour, taking place Sat./Sun., March 7/8, 12-6pm. More than 45 West Chelsea artists in the iconic West Chelsea gallery district will open their private studios to the public. Happening in conjunction with the Armory Show (March 5-8 at Piers 92 and 94), the self-guided tour starts at the West Chelsea Arts building (508-526 W. 26th St. btw. 10th & 11th Aves.), where visitors can pick up tour maps. Click here to visit their website.
Free Fitness Classes | Ryan Chelsea-Clinton is offering free fitness classes for everyone, including Zumba, Low-Impact Cardio, and Dance Cardio. For info, see the below flyer.
March Lent-Themed Activities at St. Peter's Chelsea | For more info on Lent events, see the below flyer. To visit the St. Peter's Chelsea website, click here.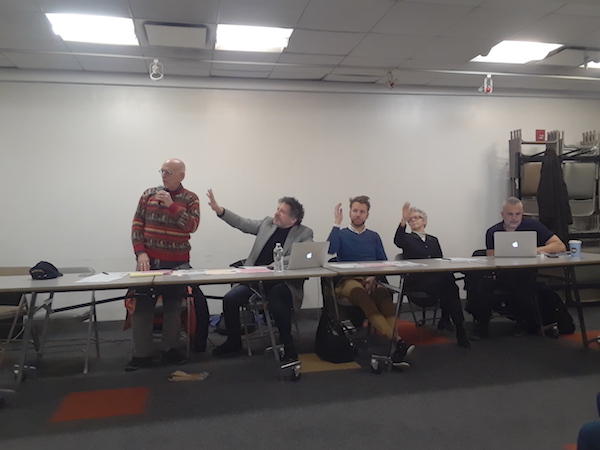 Wednesday, February 4, 6:30pm: Full Board Meeting of Community Board 4  | New year, new leadership: 2020's third full board meeting of Community Board 4 (CB4) finds the board with a fresh roster of recently elected officials firmly in place and presiding over the proceedings. As we reported last week, CB4's new leadership sees Lowell Kern as Chair, Jeffrey LeFrancois as 1st Vice Chair, Jessica Chait as 2nd Vice Chair, and Michael Noble and Maria Ortiz in the Co-Secretary position. One thing remains unchanged: Showing up early to sign up for the Public Comment section ensures you two minutes of uninterrupted time at the podium, to speak your mind on matters of your choosing. The meeting takes place at 6:30pm, Wed., March 4, at Mount Sinai West (1000 10th Ave., 2nd Floor, Conference Room B). For info on all things CB4, visit their website by clicking here.
Thursday, March 5, 6:30pm: Neighborhood Policing Listening Tour | The NYPD is looking for feedback from local residents, concerning their NCO (Neighborhood Coordination Officer) program. Officers from the 10th, 13th, 17th, Midtown North, and Midtown South precincts will be on hand. For details, see the below flyer.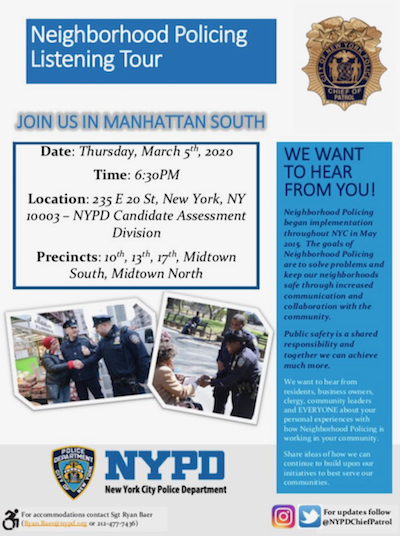 Heat or Hot Water Off in Your Building? Here's What to Do | There are enforceable standards to protect you from winter's bitter cold—as Chelsea's 10th Precinct of the NYPD reminded us, in a public safety-minded message sent via Twitter. We're passing it along. Follow the 10th Precinct on Facebook, via #NYPD10PCT and on Twitter, via @NYPD10Pct. For more info, click here. The 10th Precinct tweeted: "If the heat or hot water is turned off in your building, please call 311. See the attached photo regarding the heating rules."
—Listings compiled by Scott Stiffler
Chelsea Community News is made possible with the help of our awesome advertisers, and the support of our readers. If you like what you see, please consider taking part in our GoFundMe campaign (click here). To make a direct donation, give feedback about the site, or send a Letter to The Editor, email us at Scott@chelseacommunitynews.com.