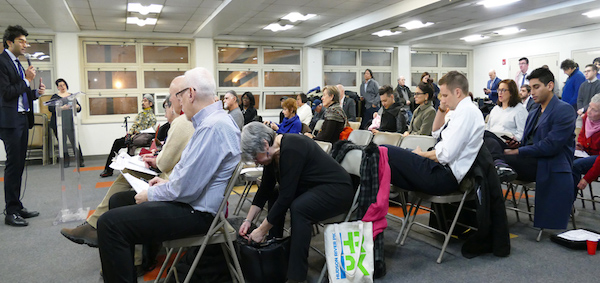 BY DONATHAN SALKALN  | Duck hunting season is almost over—and the diverse flock of 29 Democratic candidates for president has been whittled down to two old, grey birds. One candidate is a hard-boiled quackler, seemingly bent over from carrying the buckshot wounds he's gotten for support of healthcare-for-all and environmental concerns, concepts in place in every other caring country on the planet. The other Democratic presidential candidate has a grin like a Jack-O-Lantern, with, too often, a flickering wick—yet he seems to be a great poker player at the table called politics, as he has the chips.
It must be asked as why, after three years of opportunity, these are the choices the Democrats have left us. Those scratching their heads may find solace in the fact that Chelsea and Clinton/Hell's Kitchen has its own large flock of really great Democratic incumbents, and candidates that need to be vetted moving forward.
On June 23, local voters will choose candidates for Congress, New York State Assembly and Senate, Civil Court, State Committee (Male), Judicial Delegates, and Judicial Alternates. You might meet the candidates, their supporters, and members of local political clubs, who will be roaming the streets asking locally registered Democrats to sign petitions in order to get candidates on the ballot. In the future, you might hear some of their names again for different elected positions, as they all seem to have the expertise, spirit, and drive to sprout up again.
At the February 20 endorsement meeting of the Chelsea Reform Democratic Club (CRDC), held Chelsea's Hudson Guild, members and guests got to hear from a surprising large number of challengers to the incumbents. CRCD President Mindy Rosier-Rayburn did a remarkable job in organizing and running the meeting. The 2016 Trump tsunami, which swept away so many progressive values across the country, resulted in a new rise of young, energized candidates, and the local political landscape is no exception.
Below is a guide to the candidates, followed by the CRDC's endorsement results. Photos are of those candidates who showed up to the CRDC meeting.
United States House of Representatives, District 10
Jerrold Nadler, incumbent for District 10, has been representing Chelsea since 1976—first, as a member of the NY State Assembly, and then, in 1992, as a US House Congressperson. Attending night school at Fordham University, Nadler earned his law degree in 1978, and has since risen to Chairman of the House Judiciary Committee, Chairman of its Subcommittee on the Constitution, Civil Rights, and Civil Liberties, and also as the Ranking Member of the Subcommittee on Courts, Intellectual Property, and the Internet. He's a founding member of the House Lesbian, Gay, Bisexual and Transgender (LGBT) Equality Caucus, the first from New York's congressional delegation to openly support Marriage Equality, and is the most senior Northeastern member on the House Transportation Committee.
"There are two threats to humanity right now. By far the greatest threat is climate change. No one is talking about how serious it is. The scientists are telling us that if the seas get carbonated, which is in progress, it will destroy all higher life on the planet [carbon dioxide dissolves into oceans, rivers and lakes, lowering the water's PH]. We must stop all fossil fuels and all emissions, and we must do it yesterday! The second threat is to the United States—the worst threat to Democratic institutions since the Civil War, which is Donald Trump."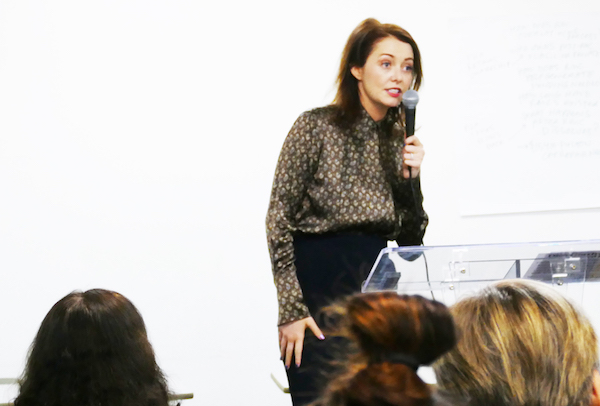 Lyndsey Boylan, challenger for Congress District 10, has a Masters Degree in Business from Columbia Business School and has used that knowledge as Director of Business Affairs at the Bryant Park Corporation/34th Street Partnership, and later as Vice President, Municipal Finance at RBC Capital Markets. More recently, she served as Deputy Secretary for Economic Development and Special Advisor to the Governor Cuomo. She is married with a daughter, and is advocating to expand affordable housing, climate control, and making health care a right for everyone.
"I led the state's efforts to provide assistance for the people of Puerto Rico after Hurricane Maria. I oversaw the renovation and modernization of Moynihan Station. And I pushed to enact Paid Family Leave for New Yorkers. From climate change to crumbling infrastructure to corruption in the White House, we face urgent challenges that require moral courage and action, not just talk."
Darryl Hendricks, challenger for Congress District 10, is a lifelong Westsider who has come to grips with being sexually abused while attending St. Gregory's The Great. He attended Hofstra University and, in 2004, became a personal trainer, later starting a fitness business with his wife. His life experiences played a major role in designing the Great Rebuild, his plan to fight climate change, modeled after Economist Jeremy Rifkin's Third Industrial Revolution platform. It combines advances in transportation and communication logistics with a new energy source to move and power the economic life.
"As a father and family man, born and raised in Manhattan, I am a concerned citizen, and I am ready to fight for the future of our great nation, through stopping climate change."
Jonathan Herzog, challenger for Congress District 10, is a Harvard man with a MBA from NYU Stern. He left law school to help build a grassroots campaign in Iowa for Democratic Presidential Candidate Andrew Yang. Herzog is pushing much of Yang's progressive platform in his stomping ground of Hell's Kitchen and elsewhere in District 10.
"We're going through the greatest economic and technological shift in our history, and need to urgently pass 21st century solutions to these 21st century problems. My first priority will be to pass the Freedom Dividend, a universal basic income for every New Yorker, and every American, over 18: $1,000 a month, primarily paid for by the companies benefiting most from automation. Together, we can end poverty, bring healthcare to all, and rebuild our democracy."
CRDC District 10 endorsement results: Jerrold Nadler wins with 86% of the vote.
United States House of Representatives, District 12
Carolyn Maloney, incumbent of Congress District 12. After graduating from Greensboro College, Maloney taught in NYC's public schools before her ten years on the City Council. In 1993, Maloney was elected to the House of Representatives, and has since been a staunch supporter of gun safety reforms, gender pay gap, women's and LGBT rights, healthcare-for-all, credit card reform, and the September 11th Victim Compensation Fund. She is the first woman chair of the Joint Economic Committee, as well as the Chair of the House Oversight Committee. She championed the Second Avenue Subway. To get things done, she often takes buckshot for working closely with Republicans. She recently celebrated the bipartisan funding of her project, the Smithsonian Women's History Museum.
"The Smithsonian Women's History Museum is so important, because if we fail to recognize women, we cannot empower them. Women's stories have been largely excluded from history textbooks. Out of 2,500 national historic landmarks across the country, only 5 percent are dedicated to women's accomplishments. Women and men of all ages deserve to see, and be inspired by, the remarkable women who helped shape this nation."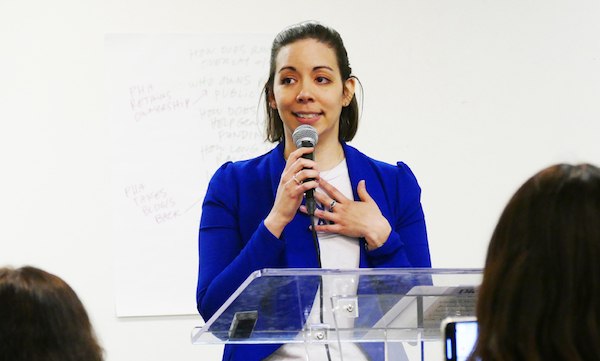 Lauren Ashcraft, challenger for Congress District 12, obtained in 2010 a degree in International Relations from West Virginia University, and later, a Master of Public Administration from the University of Pittsburgh. She recently worked as a project manager for JPMorgan Chase. She also has turned her stand-up comedy talents into fundraiser events for Planned Parenthood. Ashcraft has emotional experiences, as one grandfather broke his neck while fixing trailers, becoming a quadriplegic, and her other grandfather died with 77 others in a coal mine disaster in West Virginia. She advocates handicap causes, the Green New Deal, and Medicare-for-all, among many other causes.
"We want American commerce to succeed, but it should not be at the community's cost. If we can bail out the banks, we can bail out the people,"
Peter Harrison, challenger for Congress District 12, received his Masters degree in Urban Planning at Columbia University and has since supported himself as a bartender, and as a teacher at Baruch College. As a resident of Stuyvesant Town since 2009, he was on the front lines of landlord harassment and became a leader in opposition. He also wants to make all public transportation free and accessible.
"I've consulted on housing policy plans for Bernie Sanders, Elizabeth Warren, Julian Castro, Alexandria Ocasio-Cortez, the Center for Popular Democracy, and the Homes Guarantee. I will bring my housing policy, tech, and organizing experience to Washington, to ensure that Americans are guaranteed housing and health care as human rights, and are protected from the rapacious forces of big money in politics." 
Suraj Patel, challenger for District 12, earned his degree in political science at Stanford University, and, in 2011, got his law degree from the NYU School of Law. He is an Adjunct Assistant Professor of Business & Society at NYU, and an attorney, activist, business leader, and lecturer. As a product of working class immigrants, his younger years included busing tables, filling vending machines, doing motel laundry, and helping out on construction sites. He worked full-time on Obama's election.
"I'm running for Congress because over the past 30 years, our infrastructure has deteriorated, rents have skyrocketed, and public housing has crumbled. It's become too expensive to go to college. Upward mobility is the promise of New York, but lately it feels like the exception rather than the rule. Working people, small business owners, immigrants, activists, and educators on both sides of the East River deserve to be heard, and I will represent each and every one."
CRDC Congressional District 12 endorsement results: Carolyn Maloney wins with 66% of the vote.
New York State Assembly, District 75th
Richard Gottfried, incumbent, of 75th Assembly District, was first elected in 1970, at the age of 23, while a student at Columbia Law School. Gottfried has chaired the Assembly's Health Committee since 1987. He introduced the first same-sex marriage bill in the Assembly in 2003, and was a co-sponsor of the bill, that became law in 2011. He wrote the law that created Hudson River Park, and sponsored the legislation that created the Javits Convention Center. He has been fighting for health-care-for-all, and was, in 1977, the first to push a law decriminalizing the use of marijuana. As he so often does at CRDC general meetings, Gottfried gave an update on the politics of Albany:
"The Governor is claiming that in the State budget that Medicaid has a $2.5 billion deficit. Because a lot of things cost more, New Yorkers are living older, and need home care and other forms of service. The costs of Medicaid are beyond Cuomo's spending caps. I mean, a teenager goes through a growth period and his pants are too short, so you say 'We've got to do something about those legs?' No, you buy longer pants! What this year's budget needs is not cutting health care, education, and housing. What we need is a tax system where really big wealth pays at a rate that the rest of us pay."
Daniel Gorman, challenger of NYS Assembly District 75th. After returning from two combat tours with the infantry in Iraq, Gorman earned a BA in communication and journalism from Fordham University. He is an advocate for veterans, housing, transportation, and the environment.
"In Albany, I'll demand that big companies taking advantage of our transit system, like Madison Square Garden, pay their fair share of taxes to offset these prices, so we no longer have to, and that realistic projects are undertaken with our money. As Assemblyman, I'll fight to make rents affordable for everyone, and keep NYCHA public."
CRDC Assembly District 75 endorsement results: Gottfried wins with 96% of the vote.
New York State Senate District 27
Brad Hoylman, incumbent of District 27, is a graduate of West Virginia University, Oxford University (Rhodes scholar), and of Harvard Law School. Before running for New York State Senate in 2012, he worked as general counsel for The Partnership for New York City, while also serving as a Democratic District Leader and a three-term chair of Manhattan Community Board 2. After his State Senate victory in 2012, Hoylman was appointed Chair of the Senate Judiciary Committee, and has passed legislation including the Child Victims Act, the Gender Expression Non-Discrimination Act (GENDA), and the Tax Returns Uniformly Made Public (T.R.U.M.P.) act that prohibits New York State voters from voting for a presidential candidate who has not publicly released at least five years worth of tax returns.
"Too many billionaires want New York City to be their private playground. But when New Yorkers stand together, we can ensure there's a place for all of us in this city."
Elizabeth Glass, challenger of District 27, is a Summa Cum Laude graduate of the University of Buffalo, and has a degree in higher education from the University of Cambridge. She is a teacher and mother of four. Glass is running in opposition to Hoylman's laws to require vaccination of children. She is an advocate for intelligent bail reform, fiscal responsibility that will create affordable housing, and the disabled.
"We must go back to the drawing board to create a public safety-driven plan. Work to design a criminal justice system that doesn't reward bad behavior, yet takes into account that one is innocent until proven guilty. I'm sick of these people in office who think that they can do whatever they want without regard for what is right, or even what is logical."
CRDC SD 27 Endorsement Results: Holman wins with 93% of the vote.
New York State Senate, District 31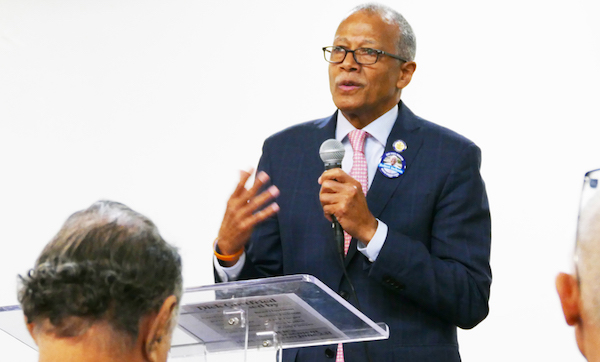 Robert Jackson, incumbent of District 31, graduated from State University of New York at New Paltz in 1975. After college, he worked for the New York State Department of Labor and the Public Employees Federation, a labor union. In 1986, he was elected to New York City Community School Board 6, where he launched the Campaign for Fiscal Equity school funding lawsuit. A court judgment awarded $16 billion for NYC public schools. Elected in 2002 to the NY City Council, he sponsored the Small Business Jobs Survival Act and fought for justice and equality and championed public education, workers rights, climate justice, and gun safety. As Senator, he has been vital to rent reform, The Green Light bill, the Farmworkers' Bill of Rights and helping to restore massive healthcare cuts.
"The are so many things not being done that would benefit all the people. I am fighting for the concerns that impact out district. Affordable housing, education funding, woman's reproductive rights, gun violence, immigration reform, health care, are all things very, very important."
CRDC State Senate District 31 endorsement result: Jackson, unopposed, wins the endorsement.
Judge for Civil Court District 9
Gerald Lebovits, incumbent, is an acting Supreme Court Justice in Manhattan and president of the 300-judge New York State Association of Acting Supreme Court Justices. Lebovits has been a New York City judge since 2001, previously serving in Civil Court, Criminal Court, and Housing Court. He is also an Adjunct Professor of Law at Columbia Law School, Fordham University School of Law and New York University School of Law. He earned his LLM (in Criminal Justice) from New York University School of Law.
CRDC judge for Court District 9 endorsement result: Gerald Lebovits, unopposed, wins CRDC endorsement.
Judge for Civil Court, Countywide
David Cohen, incumbent, has been an acting New York State Supreme Court justice since 2015. He's been a city Civil Judge since 2004, and spent a year in Family Court. He's a graduate of the Benjamin N. Cardozo School of Law.
Leticia Ramirez, incumbent, a civil judge in the New York City Family Court since 2011. She was admonished for using her official status in a letter for the appeal of her son to be released from Sing Sing. She graduated from Brooklyn Law School.
Michael L. Katz, incumbent, has been an acting justice of the New York State Supreme Court since 2015. Previously, he spent five years as a judge for New York City Family Court. Katz graduated Benjamin N. Cardozo School of Law in 1992.
CRDC judges for Civil Court countywide endorsement results: All were unopposed and win CRDC endorsement.
County Committee 75th Assembly District (Male)
Louis Cholden-Brown (Male) is a graduate of Columbia University's School of General Studies. While he's the Director of Policy on the New York City Council, he will be graduating from Fordham Law School this May. Cholden-Brown took a year off from work to act as Executive Director of the 2019 NYC Charter Revision Commission, which was approved by voters in 2019. He previously served in senior staff roles to New York City Council Member Corey Johnson (currently Council Speaker), and with local and state advocacy organizations.
"Among the many important roles played the State Committee, including oversight of Party spending and fundraising, endorsements for statewide office and selection of the NYS members of the DNC, is the adoption of the Democratic Party platform and at this moment of political upheaval. It is critical that our officials in elected and party office upheld and advance progressive values."
CRDC State Committee (Male) endorsement result: Louis Cholden-Brown, unopposed, wins CRDC endorsement.
CRDC Endorsed the following local Judicial Candidates: Tom Duane, Charles Bayor, Kathy Nizzari, Joanne Sinovoi, Elizabeth Crotty, Nathan Kaplan, Mark Gottlieb, and Roberta Gelb.
CRDC Endorsed Alternate Judicial Candidates: Judy Richheimer, Burt Lazarin, Evelyn Suarez, Jaime Kotchek, Ernest Modarelli IV, Stuart Beckerman, Ambur Nicosia, Kim Oliver, and Lowell Kern.
NOTE: Donathan Salkaln is a member of the CRDC Executive Committee.
Chelsea Community News is made possible with the help of our awesome advertisers, and the support of our readers. If you like what you see, please consider taking part in our GoFundMe campaign (click here). To make a direct donation, give feedback about the site, or send a Letter to The Editor, email us at Scott@chelseacommunitynews.com.