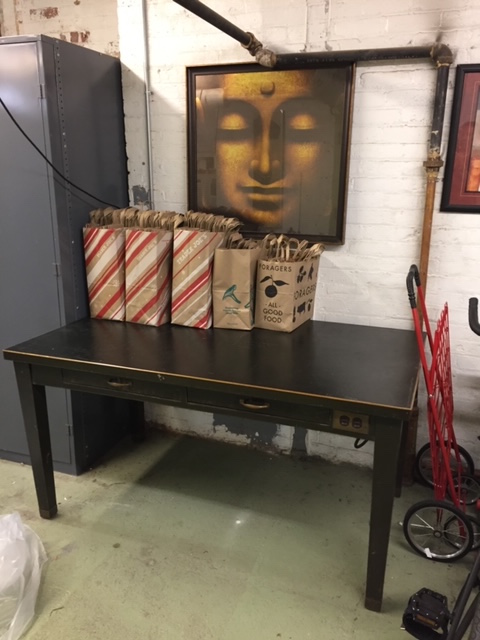 BY SCOTT STIFFLER | New Yorkers need not go hungry—and amid COVID-19 concerns, two longtime sources of nutrition remain mission-focused. As of press time, the Saturday operation of the St. Peter's Chelsea Food Pantry continues, unabated, while Holy Apostles Soup Kitchen is modifying its services. For the latest information, visit their websites (by clicking on the above links).
About the St. Peter's Chelsea Food Pantry: Located at 346 W. 20th St. (btw. 8th & 9th Aves.), St. Peter's Chelsea—the Episcopal church founded in 1831 by Clement Clarke Moore, architect of the Chelsea neighborhood—has been running a food pantry for many years. In 2019, they distributed food to 32,559 clients. Of those, there were 1,359 children and 12,053 seniors. The food they distribute every Saturday morning is provided to them, for the most part, by Food Bank for NYC. This following information is from the St. Peter's website, and additional information provided by St. Peter's. To visit their food pantry page, click here.
History | The St. Peter's Food Pantry was founded in 1981 by clergy and parishioners to meet the increasing need for food services in our neighborhood.
Day and Hours of Operation | Saturday, 10:30am–11:30am, at St. Peter's Chelsea (346 W. 20th St., btw. 8th & 9th Aves.).
Types of Services Provided |St. Peter's Food Pantry provides emergency food packages to share God's bounty. Our packages are nutritionally balanced and provide clients with food supplies for breakfast, lunch and dinner. We provide an average of 160-200 bags containing non-perishable food products per week. Each client's bag usually contains: milk, hot or cold cereal, fruit juice; a can or package of fruit; rice other pasta; a can of vegetables; and a protein item such as stew, canned chicken, tuna and beans. A donation of $15 can provide two bags of food.
Who May Receive Food Services | We provide food services support for anyone in need and requests our services. We do not require identification, with the exception of those clients requesting bags for other parties. Our clients come to the pantry for a variety of reasons. Some clients need the services offered to supplement their food budget. Some clients are homeless and live in shelters and there are some that are considered the "working poor." Clients come from all walks of life and include the elderly, children, the unemployed, underemployed, the homeless, natural disaster victims and those otherwise struggling to meet their food needs.
To Volunteer and Food Donation Information:
To volunteer: Contact Alice Blount-Fenney via email, at foodpantry@stpeterschelsea.com or click here.
Community service letters are provided to students that earn volunteer hours at the pantry.
To host a food drive, call 212-929-2390 to confirm a delivery drop-off and contact Ms. Blount-Fenney, Director. We accept non-perishable food items. Our "wish list" is as follows-cereal, canned fruit or vegetables, canned meats or tuna, and shelf-stable milk.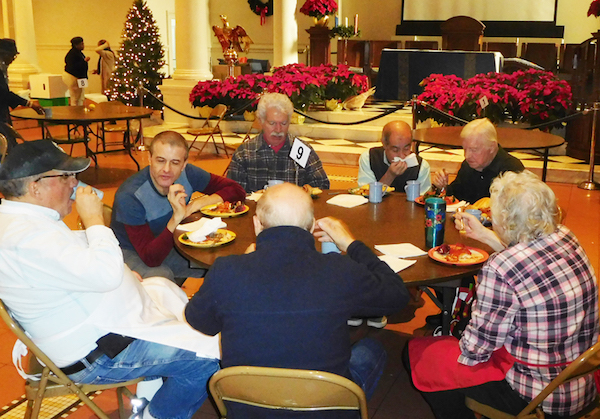 Holy Apostles Soup Kitchen | As New York's largest soup kitchen, Holy Apostles Soup Kitchen provides over 1,000 meals each weekday to residents in need. In addition to meals, guests have access to social services support and workshops that help them navigate toward improved health, housing, and jobs. Holy Apostles Soup Kitchen is located at 296 Ninth Ave. (on the corner of W. 28th St.) in Manhattan, in the landmark Church of the Holy Apostles.
In an open letter to the community, The Rev. Dr. Anna S. Pearson, Executive Director of Holy Apostles Soup Kitchen, notes the following, in an official statement (to read in its entirety, click here).
"As the largest emergency feeding program in New York City, it has been our privilege to support the Chelsea community for nearly four decades. The work we do with the guests we serve would not be possible without the unwavering commitment of our Holy Apostles Soup Kitchen volunteers. Our gratitude for all who come through our doors every day is enormous, and the well-being of everyone in this vital community is paramount to us.
With this in mind, and in consultation with our civic leaders and community partners, we have made the decision to temporarily suspend our volunteer program and modify our operations. This means that beginning on Monday, March 16 through Friday, April 3rd, our meal service will shift to a daily bagged lunch that will be distributed in our courtyard in front of the church. Staff will distribute meals to our guests on weekdays during our usual hours of 10:30 am-12:30 pm.
Our weekly Backpack Pantry Program will also take place in our courtyard. Enrolled families should arrive to swap their food pantry bags during our standard hours of 3:00-5:00 pm on Thursdays.
The modification of our programming extends to the cancellation of many support services on which our guests depend. With hundreds of social service interactions happening on site every week, we will strive to meet the most pressing needs of those we serve and will continue to shift our responses to those needs in accordance with what is best for the health and safety of this community.
New Yorkers stick together during challenging times. It is at the core of who we are. During these first two weeks of March 2020 alone, we have provided 7,083 hot meals to hungry New Yorkers, always without question or qualification. Although our operations are shifting temporarily in response to COVID-19, we remain true to our important mission to feed the hungry, comfort the afflicted, seek justice for the homeless, and provide a sense of hope and opportunity to those in need. Stay tuned for ways to remain involved during this challenging time.
We will continue to monitor communications from NY State, the NY City Department of Health, and the Center for Disease Control. We will remain in communication and will let you know when our programming is reinstated. Until then, we encourage you to take the necessary precautions to remain healthy.
As always, we thank you for your steadfast dedication to supporting New Yorkers in need."
Chelsea Community News is made possible with the help of our awesome advertisers, and the support of our readers. If you like what you see, please consider taking part in our GoFundMe campaign (click here). To make a direct donation, give feedback about the site, or send a Letter to The Editor, email us at Scott@chelseacommunitynews.com.