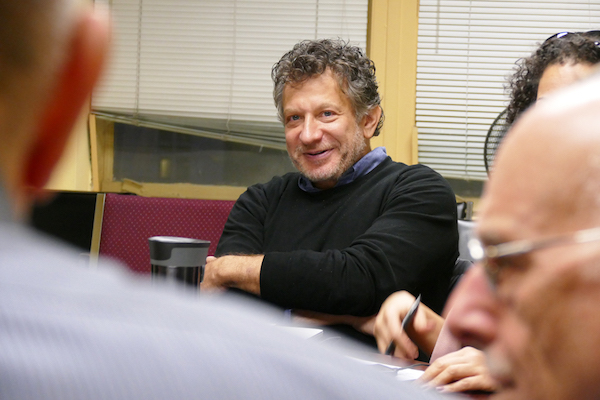 Dear Neighbor,
As Governor Cuomo leads the way in trying to flatten the curve of COVID-19, he has put out a call for anyone with medical experience to help staff testing centers the state will establish. If you have medical experience and are interested in helping out, State Senator Brad Hoylman is coordinating a response. Please fill out Senator Hoylman's form here: Medical Volunteer Form.
Similarly, Senator Hoylman is coordinating volunteers to perform other tasks during this time of crisis, such as grocery shopping for at-risk seniors. To volunteer to help out in our neighborhood, sign up here: Senior Help Volunteer Form.
Most importantly, if you need assistance during this time, you can reach out to the Community Board 4 office or the offices of any of the Elected Officials who service our neighborhood: Senator Hoylman, Assembly Member Dick Gottfried, or City Council Speaker Corey Johnson. Although the Community Board staff is working from home, if you leave a message, they will get it and we will try to help you out.
Everyone, please follow the instructions provided by reliable sources, such as Governor Cuomo, Mayor De Blasio, and the City and State government. Practice social distancing, only do what is essential and most of all, stay safe!
Manhattan Community Board 4
NOTE: This message and the below contents are reprinted, from a Monday, March 16, 2020 email sent by CB4. 
Virtual Town Hall
Tune into the Virtual Town Hall on COVID-19 with Senator Brad Hoylman, Assembly Member Linda B. Rosenthal and three infectious disease specialists. These scientists are expert virologists who helped explain what COVID-19 is, why it's so dangerous, and the types of precautions we should all be taking to keep us all safe.
Click on the below to view:
NYC's New Policies: Promoting Social Distancing
Governor Cuomo and Mayor de Blasio have recently announced new mandatory policies to promote social distancing. It's extremely important to follow these policies: staying home, away from elderly or at-risk neighbors, is the only way we can slow the spread of COVID-19 and help our medical system continue to function. 
Here is a summary of two major policy changes announced in the last 24 hours:
• New York, New Jersey and Connecticut announced uniform rules for COVID-19 prevention in the tri-state area. As of 8:00pm Mon., March 16:
o

 All social and recreational gatherings will be limited to 50 people or fewer. 

o

 Restaurants and bars will no longer offer dine-in service. However, they will continue offering take-out and delivery options for food and alcohol. 

o

 Gyms, casinos and movie theaters will close temporarily, and will not re-open until further notice. 
• All New York City public are closed today and will continue to be closed for the forseeable future. Any student who usually eats breakfast and lunch at school will be able to pick up meals at a grab-and-go station outside any public school for the duration of the closure. Other changes include: 
o

As of March 16th, school premises are closed to students, teachers and administrative staff. 

o

 For the rest of this week (March 17th-19th), teachers and administrators will recieve professional development training on remote learning. Students will be able to pick up materials and technology necessary to promote remote learning. 

o

 Beginning next Monday, March 23rd, NYC's remote learning protocol will launch for grades K-12. Please contact your local school to learn how it will be implemented for your student.
New Yorkers can text COVID to 692-692 to get regular updates on the latest developments regarding COVID-19.
Chelsea Community News is made possible with the help of our awesome advertisers, and the support of our readers. If you like what you see, please consider taking part in our GoFundMe campaign (click here). To make a direct donation, give feedback about the site, or send a Letter to The Editor, email us at Scott@chelseacommunitynews.com.