It's the apocalypse
Men fall in love with their wives
and their wives call their mothers
and check on the kids
and the men bake bread
and the women paint the ceiling
Partners live in houses
and watch movies together
or alone on different floors
They talk about what to eat
even more than before
and bicker about pizza
and the safety of fried rice
Or they live in apartments
or in studios or in basements
and they take walks in the park
or one of them is depressed
and one is hopeful because
they've learned to take turns
or they haven't learned
and the hopeful one hates
the depressed one and vice versa
Or they were about to break up
and now they're stuck together
Or they decided to cohabit
and it is a wonderful Baby
you and me against the world
or it is a terrible mistake
with nowhere to go
Or you live alone
and it's not that different
from your former life
or it's very different
from your former life
but at least you know how
to do it and are never bored
or you are always bored
because you were never home
You eat too much or too little
and can't get in trouble
Well, maybe a little trouble
but you never drive drunk
and always practice safer sex
You prepared for the apocalypse
by buying eye makeup remover,
hair dye and five red lipsticks
which you carefully apply before
you get the mail or do the laundry
You miss the dog
more than most people
and only become fearful
when your son's throat hurts
and your daughter panics
over your son
And you love from afar
which you often did anyway
The lives we are living
are the lives that we made
Only the sheltered
can shelter and zoom
and stream and text
and post photos of food
on social media
The lives lost and ruined
are not yet found
until everyone falls in love
with the earth and the air
and themselves and each other.
© puma perl, 03/23/2020
Puma Perl is a poet and writer, with five solo collections in print. The most recent is Birthdays Before and After (Beyond Baroque Books, 2019.) She is the producer/creator of Puma's Pandemonium, which brings spoken word together with rock and roll, and she performs regularly with her band Puma Perl and Friends. She's received three New York Press Association awards in recognition of her journalism, and is the recipient of the 2016 Acker Award in the category of writing. Her most recent books can be found by clicking here.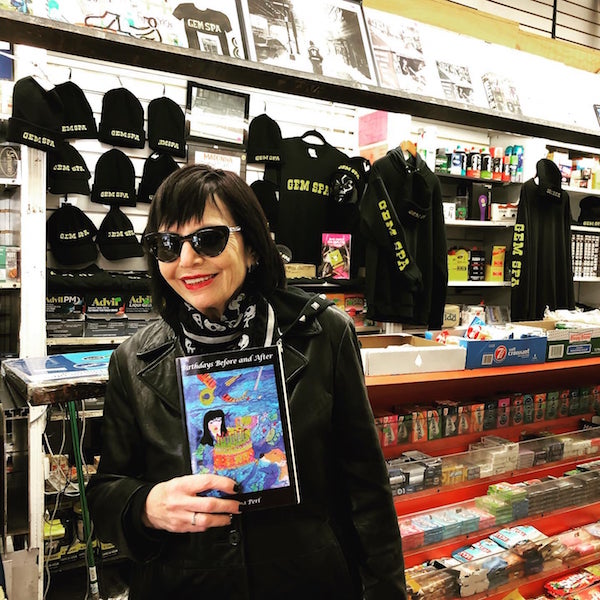 Chelsea Community News is made possible with the help of our awesome advertisers, and the support of our readers. If you like what you see, please consider taking part in our GoFundMe campaign (click here). To make a direct donation, give feedback about the site, or send a Letter to The Editor, email us at Scott@chelseacommunitynews.com.