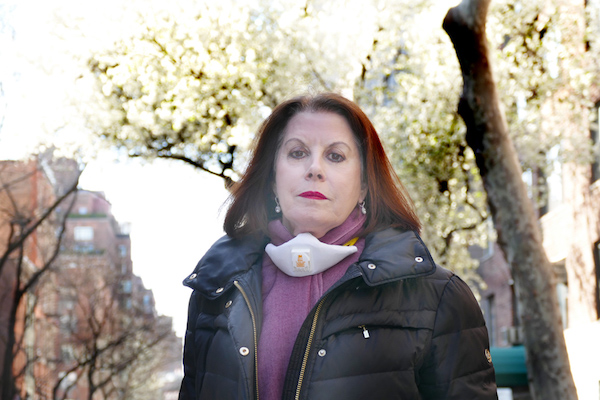 BY DONATHAN SALKALN | For those who take selection of their local Judges seriously, please spend a few moments away from people within six feet, coronavirus updates, children, puzzles, reruns, old ballgames, or cookbooks, and read about a game-changer that's being played out in Albany.
Imagine Major League Baseball suddenly moving the promising home run hitter Aaron Judge, currently right fielder for the New York Yankees, to play as a relief pitcher for the Binghamton Rough Ponies, while his personal trainer is replaced by a revolving pool of strangers. Also imagine Aaron Judge is replaced on the New York Yankees by someone who has only swung the bat for five years, yet he got the job because he knew people, who knew people.
The above scenario might play out with judges in New York's Judicial System if the proposal by Chief Justice Janet DiFiore of the Office of Court Administration (OCA) is pushed through Albany legislature. Di Fiore's plan would simplify the court system, taking it from 11 trial courts down to three levels—a Supreme Court, Municipal Court, and Justice Courts serving towns and villages. There would be six divisions under the merged supreme court: family, probate, criminal, state claims, commercial, and general. The plan seems sensible, but the ramifications are anything but sensible. Alarmingly, Governor Cuomo has placed funding for the OCA plan in this year's State Budget.
According to the OCA plan, all NYC Court Judges would become NY State Supreme Court Judges and, thus, workers under state jurisdiction. They could be then moved to wherever OCA wants them to serve instead of serving the populous that voted for them.
Also, many future Supreme Court Judges could be selected (through attrition) or replaced (by cause) by the discretion of OCA, the governor, or the mayor. Judges would also lose their clerks, who currently investigate and help write decisions while gaining invaluable knowledge and experience. Judge's clerks would be replaced by a revolving pool of clerks at OCA's discretion.
Do judges and court employees have any union representation at the bargaining table? No—and there's not even a bargaining table. Judges do have 60+ bar associations with an outside voice, but no gavel to fight back with. Neither do the judge's clerks or anyone else that works in the system. Judges, court employees and 17 million NY State citizens have no other rights than to nod their heads, or get on the phone with their NY State Senator and Assemblymember.
Currently, acting Supreme Court Judges, who want to move up the ladder to Supreme Court Judge, are screened by a diverse group of bar associations, and then voted on by locally elected Judicial Delegates, District Leaders, County Committee Members, and the County Leader. The current process rewards candidates that have admirable experience, rulings, and behavior with a place on the local ballot.
"I'm a surrogate court litigator and these areas are highly specialized (wills, estates, trusts, guardianship, adoption), said Sylvia E. Di Pietro, the feisty 75th District Leader, representing Chelsea.
"You're going to take some kid barely out of law school and that person is going to be qualified judge to hear your case? Are you kidding me?"
I sat down with Di Pietro at W. 14th Street's Good Stuff Diner on the last day the restaurant was allowed open. While she explained the history of the New York State Judicial System, we shared a large dish of crispy, but not overdone, calamari. It was delicious, although it lacked the tentacle and squiggly arms portion of the squid. Some sperm whale diners, like myself, enjoy the delicacy and the way that side of the squid soaks up the sauce.
Between bites, I learned from Di Pietro about another type of squiggling arms of tentacles now encircling the State's Court System. She also shared documents in opposition to the proposal, written by people in the know.
Di Pietro was outraged that the plan would enable the mayor and governor to hand-pick more judges. "Only in New York City is there an incredible diversity of the judges on our watch—and why? Because look at our system of picking judges. We've got the Metropolitan Black Bar Association, Hispanic Bar Association, LGBT Bar Association, Latino Bar Association, two or three Asian bar associations, Columbian Lawyers Association [Italian], Brehon for the Irish, the Jewish Lawyers Guild, The Woman's Bar Association—over 60 bar associations in all—they sit on panels and question and pick the ones that want to be judges. We've got the best and most diverse judges right here!"
Di Pietro was incensed that OCA claimed its plan would save money. "They say by unifying Supreme, Family, Criminal, Claims and Surrogate Courts into one Supreme Court will save them money." Di Pietro laughed. "Think of the technical aspect. All these courts don't talk to each other on the computer. In order for a judge who goes from one court to another to know what he ruled on a case, he's got to put a zip into his computer and download his decision. Putting together a unified computer system? Talk about expensive."
Added Di Pietro, "The Supreme Court Judge Association is against the plan. They say the New York Bar Association is for it? It's not. I'm a member of their largest division, which is the Trust & Estates Law Division division that brings in all the money. We are so against this you have no idea. We we're told, off-the-cuff, we're not allowed to publicly state that we're against the big Board, the big Governor's Board of the NY State Bar Association… Screw that, I'm a District Leader and I am going to do what I want to do. This is a power grab by the Chief Justice, the governor, and the mayor saying 'we are the ones who should choose the Judges,' " Di Pietro said, adding, "And our judges won't even talk about this, for fear of reprisal."
Di Pietro's major league concerns are joined by New York State Attorney General Letitia James. In her Gold Star Change Proposal, she offered a plan starting with requiring Judges in town and village courts to have law degrees. She also wrote about of how the merger will affect NY Democratic citizenry:
"Presently we have more than 1,350 state paid judges and some 15,000 non-judicial court employees. Our courts hear an average of more than 3,000,000 new cases filed each year. Further there are more than 1,800 Judges serving in New York's locally funded town and village judges which at least upstate are not run by judges but local politicians. Diversity as it once was will be lacking in the court system and our citizens will not be appearing before judges that have voted for."
AG James, the former NYC Public Advocate, continued, noting, "What OCA proposes is not consolidation. Over the last 25 years, OCA has created a minimum of 10 additional specialty courts: Community Court, Drug Treatment Court, Family Treatment Court, Domestic Violence Court, Integrated Domestic Violence Court, Mental Health Court, Sex Offense Court, Veterans Court, Human Trafficking Court, as recently as 2017, an Opioid Court, and OCA's proposal does not in any way alter or abolish these 10 specialty courts. This merger is not based on practicality but politics —The democrats are in power, so the time is ripe for the OCA to push for a seismic shift—but system is not based on reason." AG James wrote. "Once the cap is off the requirement of one judge per 50,000 citizens, the Governor or Mayor will be able to appoint those positions (from Civil and Criminal Court) and there will be fewer judges from municipal Court (Former Civil Court Judges) who will be able to fill these positions. Thus the Judges who are elected will be reduced in number."
Other opposition came from the Women's Bar Association of the State of New York (WBASNY). In their Position Statement 2020 on Court Restructuring, they wrote "The proposal takes away the power of citizens to select judges from their own communities who are qualified and have the temperament and interest to handle specific subject matters. The proposal gives greater power to unelected administrators (OCA) to assign judges to any court 'division' in the State. Without assurance that the Judges assigned will be familiar with the jurisdiction they serve, it is unclear that they would know the particular concerns and barriers that affect the litigants who voted for them for their expertise."
In an article titled Brooklyn Bar Association Committee to Consider Chief Judge's Court Consolidation Plan, Justice Wayne Saitta, chair of the Board of Supreme Court Justices of Kings County told the Brooklyn Daily Eagle, "The OCA proposal does not really simplify the structure of the courts, it just relabels the Family Court, Surrogate Court and Court of Claims the Family, Probate and State Claims Divisions. It would imperil judicial independence as it would enable [the Office of Court Administration] to permanently transfer judges out of the courts they were elected to serve in."
In an attempt to slam the gavel down on the OCA proposal, Keith Wright, Chair of the New York County Democratic Committee wrote on behalf of the Manhattan Democratic Party, "The New York Democratic Committee has for decades prided itself on having both the strongest independent judicial screening panel process to ensure only the most highly-qualified individuals are put forth for nomination to be elected as judges in New York County and a deep commitment to ensuring that the diversity of the bench closely reflects the diversity of the people of New York County. By making more seats on the Supreme Court appointive and eliminating the County Civil Courts, voters will have no say in a greater number of the judges selected to preside over their cases. Historically, judges selected by appointment rather than by election also tend to be less diverse than the population overall, likely further diminishing diversity on the bench."
Wright, a former New York State Assemblymember of 23 years, added, "Finally, it is not clear to the New York Democratic Committee that the proposed amendments further the cause of simplifying the judicial system by reducing the number of courts but increasing the complexity of the Supreme Court system. Given the deep threat to democratic principles and the diversity of the bench that these amendments pose, the New York Democratic Committee opposes the restructuring of the court system as proposed in the attached bill, and urges all elected officials representing New York County in part or as a whole to oppose these changes."
Chelsea Community News is made possible with the help of our awesome advertisers, and the support of our readers. If you like what you see, please consider taking part in our GoFundMe campaign (click here). To make a direct donation, give feedback about the site, or send a Letter to The Editor, email us at Scott@chelseacommunitynews.com.