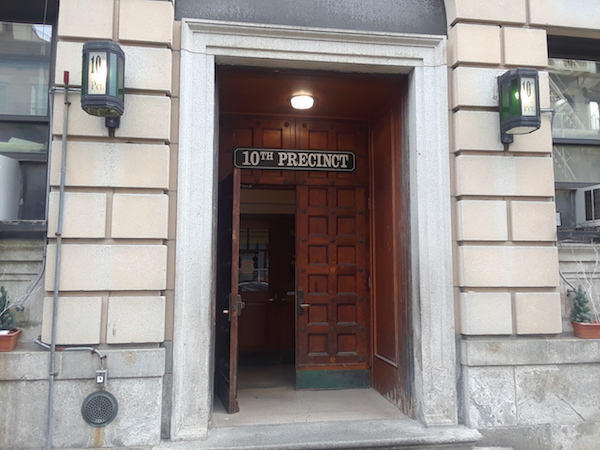 Normally held on the last Wednesday of the month, 1oth Precinct Community Council meetings provide an opportunity to interact with local NYPD leadership, voice concerns, hear the latest crime statistics, and get valuable public safety information. On hold indefinately because of COVID-19 concerns, Chelsea Community News maintained a very safe distance, indeed, by checking in via email with Deputy Inspector Kevin J. Coleman, Commanding Officer of the 10th Precinct, who answered questions inspired by reader concerns.
Scott Stiffler, for Chelsea Community News: With Community Council and Build the Block meetings suspended, how can members of the public access the applicable officers and information?
Deputy Inspector Kevin J. Coleman, Commanding Officer of the 10th Precinct: We are here to protect and serve the community. In addition to the 911 and 311 systems, members of the public can reach out directly to our Neighborhood Coordination Officers either through email or by calling their cell phones. Their email information is listed on the NYC government website, along with the general precinct number and our community affairs office: https://www1.nyc.gov/site/nypd/bureaus/patrol/precincts/10th-precinct.page.
CCN: What is the current protocol for Chelsea residents who wish to file a complaint report? When is it absolutely necessary for the public to visit the 10th Precinct?
DI Coleman: We are limiting the number of people coming into the precinct to three, in efforts to practice social distancing and avoid exposure. Anyone who is the victim of a crime should call 911. For non-urgent matters, anyone can call the precinct or reach out to our Neighborhood Coordination Officers or Community Affairs.
CCN: How is the 10th Precinct protecting its members, and the public, at West 20th Street?
DI Coleman: We are practicing social distancing at the 10th Precinct as well, but it can be challenging for us. Policing is about interacting with people. Much of our work involves communicating with individuals who need our help. Even so, we are doing everything we can to avoid exposure, and keeping a distance of 6 feet from people works well. Additionally, all of our officers have the N-95 masks, gloves, and hand sanitizers. We have disinfectant spray bottles in all of our cruisers so the officers can wipe down surfaces and equipment that are frequently touched or handled, such as steering wheels, door handles, body worn cameras, and tasers.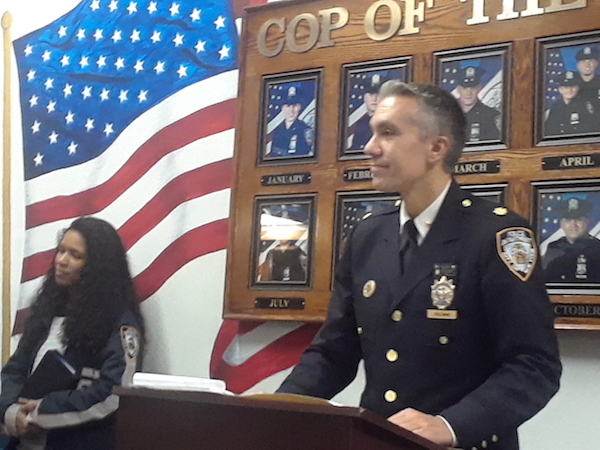 CCN: Has the 10th Precinct's area of coverage seen any changes in crime trends/stats over the past two weeks, and has COVID-19/shelter-at-home had any impact on crime in our area?
DI Coleman: Absolutely. Most New Yorkers are staying home and practicing social distancing. Additionally, as a result of the executive orders, many businesses are closed or pickup/delivery only, in the case of bars and restaurants. This has certainly led to having fewer people out on the street, and less crime. The 10th Precinct has had a significant drop in crime during the past two weeks. For the week of March 16-22, 2020, our index crime was down 23.5%, and last week, March 23-29, 2020, index crime at the 10th Precinct was down 69.2%.
CCN: What is your advice to Chelsea residents who must be outside? Is it likely that officers might approach/interact with them, to make them aware of proper protocol or for any other reason?
DI Coleman: We are doing our best to educate the public on social distancing and the Mayor's executive orders. We advise everyone to stay home. Staying home can save lives. Everyone should assume that everyone around them has COVID-19, including themselves! It's every New Yorker's civic duty and responsibility to practice social distancing, it saves lives. If you must go out, to buy food or exercise alone, you should be making every effort to practice social distancing–that is, to remain at least 6 feet away from other people. There are several supermarkets that have special times in the morning where they are only open for seniors. During these times we are posting officers outside to ensure they remain safe. This is the list, FYI:
–Whole Foods, 250 7th Ave., from 8-9 am
–Gristedes , 3 locations: 225 9th Ave., 221 8th Ave., and 307 W. 26th St.,  from 7-8 am
–Brooklyn Fare, 431 W. 37th St., 7-8 am
-END of Q&A-
The 10th Precinct serves Chelsea, Clinton/Hell's Kitchen South, and the Hudson Yards neighborhoods. At Build the Block meetings, Neighborhood Coordination Officers (NCOs) speak with the public about neighborhood crime and safety concerns. Chelsea-area sectors A, B, and C, he said, are, respectively, 14th to 21st St., 21st to 29th St., and 29th to 43rd St. For info, click here. The 10th Precinct's Community Affairs Office can be reached at 212-741-8226. The precinct's main number is 212-741-8211. On Twitter: ‪@NYPD10Pct. On Facebook: www.facebook.com/NYPD10PCT. For access to NYPD crime statistics particular to the 10 Precinct, click here.
Chelsea Community News is made possible with the help of our awesome advertisers, and the support of our readers. If you like what you see, please consider taking part in our GoFundMe campaign (click here). To make a direct donation, give feedback about the site, or send a Letter to The Editor, email us at Scott@chelseacommunitynews.com.