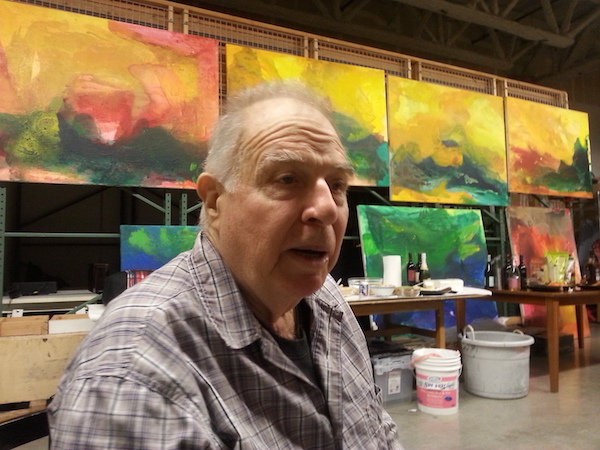 The following are reader comments on our April 10, 2020 tribute to the late Jimmy Campbell, a longtime Chelsea resident. To read the tribute, click here.
————————————————————————————————————————————————————————-
Jim Campbell was my godfather. I knew him my entire life–he was dear friends with my parents, Diane and George Sukol (both also from NY), but really, Jim was family. Jim and my parents began a lifelong friendship in Berkeley and San Francisco in the late 1960's, and bonded over politics, art, literature, animals–all with a vicious sense of humor. Diane passed away in 1996 and George in 2011. Jim was the last link for me and my two sisters to our parents, and our childhood. We were always close to our godfather, and in some of my favorite memories, Jim takes center stage. He walked me down the aisle at my wedding in 2019, which would have made my parents incredibly happy.
I am heartbroken over Jim's passing, but take comfort that in the week before he passed, the last words we said to each other was, "I love you." There is a huge hole left in my heart and I'm grateful to have had Jim in my life for 50 years. I am a better person for it.
Rest in peace sweet man. I love you.—Shanna S.
————————————————————————————————————————————————————————-
I have known Jim since I met him in San Francisco around 1970, but we became fast friends when he moved to New York. Jim would have liked the poetic justice that he died across from Bella Abzug Way and in the shadow of the AIDS Memorial. He would have liked that he died in a brilliant gleaming white midcentury modern classic that was originally a hiring hall for the maritime trades. He would have liked that he left this world in a place once filled with sailors.
I am comforted to know that my last words to him were that I loved and adored him and that I was burning a candle for him as he had for me so many times.
Walt Whitman's Leaves of Grass is written on the stone pavers of the Memorial, and chalk tributes to the nurses and doctors who cared for him are written on all the sidewalks surrounding Lenox Health.
My candle remains lit for our dear friend Jim, and I encourage you to draw comfort from the words on the pavement outside where he breathed his last, fragments from Leaves of Grass.
. . . SOMETHING I CANNOT SEE PUTS UPWARD . . .
. . . MY SOUL IN THE CALM AND COOL OF THE DAY . . .
. . . AND AM HAPPY, TO TOUCH . . .
. . . BLIND AND LOVING WRESTLING TOUCH . . .
. . . TO BRANCH BOUNDLESSLY OUT . . .
. . . A KOSMOS OF MANHATTAN, THE SUN TURBULENT, FLESHY, SENSUAL . . .
. . . I WILL ACCEPT NOTHING WHICH ALL CANNOT HAVE . . .
. . . IT SHALL BE YOU! YOU, MY RICH BLOOD, YOUR MILKY . . .
. . . AND DEWS, IT SHALL BE YOU! WINDS WHOSE SOFT TICKLING . . .
. . . OF BRIGHT JUICE, SUFFUSE HEAVEN. THE EARTH BY THE SKY . . .
. . . WHAT MY EYES CANNOT REACH BY THE TWIRL OF MY . . .
. . . WITH THE HUSH OF MY LIPS I WHOLLY CONFOUND . . .
. . . TO FEEL THE PUZZLE OF PUZZLES, AND THAT WHICH WE CALL BEING . . .
. . . AS MUCH AS I CAN STAND. IS THIS THEN A TOUCH . . .
. . . UNBUTTONING MY CLOTHES, HOLDING ME BY THE . . .
. . . THEY HAVE LEFT ME HELPLESS, THEY ALL COME TO . . .
. . . MAKE YOU ACHE, SO LEAVING ME?
Rest in peace, Dear Jim, your art hangs on my walls and will enrich my life as long as I live.—Robert Croonquist
————————————————————————————————————————————————————————-
As I sit her with my boyfriends Labrador, I'm thinking of how he always loved running into Jimmy on 8th Ave near Murray's Bagel shop. Jimmy was always quite generous with his bagel towards said doggy !
He was also always so generous of heart, mind and spirit with me as a friend and with the whole neighborhood.
I loved to sit and listen to his many really wonderful tales whether from his youth in upstate New York or later in San Francisco and New York City…and all the truly interesting people he encountered. From hearing about his work with the legendary theater group the Cockettes to his many interesting stories from the art world and as someone on the early front lines of the civil rights movement in general and the LGBT rights movement in particular, I feel so much richer as a person for having been able to hear it directly from someone who had been there.
It was ALWAYS a delight to run into him in the neighborhood or have coffee or lunch with him, or chat with him on the phone. It was never not a joy to be with him. I am so sorry that we have lost this dear sweet man…much less to this terrible pandemic .
Because Jimmy was such a community oriented person… I am going to take this opportunity to remind everybody to check in on anybody that you know who may be shut in because of health issues or for whatever reason…anybody who may be alone in the world, needs extra attention right now. Already we know that too many people have died alone in their apartments just in New York City not to mention elsewhere. I'm sure Jimmy would agree with me in saying that that is both tragic and unacceptable.
There is extra glitter in the night sky in his memory forevermore, of that I am sure.
Rest in Peace ,dear man ! Xoxoxo—Laurence Frommer
————————————————————————————————————————————————————————-
Chelsea Community News is made possible with the help of our awesome advertisers, and the support of our readers. If you like what you see, please consider taking part in our GoFundMe campaign (click here). To make a direct donation, give feedback about the site, or send a Letter to The Editor, email us at Scott@chelseacommunitynews.com.