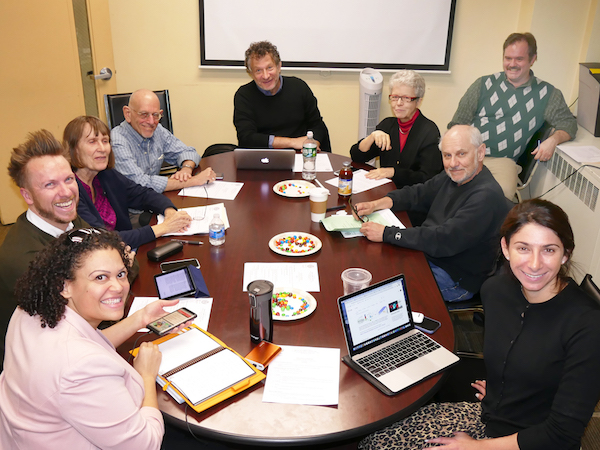 BY SCOTT STIFFLER | It's the tactile things you miss the most—like picking up the many handouts from community groups and elected officials sprawled out along a long table in the back of the room; or putting pen to paper, to sign up for the public comment session; or hugging a person from the community you've know for years and is, like yourself, an old hand at this monthly gathering.
You see them, as the kids once said, "across a crowded room," and you walk toward each other, inch by inch, decreasing the social distance, and then you hug. Ugh. Hugs. Remember those?
Well, COVID-19 put the kibosh on that, as it did so many other things. Count among the casualties of social niceties, the ritualistic interactions one was once sure to find at the monthly full board meeting of Manhattan Community Board 4 (CB4). But there's a ray of light: Until such public events can take place once again, CB4's full board meeting, normally held on the first Wednesday of the month, has gone digital, via Zoom (and if that conjures to mind a 1970s PBS kiddy show, you're showing your age, as is this reporter).
Those of you who missed the May 6, 2020 installment of CB4's meeting, take heart: Chelsea Community News has the skinny, via the below Q&A with recently installed CB4 Chair Lowell Kern. Bonus Content: District Manager Jesse Bodine chimes in, at the end. So read the below, in full, and please consider becoming a newly engaged (or further engaged) member of your community. Sheltered in place and quickly barreling through your "wish I had time to see that" backlog of albums, books, shows, and movies, we know you have the time.
Chelsea Community News (CCN): How long does CB4 plan to do these full board and committee meetings digitally? How can the public access them during or after?
Lowell Kern: CB4 will continue to hold all full board and committee meetings digitally until we are given clearance by the City to resume in-person meetings. The meetings can be joined through links on our website at mcb4.nyc. We also have a YouTube page where live meetings can be viewed (but no participation is available via YouTube). All of our meetings are recorded, and past meetings are available on the YouTube page. [To access that page, click here.]
We are discussing whether we should continue to stream our full board meetings even after we resume meeting in person.
CCN: In making COVID-19-related decisions, what sources do you use (city, state, federal, community, web/social media?
Kern: Board leadership is in regular contact with all of the elected officials that represent our community district. In particular, regarding issues relating to Board functions, we rely on the Manhattan Borough President's office.
CCN: What sources of COVID-19 info has experience taught you to regard as highly reliable, dubious, and not to be trusted?
Kern: See above [response to previous question]. We rely on Manhattan Borough President Gale Brewer, regarding Board operations.
CCN: How have costs or savings associated with COVID-19 impacted CB4's present and projected expenditures?
Kern: The City has advised us that there will be certain cuts to our budget going forward, but we do not expect these to impact Board operations. Over the last few years, the City Council and NY State Senator Brad Hoylman have provided additional funding for community boards, but realistically, we don't expect that to continue in the near future.
CCN: When we spoke on the afternoon of May 6, you were driving home after delivering food via Senator Hoylman's program. To what extent have your CB4 and volunteer activities compelled you to interact with others? What precautions do you observe, and how do you feel, personally, when not sheltered in place?
Kern: I was driving home after working with [Chief of Staff] Erik Bottcher, of Corey's office [NYC Council Speaker Corey Johnson, whose area of coverage includes Chelsea]. They have arranged for donations from IAC (Barry Diller's company) and Friends of The High Line. We have delivered almost 2,000 boxes of shelf-stable food to combat food insecurity.
Everyone involved in this distribution program wears masks at all times.
Personally, this is the only interaction I am having outside of my quarantine circle. I am certain that other Board members, given their day jobs, have had more consistent interaction with others. I have worked from home for the past decade (I am an attorney for a technology services firm), so this is not new for me.
CCN: Please discuss the concerns of those who spoke in the public session, what CB4's position is on the matter, and what manner of follow-up was discussed once the person had their say.
Kern: One speaker I want to highlight is our local Census rep. It is imperative that people fill out the Census forms, as Manhattan is lagging behind.
Most of the speakers at last night's meeting were concerned with the development project that edges into the Gansevoort Market Historic District. The project is at the corner of W. 14th St. and Ninth Ave. While there was opposition to the project, most of it came from residents of an adjoining building. We believe that the Chelsea Land Use committee, at a marathon meeting a couple of weeks ago, crafted a good compromise position. As with any compromise, nobody gets everything they want. The letter to the LPC [NYC Landmarks Preservation Commission] from the Board, which reflected this compromise, was approved overwhelmingly.
CCN: Please take us through the agenda items and reports/letters of each committee.
Kern: Board business is continuing as usual. We had a handful of liquor license applications that were reviewed by our Business Licensing and Permits committee. There were fewer than usual, but that work continues. None of this month's applications was controversial.
There were two letters, one to the Mayor, one to the Speaker, supporting the Open Streets program. These letters were presented to the Board simply for ratification, as they had already been sent after approval by the Transportation Committee. The thrust of the letters, which were voted on a couple of weeks ago, was trying to convince the Mayor to reinstate the program. As we know, he has since done so.
Although there is a lot of concern about the program, from what we heard last night, the concern of the Board members isn't so much that streets should be opened, but the process of deciding WHICH streets will be. The DOT [NYC Department of Transportation] has put forth a process whereby certain groups, primarily BIDs and block associations, are the point people for these applications. While the Board's letters highlighted certain streets that we thought would make sense to consider, it will be up to the local BIDs/BAs whether or not to submit those streets to DOT for approval.  The Board will not play a role in the selection of specific streets.
CCN: Has COVID-19 impacted the timeline of meat-and-potatoes CB4 concerns such as liquor license renewals, landmarking, and public and private work projects? Are there any such items that ping loudly on the CB4 radar, and why?
Kern: As I mentioned above [in the previous question], the number of liquor licenses our BLP considered last month was greatly reduced, but there were still a few. The Chelsea Land Use letter I mentioned needed to be acted upon because the LPC has reopened for business. The Waterfront, Parks and Environment committee did not meet in April, but they have a jam-packed agenda next week. Our ACES (Arts, Cultural Affairs, Education, Street Life) committee has been very active in obtaining resources relating to homeschooling for families that didn't have access. Basically, after a slowdown in early April, most of the Board's work has been ramping back up again, although some of that work is virus-related.
CCN: How do you feel CB4, the city, the state, and our local elected officials have reacted to the pandemic?
Kern: CB4 has done the best job we can under the circumstances. We co-hosted a forum in late April with HCC to provide information to the public about tenant security issues due to the pandemic. CB4 has always been focused on housing issues and we saw a need, so we reacted. As I mentioned above, Speaker Johnson's office has been providing pantry boxes and overseeing outreach to seniors in the community. I know Senator Hoylman's office has been doing the same. I think all of our local electeds are doing the best they can to help residents of the district in whatever ways they need. As a Board, it would have been good to have more information about measures the City was taking with regard to the homeless population in particular, since there are so many shelters in our district.
CCN: How should we have been better prepared for a pandemic, and what are the policy change/community/behavioral takeaways from what may well be merely Round 1?
Kern: The question goes beyond the scope of what a community board can do. Preparation for the pandemic had to come from the Federal and State levels and from the leadership of the City government. The community board doesn't have the ability to stockpile ventilators and PPE [Personal Protective Equipment], although we have been working with the local electeds to get PPE where it is needed—local health organizations and senior centers, for example.
From CB4 District Manager Jesse Bodine | In terms of COVID-19 resources, I would like to highlight that we have a dedicated staff person, Community Board Associate Janine Pretente, who curates all of our COVID-19-related resources, and posts them on our website and E-News. The resource page can be found by clicking here.
The staff also attends weekly and monthly agency meetings with Department of Social Services and the Mayor's Community Affairs Unit.
From an overall perspective, the Board has continued to operate as close to normal as possible under the circumstances. We cancelled our full board meeting in early April and some committee meetings during the month, but we've cancelled committee meetings before for a variety of reasons. From the looks of it, May is going to be as busy as ever. Some of this is COVID-19 related, but a lot of it is business as usual.
Chelsea Community News is made possible with the help of our awesome advertisers, and the support of our readers. If you like what you see, please consider taking part in our GoFundMe campaign (click here). To make a direct donation, give feedback about the site, or send a Letter to The Editor via email, at scott@chelseacommunitynews.com.